From Principal
Lynn Main
This week starts what only can be described as the end of year crazies at Lafayette. When people talk about how hectic late December, early January is, there is no comparison to what is happening at an elementary school during late May and early June. It's hard to get everything recorded on our google docs calendar the days are so full.
Mark Your Calendar
May 30 (Wednesday)
Field Day for pre-K and K
June 1 (Friday)
Field Day for 1st - 5th grades
June 7 (Thursday)
HSA Board Meeting, 6:30 p.m.
HSA General Budget Meeting 7:00 p.m.
June 8 (Friday)
Pre-K Graduation, 9:30 a.m.
5th Grade Awards Ceremony, p.m.
June 9 (Saturday)
Lafayette Book Fair @ Politics and Prose
June 13 (Wednesday)
5th Grade Promotion Ceremony, 9:30 a.m.
From the HSA
Dan Aladjem & Jenny Murray, co-presidents
As I write this, I am thinking about what it will be like on Tuesday morning with the school's new drop-off and parking policy in place. It seems like everyone's got a parking story ... the two parents who almost duked it out on Broad Branch Rd over an illegal parking spot, or the many times the E6 bus and a car played "chicken," backing up traffic in all directions. I, for one, am happy to see the school taking action on this before something bad happens. School staff and parent volunteers will be helping out during the first week of the new policy. They'll be standing out front wearing nifty yellow safety vests -- and trying to help you avoid a ticket! Of course, they're just volunteers and not everything will go smoothly right away. I hope that all the drivers they encounter will be patient and friendly. I hope that people realize that the school is trying to do the right thing to keep kids from getting hit by a car. So as you're looking for that parking spot on Oliver Street, or waiting patiently to drop off your child on Northampton, give yourself a pat on the back - you're part of the solution!
HSA General Budget Meeting
The HSA will host a general meeting next Thursday, June 7 at 7:00pm, where we will discuss and vote on HSA's proposed budget for SY 2012-13. All parents are welcome and encouraged to attend. Please take a moment to look over the budget (link below). If you cannot attend the meeting in person, please print out and complete the proxy ballot and place it in the HSA Secretary's (Mia Dell's) drawer in the gray file cabinet in the Great Hall. Also at the general meeting we will present the annual Marquis de Lafayette Awards, presented to members of the Lafayette community who've made a significant contribution to the school over the years. Hope to see you next week.
Arts Night Can Only Happen Because
· Lynn Main had a vision the first year she came to Lafayette that we should have an ARTS NIGHT, and what a vision that was!
· Our wonderful parent sponsor, Eldad Moraru and his Long and Foster Office, arranges for all the refreshments and programs and underwrites the expense of printing, fruit, and cookies
· Dedicated parent Sue Wright works tirelessly to find volunteers to serve that food and feed the masses
· Those aforementioned parent volunteers work to help set up, serve, and cleanup after Arts Night
· Lafayette au pair and art room volunteer extraordinaire, Regina Kirchmaier, parent Patricia Goodnow, and Laurie's son James Ward, help to mat, label and hang art
· Classroom teachers help with crowd control on Arts Night and make sure their students are ready to entertain us, and our step team sponsors made sure the team was ready to wow us!
· Our hardworking custodial staff makes sure the building is clean (both before and after- no small feet) the furniture is in place, and light bulbs are workingJ
· Kathy Echave, and Laurie's husband Dan Ward help to sell IMAGES to an eager crowd
· All the students create spectacular art pieces and entertain us with songs and dancing
· Our parents come and oooh and ahhhh and make all of us feel appreciated!
THANK YOU FOR HELPING US MAKE IT HAPPEN!!!
Laurie McLaughlin, Andrea Perll, and Liz Stinson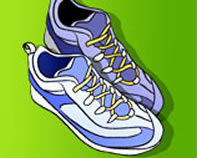 Both the Early childhood and upper grades field days are this week. On Wednesday, May 30th, early childhood students will have their field day. And on Friday, June 1st, the 1st-5th grades will have theirs. Please help your child remember to wear appropriate clothes and to have sneakers. Flip flops, sandals, Crocs etc. are not safe and should not be worn. Please apply sunscreen before coming to school. Children may carry a water bottle but should not have any other kind of drink with them outside during the activities.
Thank you to all the parents who have volunteered already. You should receive an email from me on Wednesday giving you your assignment. If you did not get a chance to volunteer yet please do so ASAP. I'm still in need of more help. Just send me an email before Wednesday.
Thank you for your support and "Peace Out".
Shop at Politics & Prose, Eat at Terasol and Comet Pizza to Support Wilson High School!
Plan to shop and eat March 3 & 4

Come shop at Politics & Prose, 5015 Connecticut Avenue, NW, Saturday and Sunday, March 3 & 4 to help raise important funds for the Wilson PTSA. Politics & Prose will donate 20 percent of all book sales to the PTSA if you tell the cashier that you're a Wilson supporter. In addition, teacher and library "wish lists" will be available at the Wilson table, across from the children's section.
Afterward, dine at nearby Comet Pizza or Terasol Restaurant, identify yourself as a Wilson supporter, and the restaurant will donate a portion of your tab to the school. Please urge your friends and neighbors to shop and eat in support of Wilson!
Lafayette Book Fair at Politics & Prose
Mark Your Calendar for the Lafayette Book Fair

The Lafayette Book Fair is back again this year at Politics & Prose Bookstore on Saturday, June 9.
Your pre-ordered books will be available for pick-up at the bookstore all day during the Fair on June 9, 2012! Twenty percent (20%) of the book fair and summer reading sales will be donated to the HSA by Politics & Prose.

On the day of the fair, the class with the highest attendance to the fair will also receive a pizza party. We will have sign-on sheets for each class so that we can track who came. See you there!
Lafayette Tennis Summer Camp
Full / Half Day Tennis Camp--Players Ages 6-15
Lafayette Park, Chevy Chase, DC
Eight Weekly Sessions
First Session June 18 - 22
Special Deal Teen Week is July 9 - 13
Last Session August 6 - 10
There are still openings most weeks in the Lafayette Tennis Camp. This is a small, friendly tennis camp that focuses on improving the skills of all players. The camp will be using the two upper tennis courts at the Lafayette Recreation Center at 33rd and Quesada Streets, NW. In addition to developing their tennis skills on the courts, kids can cool off in the refreshing Lafayette Water Daisy and with ice cold slushies from the delicious Broad Branch Market. We will also make frequent trips to the Wilson Aquatic Center on hot days. We will take advantage of kids' programs with The World Team Tennis Washington Kastles this July and at the new Citi Open Tennis Tournament July 28 - August 5. Camp goes 9-4. For families with working parents we offer optional Pre-Camp Care and Post-Camp Care.

A 10% discount is available on the second or third child in the same family signing up for the same camp session. Weekly fee for full day camp week is $300 and half day camp week is $200.
Click here for the
registration form,
space availability and additional information. Camp registration is through the Lafayette Tennis Association, a USTA Community Tennis Association.
Paul Rosenbaum
(Lafayette, Deal, Wilson Parent)
Camp Director, Lafayette Tennis Association
(202) 441-0925
Community Notices
Summer tutoring and dog sitting available. Contact Dina Shapiro.



Experienced Sitter Available Summer Days & Nights All Year
Our lovely babysitter, Lakshimi Hettihewa, is looking for some more families to work with. She lives in CCDC and is always free weeknights and weekends. She currently works as a teacher's aide for DCPS and as soon as school is out, she would also like to work 15-25 hours for a family over the summer. You can reach Lakshimi at: 202/362-3841. Please feel free to contact me for a reference: Christy Maguire 202/248-8668.
Thank You Lafayette Sponsors!
These organizations support Lafayette through a generous annual donation- please support them!
Make a Submission
Submissions for next week's issue should be emailed to
TuesdayBulletin@gmail.com
. Submissions are due by

3:15 p.m. on Friday

. Submissions received after this time will be included in the following issue, unless instructed otherwise. Please keep submissions brief. Longer articles may be truncated at the editor's discretion, with a link to the full text.