Your Stake in the Home Office Deduction
College grads are finding it tough to land their first job. Unemployed workers can't find new work. Small business owners are looking for way to reduce their overhead. The economy is forcing more and more workers to hang a shingle the only place that's left -- at home.
That can be tough. You'll have to pay a "self-employment tax." When you work for someone, the employer pays for half your Social Security contributions.
You'll have to pay for your own benefits. You don't get vacation time off unless you foot that bill too.
You do, however, get a tax break for your troubles. (Visit this link to see the IRS' video tips.)
If you run a business from your home (rented or owned), along with business expenses, you can deduct part of your rent or take a depreciation deduction based on the portion of the home you use for business purposes, according to the Internal Revenue Service (IRS).
Home-based business expenses (office, payroll, labor, auto, travel and entertainment expenses, business asset depreciation, business insurance, supplies, items purchased for resale, etc.) reduce your net profit which in turn reduces both your self-employment taxes and your income taxes.
For depreciation purposes, if your home is 2,000 square feet and you use 300 square feet as an office, for example, you can deduct 15 percent of your rent or take a depreciation deduction on 15 percent of your home. Likewise you can deduct 15 percent of your energy bill, home owners insurance and other costs to run your household.
First, however, you must prove regular and exclusive business use of your home that can be clearly distinguished from personal use or prove use reasonably allocated between the two.
To qualify for home-based business deductions, the IRS requires that you pass a few tests.
Your home must be your principal place of business. If you work from two locations, in order to take the deduction, the home must be the most important location, generally, the one where you generate revenue, but not always.
If you compare the two locations and it's not clear from which location you generate the most income, also consider time spent at either location. You must spend most of the time in the home for it to be the principal place of business under this consideration.
If after you look at revenues and time spent at each location and you still aren't clear if your home is the primary place of business, you probably shouldn't take the deduction, experts say.
There are two exceptions to this rule.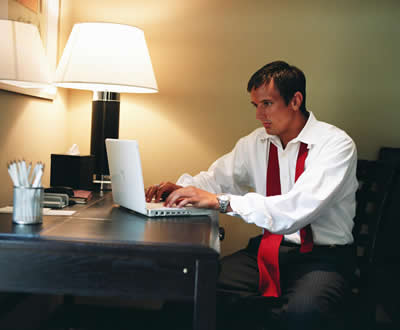 If your home office is not your principal place of business, you can take the home-office deduction if, for part of your business, you see clients, patients, or customers face-to-face in your home or use the space for administrative duties, paperwork activities and other related activities crucial to your business or work.
Also, if your home isn't your principal place of business, but you use some free-standing structure on your property, exclusively and regularly for business, you can claim the home-office deduction for that space. A barn, greenhouse, workshop, studio, detached garage, or any freestanding structure is eligible.
Your work-at-home business must also occupy a clear and identifiable space in your home. Generally, that means it must be in a location apart from the rest of your home, say, an addition constructed for your office, a converted bedroom, attic or basement, but also space in an alcove, nook or say, large walk-in closet space in a larger room.
You must use your home business space exclusively and regularly for your business. You can't use your business space, say, to watch TV with the kids, play computer games or temporarily house a visiting relative.
Personal, family, and living expenses are not deductible.
The IRS says a common error is to deduct expenses for a portion of the home that is not regularly used or exclusively used for business.
It's important to understand the rules, compute the deductions correctly, and keep accurate records to substantiate those deductions.
For more information see the IRS' Home Office Deduction web page.
Source:
Broderick Perkins