Dear Holocaust Educators,
We want to introduce you to the Consortium of Holocaust Educators, a newly formed group representing Holocaust-related programs in the Greater Philadelphia area. Connect to the Consortium's website to see details of each program and watch for an active calendar of events sponsored throughout the community.
Josey G. Fisher, Editor
Holocaust Education Consultant
COMMUNITY PROGRAMMING

International Opera Theater
Brundibar
and the Children of Theresienstadt
Ibrahim Theater,
International House
3701 Chestnut Street, Philadelphia
School performances with educator's resource guide available -
February 28, March 2, March 4 - 10:00 AM
Public performances - February 26 and March 6 - 3:00 PM
For further information, contact
brundibar.iot@gmail.com
or
http://internationaloperatheater.org/iot/brundibar/
.
Philadelphia Film Festival
Killing Kasztner
The Gershman Y
401 South Broad Street Philadelphia
Sunday, March 27, 5:00 PM
Performance followed by Skype Q &A with director, Gaylen Ross.
Documentary detailing controversy over Rezsö Kasztner, Hungarian Jew who negotiated with Adolf Eichmann to save 1700 Jews during the Holocaust. Newly uncovered trial documents and eyewitness interviews shed light on the libel trial in Israel which condemned him as "the man who sold his soul to the Devil."
Children of Jewish Holocaust Survivors
Island on Bird Street
Gratz College
Sunday, April 3, 2:00 PM
Film version of Uri Orlev's classic tale of a boy alone in the destroyed Warsaw Ghetto. Followed by a Q&A session with a Holocaust survivor. Grade 7 to adult.
PBS Television Premier
A Film Unfinished
Tuesday, May 3, 10:00 PM
Classic Nazi propaganda film, shot in the Warsaw Ghetto in May 1942, is supplemented by recently discovered footage, delineating scenes elaborately staged for propaganda purposes. For advanced viewers.
ADL'S WALK AGAINST HATE
Sunday, May 15
Martin Luther King, Jr. Drive/West River Drive, Philadelphia
ONLINE RESOURCES FOR COMMEMORATION AND CLASSROOM
United States Holocaust Memorial Museum
2011 Theme - Justice and Accountability in the Face of Genocide: What Have We Learned?
Further information
Click here
for details regarding theme and free CD/DVD Days of Remembrance planning.
Yad Vashem International School for Holocaust Studies
Auschwitz-Birkenau:
Educational Environment for Teachers
Click here for additional materials, guidelines for commemoration and links to age-appropriate, multi-disciplinary lesson plans.
Click here to register for regular updates on new educational resources and to subscribe to Teaching the Legacy, Yad Vashem's e-newsletter. See most recent issue and scroll down on left to register.
Holocaust and United Nations Outreach Programme
Women and the Holocaust: Courage and Compassion
Online study guide and video testimonies detail the impact of the Holocaust on six women's lives, their adaptation and resistance. Created in partnership with USC Shoah Foundation and Yad Vashem. Grade 9+
SUGGESTED READING
Black Radishes by Susan Lynn Meyer. NY: Delacorte Books for Young Readers, 2010.
Nazi occupation of France through the eyes of a young Jewish boy attempting to flee to safety with his family. Story inspired by experience of author's father. Grades 6-8.
Hidden o
n the Mountain: Stories of Children Sheltered from the Nazis in Le Chambon by Karen Gray Ruelle and Deborah Durland Desaix, NY: Holiday House, 2006.
First-person accounts of Jewish refugee children saved by the Protestant community of Le Chambon-sur-Lignon in Nazi-occupied south-central France. Supplementary resource to film Weapons of the Spirit. Grades 6-10.
Is It Night or Day? By Fern Schumer Chapman. NY: Farrar, Strauss and Giroux, 2010.
A young girl's flight to U.S. in 1938 to escape Nazi persecution, inspired by the story of the author's mother. Highlights immigration experiences of separation, prejudice, and adaptation. Grades 6-10.
PROFESSIONAL DEVELOPMENT
SUMMER 2011
Gratz College Summer Institute

Philadelphia

Children of the Nazi Era

Instructor, Josey G. Fisher

July 10-15, 2011

The Holocaust and Genocide in Film

Instructor, Dr. Michael Steinlauf

July 17 - 22, 2011

Intensive 3-credit graduate courses which may be applied toward Certificate in Holocaust and Genocide Studies. Tuition discount for full-time teachers.


For more information and details of online courses in Holocaust and Genocide Studies, contact Mindy Blechman, 215-635-7300 x 154.



USHMM - Washington, D.C.

2011 Arthur and Rochelle Belfer

National Conference for Educators

English/Language Arts: July 10-12, 2011

Social Studies: July 13-15, 2011

Annual conference for teachers of grades 7-12 and community college faculty with less than five years of experience

Deadline for application June 17, 2011

Holocaust and Jewish Resistance

Teachers' Program

Washington, D.C., Poland, Germany, and Israel

July 3-24, 2011

Summer study program for secondary school teachers who implement Holocaust studies in their classroom. Features study at the USHMM and Yad Vashem as well as sites of death camps, Warsaw Ghetto, and Jüdisches Museum Berlin.

Due March 25, 2011 - rolling admission

Further information and application

Yad Vashem - Jerusalem

Teaching the Shoah and Antisemitism:

Summer International Seminar

July 10-28, 2011

Further information

Click here for application.

OUR PARENTS, OURSELVES,
AND THE SHOAH:
An Expressive Writing Workship for Anyone Whose Parent(s) Survived the Holocaust
Co-sponsored by the Sons & Daughters of Holocaust Survivors and the Holocaust Awareness Museum and Education Center
March 6, 1:00-3:30
Congregation Rodeph Shalom
615 N. Broad Street, Philadelphia
Gerda Weissmann Klein
receives
Presidential Medal of Freedom
Gerd
a
Weissmann Klein
- survivor, author, civil rights activist - has rec
eived the Presidential Medal of Freedom,
the Nation's
highes
t civilian honor, presented to individuals who have made
espe
cially meritorious contributions to the security or national interests of the United States, to world peace, or to cultural or other significant public or private endeavors.
Click here for further information and new resources from the Klein Foundation.
Je
wish Community Relations Council
2100 Arch Street
Philadelphia, PA 19103
215.832.0536
Youth Symposium on the Holocaust for Grades 9-12
If you missed the
February 14 extended deadline but would still like to bring students,
contact
215-832-0536.
Tuesday, March 8
St. Joseph's University
Thursday, March 10
West Chester University
Tuesday, March 15 Germantown
Jewish Centre
Thursday, March 24 Reform Congregation Keneseth Israel
*******************
Mordechai Anielewicz Creative Arts Competition for
Grades 7-12
Deadline:
Tuesday, March 1
Submit all entries to:


Jewish Community Relations Council


2100 Arch Street
Philadelphia, PA 19103
Further information and links to resource materials
For Holocaust Education consultation, contact
Josey G. Fisher, 215-832-0862.
*******************
Yom HaShoah
Holocaust Remembrance Day
27 Nissan ~ May 1
2011 National Days of Remembrance
May 1 - 8
*******************
Philadelphia
Holocaust Memorial Ceremony
Sunday, May 1
1:00 PM


16th and the Parkway
*******************
"Dorothy Freedman Memorial Conversation

with a Survivor"
Breakfast program for middle and high
school students preceding the
Memorial Ceremony
10 AM-12:30 PM
Moore College of
Art and Design
20th Street and
the Parkway
*******************
For questions regarding all JCRC Holocaust programs and for requests for speakers, contact
Beth Razin, 215-832-0536
or visit our JCRC Holocaust Programs web page.
Jewish Life in Eastern Europe



Online Resources
Oral histories, films, photos, documents as well as lesson plans for using primary sources.
Yad Vashem
Online Exhibitions:
"A Jewish Community in the Carpathian Mountains - The Story of Munkács"
"Monastir: The Story of a Sephardic Community in Macedonia"
"19 km from Auschwitz: The Story of Trzebinia"
"On One Clear Day:
The Story of Jewish Wolbrom"
"The Story of the Jewish Community
in Mir"
Lesson Plan:
To Remember Their Faces: Teacher's Guide Using Prewar Holocaust Photographs
Grades 6+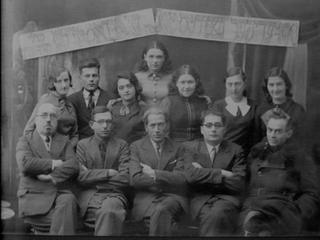 YIVO Institute for
Jewish Research
"People of a Thousand Towns": The Online Catalog of Photographs of Jewish Life in Prewar Eastern Europe
"When These Streets Heard Yiddish"
History and culture of Eastern European Jews, including guidelines for thematic web tours.
Click here for downloadable curriculum.




YIVO Encyclopedia of Jews in Eastern Europe
Extensive collection of articles, primary sources, and maps covering history and culture of Eastern European Jews from settlement in the region to the present.
Scroll to the lower right area of the page.
Compiled and edited by Josey G. Fisher, Holocaust Education Consultant.

Designed by
Bonni Kraus.