Alvin Alvarez first employee at MCPRS to gain the DSP- Credentialed status at the National Level
Elvin Alvarez, RSC
read more
The News from Human Resources
On November 5, 2010 the Human Resources Department hosted Miami Cerebral Palsy's Annual Employee Recognition Luncheon for the 1yr, 3yr, 5yr, 10yr, 15yr, 20yr and 25 yr, loyal hard working "professionals" who on a daily basis provide unconditional care to the individuals we serve. Once again, the event was held at the traditional place Illusions Banquet Hall in Doral click here to read more
Human Resources "OPEN DESK"
Periodically, Human Resources will be sponsoring an "Open Desk" in each facility during all shifts, where employees are encouraged to attend and voice their opinions and concerns, and seek information. All issues are brought to the attention of the Executive Director and addressed by the management of each facility. A written Action Plan is then implemented for any items that need to be corrected.
Training News
This year MCP again won the Top 125 award. Last year MCP was awarded 54th place in the rankings. This year's ranking was announced the Top 125 Conference in San Diego. Our Associate Director, Migdalia Sanitago travelled the long, but happy miles to bring home the award. This year MCP was awarded 40th place.
Our efforts to reach out to the community continue. In the month of January we hosted two outside agencies in order to afford our staff and the community with additional enriching learning opportunities. CCDH (Community Committee for Developmental Handicaps) provided a workshop on the administrator's ADA responsibilities regarding inclusion requirements and at the same time also highlighted IDEA along with some of its legalities. In addition, Therap Services, an on-line documentation and communication software system for providers supporting people living with developmental disabilities, hosted a workshop introducing new modules and elaborating on existing modules. A workshop will be conducted on how to deal with difficult parents, and additional recertification Physical Management training will be held, in addition to an already full training calendar.
We continue to work with the College of Direct Support and excitedly look forward to availing ourselves of the many new options this Learning Management System offers so that we can take full advantage of its many accessorial benefits.
N.W. 2nd Street Family Fun Day
Family Fun Day
Our special traditional Family Day Luncheon was celebrated on December 12, 2010. This year we had a special presentation done by our Direct Support Professional, Jean-Paul Aragundi. Jean-Paul did a live performance for families and individuals present by singing a potpourri of Christmas jingles and playing his electric piano. The individuals joined Jean-Paul by playing different music instruments. Thank you Jean-Paul for helping us coordinate this special event and for your support and participation, we all enjoyed it! We want to particularly thank two family members for supporting this event this year. Kevin Earle, Jr. for catering some gourmet food and desserts cooked and professionally prepared by him and Mrs. Olga Vulpetti for cooking a delicious cherry cheesecake from her own secret recipe. Bill Cummings, our Occupational Therapist, helped us in the serving of the food from the wonderful variety of different plates on the buffet table. As with every year, a special thank you goes out to our management team, Gertrudis Hong, Health Care Coordinator, Sofia Capaldo, RSC, Pedro Vargas, RSC and Camella Martina, RSC for working and planning this activity to make it a very special one. We want to mention two Direct Support Professionals from House-A, Maritza Guatemala and Ondina Gomez for coming out on their day off to help us decorate the houses and help with serving of the food, you all are great!
Thanksgiving at 80th Street
On November 20, 2010, a Thanksgiving luncheon was hosted by the Eightieth
Street Facility for approximately fifteen individuals, representing all four f
acilities and the 144th Court Group Home.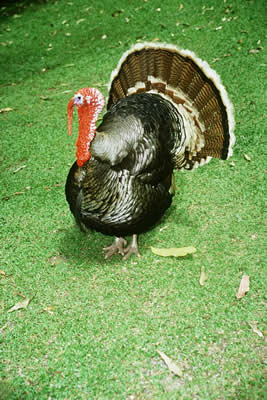 At the beginning of the meal, the individuals were asked to share what they were thankful for and it was heart-warming to hear those who could, express gratitude for the simple things that we often take for granted. There was great interaction between individuals from the facilities: Luis Martinez (144th Ct. Group Home) saw the occasion as an added opportunity to campaign for himself to be elected as President of "Resident Government Committee", and made sure to seize the moment. This did not sit well with the existing Vice President, who vehemently voiced her disapproval that Luis should be considered for this role. The healthy and lively debate was enjoyed by all.
Undoubtedly, all the individuals and the staff who accompanied them, enjoyed a tasty home-cooked meal of turkey, dressing, mashed potatoes, string beans, and macaroni and cheese. Their dessert consisted of peach pie and pumpkin pie. The event lasted about three hours and many individuals remained afterwards just interacting informally and listening to music.
144th Court Gets a Make-Over
The 144th Court Group Home just completed a re-modeling project that included enlarging the size of one of the bathrooms and a bedroom. The accommodations now allow easier access for the individuals to maneuver their wheelchairs in and within the bedroom and the bathroom shower stall is now large enough for use of a Hoyer lift.
Bathroom Upgrades
New tile was also installed in the bedroom and bathroom area. The appearance and functionality of the home is much improved and the individuals are very happy with the new accommodations.
The end of this year also marks another accomplishment of having a zero staff turnover over the past year. This has allowed for continuity of services and an experienced core of staff that are very familiar with the needs of the individuals they serve.
Happenings from the Dietary Department
The Dietary Department and the Director have had a busy quarter. We promoted Adrienne Blount, cook from our Braddock facility, to the Lead Cook position at our 80th Street facility. Adrienne has done an outstanding job in her new role. Congratulations, Adrienne! The department is presently assessing many new menu items for menu revision. We have added butternut ravioli, chicken teriyaki, chicken fricassee, vegetable lasagna, scalloped potatoes, new soups and a variety of vegetables. The menu will be finalized within the month after we obtain feedback from our individuals and staff. The department also continues to provide the individuals with their specific dietary needs and preferences. This allows the individuals and families that we serve to be provided with choice making and to be a part of their nutritional care plan. We will continue to work very closely with all departments, therapists, individuals and their families as part of our mission to be a part of the team process at MCPRS, Inc. a process we are most proud of!
Horticulture Program at the Life Long Learning Program
In the fall of 2010, in an effort to bring in the wonders of the outdoors, as well as promote personal independence, the Life Long Learning Program at MCP started a horticulture program this year. Our individuals have been busy planting, watering, and caring for various vegetables and spices. I am happy to report that everything is blossoming and sprouting all around us!
Horticulture at the Life Long Learning Program
Like our once tiny seedlings, this new program has definitely been growing from the ground up. Our individuals have really had the opportunity to get involved and get their hands dirty while enjoying and learning about this common community activity. By the end of late spring, we anticipate even greater challenges as our plants mature and intend to expand our program to include new plants and flowers.
In fact, we will have to expand in both our knowledge and physical size to properly care for all of our plants. We have even greater plans for improvement in terms of physical size and incorporating curriculum. Ideas and activities are just budding almost every day.
Christmas morning at Sunset
Christmas at Sunset
On Christmas morning the residents at Sunset facility came together to celebrate the wondrous joy and spirit of Christmas. The residents here sang and danced to classic holiday songs as all seemed to anticipate the moment when the many gifts could be opened under the tree. A staff member dressed up as Santa so the residents could fully engage in the traditions of the holiday season. Each resident was greeted by Santa and together they opened many presents. The residents seemed to enjoy the enthusiastic spirit and were able to share what they were thankful for.
Braddock Landmak Events
Braddock First Annual Fall Festival
As 2010 came to a close, the Braddock facility witnessed two landmark events for the individuals and MCPRS as an agency in the year's final quarter.
Miami Cerebral Palsy Residential Services, Inc

. (MCPRS) an Intermediate Care Facility, is a not-for-profit agency which provides nurturing homes for 96 children and adults with developmental disabilities. The ICF program provides 24 hour nursing care, along with a full complement of therapeutic services to include physical, occupational and speech therapy and registered direct support professionals. Additionally, MCP operates a 6 bed Medicaid Waiver residential group home in the Kendall area and a Life Long Learning Program.