Facebook
Flickr
Twitter
IPFW Events Calendar
This week on CATV
Interior Design Senior Exhibition
Ten students in the interior design program will have their design concepts showcased in both two dimensional drawings and digital three dimensional models, at the second annual Senior Exhibition, Friday, May 4, through Sunday, May 20 at the Visual Arts Gallery. An opening night reception will be held Friday, May 4, from 6 to 8 p.m. in the Visual Arts Gallery. Read the story...
This week's Discover IPFW will discuss how to successfully start a small business with help from the Small Business Development Center and insight from the Doermer School of Business. Guests include William Todorovic, associate professor of entrepreneurship, DSB; Jane Rich, regional director of the Small Business Development Center; Scot Goskowicz, SBDC business advisor; and Bernie Stone, SBDC client, who will share his story.
Tune in to Discover IPFW every Thursday at 7:30 p.m. on PBS-39.
Leading Hotel Schools of the World Adds IPFW Hospitality Program to Roster
Chancellor Michael Wartell and John Niser, chair of the Department of Consumer and Family Sciences, announced today that the Purdue Hospitality Management Degree at IPFW is now a member of the internationally acclaimed organization The Leading Hotel Schools of the World (LHSW). LHSW is an organization made up "of the world's top hotel schools and academic institutions with dedicated hotel management programs. Its mission is to provide the most advanced and comprehensive educational opportunities available to the hospitality industry," according to its website.

Read the news release ...
Steve Sarratore is Interim VCAA
Memo from Chancellor Michael Wartell:
Steve Sarratore

"As many are already aware, Vice Chancellor McKinney has accepted the presidency of Valdosta State University in Georgia. After consultation with faculty leadership and others, I am, herewith, announcing the appointment of Steve Sarratore (current Associate Vice Chancellor for Academic Affairs) as Interim Vice Chancellor for Academic Affairs. Steve has served IPFW well throughout his long career at IPFW and, I'm sure, will do an excellent job in this interim assignment. Please join me in welcoming him to this position."
Understanding University Data Handling Guidelines
All IPFW employees should be aware of the importantace of protecting university data and how to do so. If any information is improperly or potentially disclosed, you should know how to mitigate or stop the problem and how to properly report the incident. Please review the memo on University Data Handling policies and practices (PDF), which includes several helpful links that should be reviewed by all employees.
Need Tables or Chairs? Read This
Special Events is now handling table and chair requests for classroom buildings. Instead of going to Schooldude for tables, chairs, and pole stands, you can go to the Special Events site and click on the Tables and Chairs Request Form button on the right. Please allow at least two business days lead time. For other needs, continue to make requests through Schooldude.
The campus has limited quantities of equipment and requests will be handled on a first-come, first-served basis. Please make your reservations as early as possible.
There are no longer third shift deliveries. Deliveries are made from 9 a.m. to 8 p.m. Monday through Saturday and 1 to 6 p.m. on Sunday. Early morning requests will be delivered the evening before.
If an area is locked or inaccessible, the equipment will be delivered to the safest place near the door of the room. If you move the equipment to another space, please return it to the delivery site at the end of your meeting. Note: all stock tables are 6' long.
Health and Wellness
May is National Physical Fitness and Sports Month as well as Bike Month. To kick off this month of moving more, IPFW is participating in the Fort Wayne Bike Commuter Challenge. Register with Bike Fort Wayne and input "IPFW" as your team name. Bike to Work Week is May 14--18.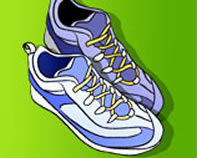 IPFW is hosting a Fort4Fitness training program beginning in July. Registration prices will increase Friday, May 4, at midnight. Complete an interest form ...
IPFW's annual Health and Wellness survey evaluates the past year's offering and helps the Health and Wellness staff to appropriately address employee interests. The survey is available through Friday, May 18. Complete the survey ...