Terri Stephens, CPO, CRTS
Certified Professional Organizer®
Certified Relocation & Transition Specialist®
(678) 513-6585
Did You Know?
The top reasons Professional Organizers are hired:
too much clutter

general disorganization

difficulty determining what to keep and/or discard

difficulty finding things

selling a home or moving
Source: NAPO 2009 Member Survey
06/30/2009
Ways We Can Help
You can save money. You'll know what you already own, eliminating the need to buy duplicate items. A professional organizer can help you find the perfect organizing products for your space and lifestyle, so you stop wasting money on things you don't need or won't work.

You can become more productive and efficient. A professional organizer can create order and structure out of chaos. You'll receive systems that work for your dominant learning style, your lifestyle, your needs, your challenges, and your dreams.

You'll have a positive self-image and ditch the shame. Once your home or office is neat and tidy, you won't feel embarrassed to have guests visit. The guilt will fade away as you take pride in your surroundings.

You'll have a healthier environment. Physical and emotional clutter obscures your surroundings. An organized home and office is more easily cleaned. Lose the clutter and cut down on time spent moving piles of paper and stuff around.

Your stress level will decrease dramatically. When you can find what you need, are on top of your to-dos, and arrive on time, you'll feel calmer and have more peace of mind. No more feeling overwhelmed by life -- you'll be the one in control.

You'll discover more time for yourself. When you're organized, your days go as planned, and you get a lot more done. That leaves more time to indulge in a little "me time."

Your energy will shine.
Clutter is a mask and a professional organizer can help you take off that mask. Once the clutter is removed, you can showcase your talents, skills, and personality and have the life you deserve.

November 2010
Real Order e-Newsletter
Dear ,


The busy holiday season will soon be upon us once again. Now is a good time to begin planning on how to improve upon last year, what should stay the same and what you would change. The holidays can be a stressful time with more things to do than hours in the day. This month's newsletter has a few tips on making it as stress-free as possible and ideas on organizing gifts that keep giving all year long.

My hope and prayer is that you and your loved ones will have a joyous Thanksgiving and holiday season!
Terri Stephens, CPO, CRTS
Real Order Professional Organizing, LLC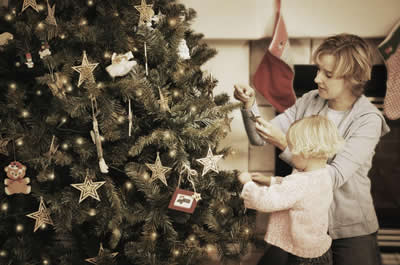 Why is it that the holidays can be both the most joyful and most stressful time of the year? We should be thinking about being thankful, peace on earth, goodwill toward all people, and the start of a new year. Unfortunately, many of us are caught up in unreasonable expectations for our holiday gatherings. We think that if we just do everything right, this holiday will be "perfect." Well, wake up and smell the Yule log! There is no such thing as a perfect holiday - not in real life anyway - and expecting one just sets you up for disappointment.
Take an honest look at your true priorities this holiday season. Decide what this time of year means to you, what you want and don't want to happen this year -- and make choices ahead of time about how you will spend your time, money, and energy accordingly.
Create a "Not to Do" list this year - things that you've felt pressured to take care of in the past, but you really don't enjoy and aren't critical to you enjoying the holiday. You may find that the chores that are left are easier and more enjoyable.
Keep track of what works and what doesn't this year. Then take steps to repeat your successes and correct any problems next year. Making conscious decisions about how you spend your resources - your time, effort and money - you can choose the kind of holiday you want.
Source: Online Organizing
Real Order Gift Certificates
The Perfect Gift for the Person who has Everything and a Little More
Looking for the perfect gift this holiday season? Could someone on your list use a gift that can help them de-stress and spend more time doing what they love?
Specialties include residential organizing - any room of the home, home office organizing (normal household business as well as professionals who work out of the home), relocation services - preparing a home to sell, packing, unpacking, and setting up a house to feel like a home. We can help you get ready for the upcoming holidays in preparation for house guests and put away your holiday decor afterwards in the most organized fashion!
Here's a recent note from Jessica, a client that I worked with extensively in the past year: "I just wanted to thank you for ALL your help organizing everything in my house from top to bottom! It has made such a huge positive influence on my life, and I am so grateful. It definitely makes things easier to find. Thanks again and God bless you!"
It's always nice to receive heartfelt notes like this from clients who have become friends. I am truly thankful for the many wonderful people I get to know through this work and can make a living doing what I love to do.
Just give us a call and see if we're the right fit for YOUR needs.

Holiday Gift Ideas
If you're looking for more gifts that keep giving year-round, here are a few of my favorites:
Cube Timer 5-15-30-60 Minute Preset Timer - About $15
Easily manage your time with simplicity and in style. The four sides of the cube simply state the minutes that you would like to start timing. Turn it on the side needed and it will immediately start timing. When the time is up, a loud, unmistakable alarm will ring.
Vital Records PortaVault - About $70
Organize all your important papers in one portable system and prevent chaos in emergency situations.
Li'l Divinci Kids' Artwork Frame - About $25 and up
Ingenious way to display & collect up to 50 kids masterpieces in art cabinets.
Shredding Scissors - About $9
Ideal for small shredding chores - I like to keep one in my kitchen drawer for junk credit card offers, etc.
Positive parenting program that provides busy parents with a tool to start teaching accountability and responsibility.
Planner Pad Organizer - About $25
Unique time management tool I've personally used for about four years now. Love it!
Butler Bag - About $100 and up
Compartments offer a bird's eye view so you never have to dig for anything - I've used a Butler Bag for about two years now and it really works!
Stylish, alphabetized mini-card file that fits right into your purse, briefcase or car console.
Some Other Holidays this Season

America Recycles Day - November 15
Getting organized is all about cleaning out items you don't need but that doesn't mean that everything you don't want has to go in the trash. Be sure to sort recycleables - plastic, glass, old magazines, catalogs, batteries and more. Your garbage pick-up service may take many of these items to be recycled; other can be taken to local recycling centers. Visit Earth911 to find a center near you.
Clean Out Your Refrigerator Month - November
Make room for Thanksgiving leftovers and holiday party trays. Check expiration dates and toss anything that's past its prime. Pay particular attention to your freezer - it's easy to forget what you have in there! According to the FDA, foods frozen at 0 degrees Farenheit will remain safe indefinitely but the quality may suffer over time. See the USDA website for recommendations on freezing and storing food.
Making a List, Checking it Twice
Shop & Save
Whether you tackle your shopping list entirely online or love hitting the mall the day after Thanksgiving, here are a few resources to help you get the best deals:
PriceGrabber.com - Comparison Shopping Online
Half.com - half-priced books, movies, music & video games
Every time we remember to say "thank you," experience

nothing less than heaven on earth.

REFER A FRIEND AND DINE OUT ON US
Most of us recommend restaurants, movies or mechanics to our family and friends. When you recommend Real Order for professional organizing, we want to thank you with a $25 gift card to Red Lobster or Olive Garden - it's your choice. A minimum of four hours of organizing services must be purchased to qualify. To redeem your gift card, simply notify us of the family or friend you are referring to us.
Bon appetit!
$25 Gift Card