Terri Stephens, CPO, CRTS
Certified Professional Organizer®
Certified Relocation & Transition Specialist®
(678) 513-6585
Did You Know?
The top reasons Professional Organizers are hired:
too much clutter

general disorganization

difficulty determining what to keep and/or discard

difficulty finding things

selling a home or moving
Source: NAPO 2009 Member Survey
06/30/2009
Ways We Can Help
You can save money. You'll know what you already own, eliminating the need to buy duplicate items. A professional organizer can help you find the perfect organizing products for your space and lifestyle, so you stop wasting money on things you don't need or won't work.

You can become more productive and efficient. A professional organizer can create order and structure out of chaos. You'll receive systems that work for your dominant learning style, your lifestyle, your needs, your challenges, and your dreams.

You'll have a positive self-image and ditch the shame. Once your home or office is neat and tidy, you won't feel embarrassed to have guests visit. The guilt will fade away as you take pride in your surroundings.

You'll have a healthier environment. Physical and emotional clutter obscures your surroundings. An organized home and office is more easily cleaned. Lose the clutter and cut down on time spent moving piles of paper and stuff around.

Your stress level will decrease dramatically. When you can find what you need, are on top of your to-dos, and arrive on time, you'll feel calmer and have more peace of mind. No more feeling overwhelmed by life -- you'll be the one in control.

You'll discover more time for yourself. When you're organized, your days go as planned, and you get a lot more done. That leaves more time to indulge in a little "me time."

Your energy will shine.
Clutter is a mask and a professional organizer can help you take off that mask. Once the clutter is removed, you can showcase your talents, skills, and personality and have the life you deserve.

Real Order

Gift Certificates
Could someone on your list use a gift that can help them de-stress and spend more time doing what they love?
Contact us
now to give someone the gift they can benefit from all year long.
September 2010
Real Order e-Newsletter
Be Ready!
Dear ,

As I write this, Hurricane Earl is headed toward the east coast packing winds of 145 mph, forcing thousands to vacate their homes, businesses and communities. Being prepared for an emergency takes foresight, planning and organization.
National Preparedness Month is held each September to encourage Americans to take simple steps to prepare for the unexpected. The focus this year is to encourage Americans to work together to take concrete actions toward emergency preparedness to help themselves, their neighbors and their communities be Ready when disaster strikes.
This month's newsletter is chock full of tips and resources to get you started so let the preparedness begin!

Terri Stephens, CPO, CRTS
Real Order Professional Organizing, LLC
Assemble Your Kit
After an emergency, you may need to survive on your own. While local officials and relief workers will be on the scene, it can take hours or days to reach everyone. It's important to have at least three days' worth of food, water, and other supplies on-hand.

The Federal Emergency Management Association's website

www.ready.gov

recommends the following items for your emergency supply kit:

Water - one gallon of water per person per day for at least three days, for drinking and sanitation
Food - at least a three-day supply of non-perishable food
Battery-powered or hand crank radio and a NOAA Weather Radio with tone alert and extra batteries for both
Flashlight and extra batteries
First Aid Kit
Whistle to signal for help
Dust mask to help filter contaminated air and plastic sheeting and duct tape to shelter-in-place
Moist towelettes, garbage bags and plastic ties for personal sanitation
Wrench or pliers to turn off utilities
Can opener for food (if kit contains canned food)
Local maps
Cell phone with chargers, inverter or solar charger

Visit

www.ready.gov

for additional suggestions and more tips to prepare for an emergency.
Social Media & Disaster Response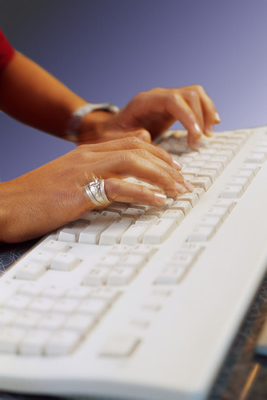 Social networks are great for all the reasons that made them popular -- keeping in touch with friends and family, finding old acquaintances, etc. -- but the real proof of their utility, and durability, is how willing people are to rely on them for "serious" stuff. And turning to Facebook for information in an emergency isn't as silly as it might seem at first glance, as officials at all levels of government are hurrying to establish a social media presence.
Tools to be Ready
We don't always have advance warning for emergency situations, so you want to be prepared before you need to act. The Ready Campaign shares tips and tools to help you prepare a family emergency plan, share emergency contact information and find state and local agencies where you can learn more about emergency preparedness in your community.
Visit this
Be Prepared
website for downloadable tools you can use now to be prepared when you need to be.
More Resources:
Protecting Your Important Documents
So you've created the perfect filing system, you can put your hands on any piece of paper in 30 seconds or less, and your desk is in order. But
what happens if your house burns down tomorrow -- will all of your vital records go up in smoke? If you become sick or seriously injured, would your loved ones be able to find what they need to manage your affairs? You need to make sure your important paperwork is protected and easy to access in case of an emergency. Think about how difficult it would be to rebuild your life without the right paperwork. How long would it take you to file a claim with your insurance company, if you didn't know your policy number? What financial challenges would you face if your checks, bank statements, and credit card info was destroyed? How could you get the help you needed without birth certificates, social security cards, and other personal information?
The goal here is not to be pessimistic, but prepared. You should keep a list of all your important numbers (bank account, credit card, insurance policies, social security) and contacts (advisors, account managers, customer service) for any information that you would need if disaster struck. You should also consider storing the originals of your vital records (birth certificates, wills, insurance policies) and your list someplace safe. That means a deposit box at the bank, a locked drawer at your place of employment, your mother's house, or a fire safe in your closet -- then keep copies in your everyday files for quick reference. It's also a good idea to leave copies of this information with your attorney and CPA -- the two professionals who will be most involved with your situation if you do face a major emergency.
Filing an Insurance Claim

Another important item to consider during an emergency is your household inventory. If your personal possessions are damaged or destroyed, you will need to itemize everything that you lost and estimate its value. If you had to, right now, could you make a list of all your belongings and how much they are worth? Probably not. And it would be even more difficult during a time of crisis when you are stressed out and not thinking straight. So the key is to get things in order before you are put into that situation.
You have several different options for creating a household inventory. The easiest technique is to walk around your house with a video camera, filming everything that you own. Where you can, go ahead and make comments about your belongings as you shoot -- "We bought that TV last year and it cost $600," or "Grandma Miller gave us that table; it was made in 1865." If you don't have a video camera, take snapshots of each item. Don't forget to estimate the year of purchase and the value of each piece. If you have the receipt, make a copy and clip it to your list. If an item is particularly costly or hard to replace (like artwork or an antique), you may wish to have a certified appraisal done and include that documentation with your list. Your household inventory should be stored with your other important papers, but don't just file it away and forget about it; you need to plan a time each year to update your list, adding on any new items you have acquired since the last inventory.
Source: OnlineOrganizing
Make it Easier on Your Heirs
No one likes to think about death, but it is a fact of life. Grief is hard enough to handle without having to deal with confusion over the deceased's paperwork and final wishes. You can make things easier on your loved ones by getting your affairs in order now. Start by creating an "Everything You Need to Know" file or notebook which lists and summarizes your important documents and tells family exactly where all of your important papers are stored. If you've got them in a box at the bank, you may want to rethink that strategy -- safe deposit boxes are often sealed at the time of death, so keep your funeral arrangements and wills someplace more accessible. Don't forget about paperwork that is kept in off-site storage. Your family will need to know the location of the following records:

Legal - wills, powers of attorney, trust documents, special bequests, safe combination
Family - birth/adoption/guardian, social security, citizenship, marriage/divorce, military
Banking - trusts, loans, list of accounts, statements/cancelled checks, check/passbooks
Investments - CD, securities, stock/bond/mutual fund, retirement plan, IRA, annuities
Business - incorporation papers, contracts/agreements, computer back-up
Deeds/titles/registrations - title insurance, property, home inventory, vehicles
Insurance - life, other death benefits, property and casualty, health, homeowners, auto
Funeral instructions - burial instructions, cemetery plot deeds
Contacts - friends/relatives/business, attorney, CPA, insurance, broker, executor
Indicate the precise location of each document -- in a bankers box labeled "vital documents" in the attic at your house, in the third drawer of the big file cabinet in the corner of your office, in a safe deposit box at such-and-such bank (and where to find the key), with your attorney, accountant, or brokerage house. Be sure to include the address, directions, and any other important contact information.

Source: OnlineOrganizing
There are some things you learn best in calm, and some in storm.
-
Willa Cather,
The Song of the Lark, 1915