Terri Stephens, CPO, CRTS
Certified Professional Organizer®
Certified Relocation & Transition Specialist®
(678) 513-6585
Ways We Can Help
You can save money. You'll know what you already own, eliminating the need to buy duplicate items. A professional organizer can help you find the perfect organizing products for your space and lifestyle, so you stop wasting money on things you don't need or won't work.

You can become more productive and efficient. A professional organizer can create order and structure out of chaos. You'll receive systems that work for your dominant learning style, your lifestyle, your needs, your challenges, and your dreams.

You'll have a positive self-image and ditch the shame. Once your home or office is neat and tidy, you won't feel embarrassed to have guests visit. The guilt will fade away as you take pride in your surroundings.

You'll have a healthier environment. Physical and emotional clutter obscures your surroundings. An organized home and office is more easily cleaned. Lose the clutter and cut down on time spent moving piles of paper and stuff around.

Your stress level will decrease dramatically. When you can find what you need, are on top of your to-dos, and arrive on time, you'll feel calmer and have more peace of mind. No more feeling overwhelmed by life -- you'll be the one in control.

You'll discover more time for yourself. When you're organized, your days go as planned, and you get a lot more done. That leaves more time to indulge in a little "me time."

Your energy will shine.
Clutter is a mask and a professional organizer can help you take off that mask. Once the clutter is removed, you can showcase your talents, skills, and personality and have the life you deserve.

Real Order

Gift Certificates
Could someone on your list use a gift that can help them de-stress and spend more time doing what they love?
Contact us
now to give someone the gift they can benefit from all year long.
April 2010
Real Order e-Newsletter

Organized Kids' Spaces
Dear ,

This month's newsletter deals with the challenges of having an organized home when you're the parent of young children. It's not easy, but having simple systems and routines in place can make a big difference and help keep you sane! Don't make the mistake of becoming a slave to your kids - you know, that's what EVERY child wants - but teach them organizing skills they can use for life and give them age appropriate chores so they can learn by doing.

Here's a funny but accurate job description for parents I recently read that may strike a chord with many readers:
Long term position, team players needed for challenging, permanent work in an often chaotic environment. Candidates must possess excellent organizational and communication skills. Must be willing to work variable hours which include evenings, weekends and frequent 24 hour shifts. Some overnight travel required, including trips to primitive camping sites on rainy weekends and endless sports tournaments in far away cities. Travel expenses not reimbursed and extensive courier duties are required.

Now here are the priceless benefits of parenting and all your hard work:
While there is no health or dental insurance, no pension, no tuition reimbursement, no paid holidays and no stock options, this job supplies limitless opportunities for personal growth, unconditional love, and free hugs and kisses for life if you play your cards right.

As a parent myself and now the grandparent of a soon to be three-year old - check out the child with the exposed tonsils - I can say with absolute certainly that it's all worth it and the best job in the whole wide world!

Enjoy the ride,


Terri Stephens, CPO, CRTS
Real Order Professional Organizing, LLC
5 Tips to Organize Your Family & Home
CREATE A HOME COMMAND CENTER
Devote an area of the house to organizing your weekly schedule and putting together shopping lists and errands. Schedule a weekly planning session to record each family member's schedule for the week ahead.

Set up two magnetic boards:
One board has the weekly family calendar for all activities plus a daily dinner meal planner for the week. At a glance you will know what to take out of the freezer in the morning, or if you need to run to the store to pick up something for dinner. Update the calendar daily as things change.

The second has a set of shopping lists split into frequently-shopped stores and is updated regularly.

KIDS' TOYS/PLAYROOM ORGANIZATION
Clean out toys at least twice a year - every three months is even better. If the same toys are available for too long without new things being introduced, kids tend to get bored.
Establish a rule that for each new toy that comes in (birthdays, holidays, visit from Grandma, etc.) one toy goes into the "give-away basket." This not only reduces the quantity and clutter, it's a great way to teach kids about donating to those less fortunate.
All toys have their own "home" in the playroom. This works great because kids can pick up by themselves. They learn exactly where every toy goes and how they're organized.
KIDS' CLOTHES
Keep matched outfits together on one side of the closet and individual items (shirts, pants, dresses, skirts, etc.) organized into type and season on the other side. Organizing the closet this way makes it easy to find what you're looking for. Also, babysitters, grandparents and even kids can quickly find a matched outfit they know will fit.

If you want kids to hang their clothes up, make sure the closet rod is at a level they can reach.

To make mornings run more smoothly, install a hanging clothes organizer with a slot for each day of the week. Fill it with outfits on Sunday evening and kids can dress themselves quickly.

HALL CLOSET/MUDROOM
Hats/Mittens/Shoes: Label clear plastic storage boxes for each family member to keep these items in one place and easy to find when you're heading out.
Coats/Jackets/Bags: If the closet rod is too high for kids to reach, install a peg-type coat rack at a lower lever on the wall or inside the closet door.
It's important to teach kids that every item has a "home" and that it needs to return when they're finished with it.
CLEAN-UP TIME
At the end of each day, set a timer for 10 minutes and everyone helps!
Dirty clothes go in a hamper
Books go on a shelf
Toys go in the correct storage container
Clothes for the next day are ready
School bags are packed
Lunches for the next day are prepared (if you're feeling really ambitious!)
Make Organizing Fun for Kids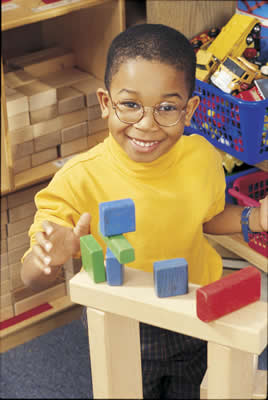 You have opportunities to teach your children organization skills that will last a lifetime. Don't waste those moments by picking up after them. Help them find a place for everything and put everything in its place.
PLAY CLUTTER TAG
To make family members more aware of their clutter trails, get a roll of removable, peel-off stickers and tag each item that's left out for a week. Just making them aware may make them think twice about leaving things out. Children may enjoy helping you tag items, and the act of tagging will make them more likely to put away their own belongings.
ESTABLISH A "PENALTY BOX"
If Mom or Dad has to pick up something one of the kids left out, it will be forfeited until Saturday morning. To reclaim the item, its owner must pay a penalty of one extra chore. If anyone chooses not to do the chore, you know that the item isn't important to him or her. Give it away or throw it away without guilt.

BEAT THE CLOCK
This is a good way to make cleaning up a messy bedroom or playroom more fun. Assign a "put away" basket or pillowcase to each child. Set a timer for 30 seconds and see who can pick up the most stuff. Repeat as necessary and keep score. Reward the winner with a couple of quarters, or allow him or her to stay up a few minutes later that night
BE THE BOSS
Let your children take turns being boss for 10 minutes. Their job is to supervise the other children as they pick up their belongings and straighten up their rooms. In learning to be a good supervisor, children also learn to pay more attention to details.

BLOW THE WHISTLE ON CLUTTER
Plan a 15 minute family pick-up time with a special reward at the end, such as a bowl of popcorn and a movie. Have everyone start in the same room. Blow a whistle as the signal for family members to start putting things away. When that room looks good, blow the whistle again and yell out a room name. "Players" run to the next room and start picking up in that room. Wrap up the game with praise for a job well done.
Resources for Organizing Families
Mothers' Groups
Mothers & More -
www.mothersandmore.org
Mothers International -
www.mops.org
Other Helps
Shared Online Family Calendar, To Do Lists, Family Journal, etc. -
www.cozi.com
Books & Information for Parents
Parenting by the Book
by John Rosemond
Neat Moms, Messie Kids: A Survival Guide
by Sandra Felton
Sink Reflections
by Marla Cilley (The Flylady) -
www.flylady.com
Confessions of a Happily Organized Family by Deniece Schofield
ADD-Friendly Ways to Organize Your Life by Judith Kolberg and Kathleen Nadeau


How to Know if You're Ready for Kids
If you're not a parent but are thinking maybe it's time to start a family, consider this test to see if you're ready.
Mess Test. Smear peanut butter on the sofa and curtains. Place a fish stick behind the couch and leave it there all summer.

Toy Test. Obtain a 55 gallon box of Legos (or substitute roofing tacks). Have a friend spread them all over the house. Put on a blindfold and try to walk to the bathroom or kitchen. Do not scream because this would wake a child at night.
Grocery Store Test. Borrow one or two small animals (goats are best) and take them with you as you shop. Always keep them in sight and pay for anything they eat or damage.

Dressing Test.
Obtain one large, unhappy, live octopus. Stuff into a small net bag, making sure that all the arms stay inside.
Feeding Test.
Obtain a large plastic milk jug. Fill halfway with water and suspend from the ceiling with a cord. Start the jug swinging. Try to insert spoonfuls of soggy cereal into the mouth of the jug, while pretending to be an airplane. Now dump the contents of the jug on the floor.
Ingenuity Test.
Take an egg carton. Using a pair of scissors and pot of paint, turn it into an alligator. Now take a toilet paper tube and turn it into an attractive Christmas candle. Use only scotch tape and a piece of foil. Last, take a milk carton, a ping-pong ball, and an empty box of Cocoa Puffs. Make an exact replica of the Eiffel Tower.
Automobile Test.
Forget the BMW and buy a station wagon. Buy a chocolate ice cream cone and put it in the glove compartment. Leave it there. Get a dime. Stick it into the cassette player. Take a family size package of chocolate chip cookies and mash them into the back seat. Run a garden rake along both sides of the car. There, perfect.
Learn to say no. It will be of more use to you than to be able to read Latin.
- C.H. Spurgeon, 19th Century Preacher and Author