My Backyard
Recent Backyard Sessions reach 1,500 people
With the addition of 20 service/learning-focused Backyard Sessions since August, more people have been exposed to Leave No Trace while participating in trail clean-ups and other volunteer projects across the country. Read more.
Leave No Trace trains KOA's Kamp Green Team in Nevada. Read more.
Leave No Trace e-tour works with Youth Volunteer Corps of America. Read more.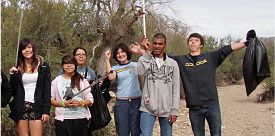 New York State Park training has benefits. Read more.
Washington Hot Spot Success
The Center's Hot Spot at Mount Rainier National Park is a great model for Leave No Trace at work on public lands. Read more.
Near You in December
Check out all of the Leave No Trace activity coming to your state in December. Find out if a Leave No Trace Traveling Team is visiting your state this month.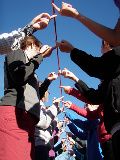 Find the Right Training
For You
Hankering to hone your Leave No Trace skills? Wanting to find an outlet to teach what you know? Let the Center help you select the best training to meet your needs and teach Leave No Trace in your community. Read on.
The Art of the Bear Bag Hang
While our country's bear population is slumbering this winter, learn best practices to protect yourself and your food when they wake up hungry in the spring. Learn more.
Tech Tip: Keeping Those Happy Trails Happy
As we all take to the trails this winter,
be considerate of the various types of recreation going on. While on multi-use trails, try to separate snowshoe tracks from ski tracks where possible. Also, avoid hiking on ski or snowshoe tracks.
Great Gifts are 25% Off
Give gifts from Leave No Trace for the holidays.
Select from sale items through December.