Leave No Trace to rally volunteers in Boston
The Center is hosting a Backyard Session in Boston on August 15, to learn and discuss ways to increase Leave No Trace activity in New England. Join us in Boston!
Celebrate National Public Lands Day with Leave No Trace in Minnesota
Come meet your State Advocate, the Leave No Trace e-tour, and network with other supporters in your community while learning about local volunteer opportunities. Participate in a morning service project with St. Paul Parks and Recreation in the morning and spend the afternoon with Leave No Trace. Join us in St. Paul!
Leave No Trace Day a success in Georgia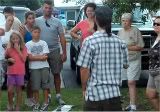 The Brunswick, Georgia mayor helped kick off their first Leave No Trace Day as part of our Backyard Sessions program at the Georgia Department of Natural Resources Costal Resource Division Headquarters
.
Read about it.
Near You in August
· Check out all of the great Leave No Trace
activity in your state in August.
· Do you live in Wyoming, North Carolina, Utah, Colorado, Indiana, Massachusetts or Missouri? Leave No Trace Traveling Trainers are visiting your state this month.
Find out more.