Leave No Trace rallies volunteers in Washington
Leave No Trace just hosted two Backyard Sessions in Seattle, focusing on Mount Rainer National Park.
Keep reading.
Boyer does it again at Maine's Saco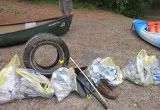 River
With support from Leave No Trace, local advocacy groups and volunteers, the heavily-visited Saco River gets some much needed attention.
Near You in July
· Check out all of the great Leave No Trace
activity in your state this July.
· Do you live in Florida, Georgia, Iowa, Colorado, Michigan, Minnesota, North Carolina, Oregon, California, Virginia, Pennsylvania or West Virginia? Leave No Trace Traveling Trainers are visiting your state this month.
Find out more.