Departments

New Pilot Stock Course
The USDA Forest Service Ninemile Wildlands Training Center and the Leave No Trace Center for Outdoor Ethics jointly hosted the second-of-two pilot Master Educator Courses focusing on frontcountry-specific equestrian issues and impacts.Read More.
Teaching Activity Guide On Sale Through May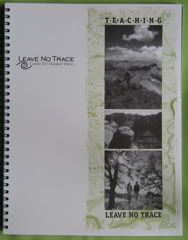 The Leave No Trace Teaching Activity Guide is a great resource for those who want to teach Leave No Trace but have little to no formal Leave No Trace training. The Guide provides solid background information on the Seven Principles of Leave No Trace along with time-tested activities designed to introduce the concept to new audiences. The Leave No Trace Teaching Activity Guide is 25% off through May!
Come on tour with e-tour
The e-tour team is preparing to share Leave No Trace with youth and families this summer, and we need your help to send them off. Will you sponsor a trainer for one day of education with your gift of just $30.30? Make your sponsorship gift today and help promote responsible recreation this summer.
Spring Auction a Success Leave No Trace raised over $8,000 in the spring auction. Special thanks to all the Leave No Trace community for making this a success. Because of you, the Center will teach Leave No Trace to hundreds of children and adults this summer.
Help Fetzer Vineyards Support Leave No Trace
Join the Facebook Causes Campaign for Leave No Trace.