Leave No Trace in your Backyard!
Already this year, Backyard Sessions have been conducted in San Diego, CA, Houston, TX, Missoula, MT, and Lake Tahoe, CA.The purpose of Backyard Sessions is to introduce Leave No Trace principles to your community and increase local participation in putting Leave No Trace into action. Every Session includes a Leave No Trace educational training component, along with fun activities such as trail building or clean ups, outdoor adventure films, community hikes, contests, community forums or guest speakers.
The campaign is part of Leave No Trace's strategy to reach hundreds of thousands of people this year with vital environmental education.
The Center is currently defining the full slate of Backyard Sessions across the country, and we will notify you when a Session comes to your region. To learn more about the program, click here.
Events This Month
In April, the Leave No Trace Traveling Trainers are conducting training in Alabama, Florida, Illinois, New Jersey, Ohio, Oregon and Wisconsin.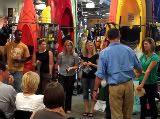 In Your State

Click into your state on the Leave No Trace Community Page to learn what education, training and community events may be open to you in April. Leave No Trace State Advocates and volunteers offer local events and workshops all year long.