Greetings!
Have you ever had a belief hold you back? We carry many of these stories with us through life - thinking they are true. Well, most likely they are JUST STORIES. I personally realized one of my beliefs that had been drilled into me since I was 6 years old that was just not true. Working through my own stories helps me decipher yours too! I recently received a call from a woman asking me about my services. In the few minutes on the phone, she said she was "so stupid about money" at least 6 times! My comment to her was, "When you work with me, we are going to rid your vocabulary of that phrase!" All I could think of was the quote from Forrest Gump, "Stupid is as stupid does". We perpetuate our beliefs.
The second chapter of my book, "My Own Money Mechanic, Switching Gears for a Money Makeover You Can Live With" talks about just this topic. The chapter is called "Starting Out: Are You Stuck in the Family Car?". This is an important piece of how I help people with their Money Makeovers - this is only one of the many reasons that make me different.
After all, "Money doesn't grow on trees!" or does it? Contact me to find out!
Deb@WomensMoneyMakeover.com
865-690-4646
Deb Schmitz
"The Money Mechanic"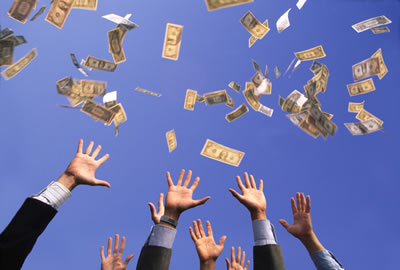 Pick a Money Day
One of the things I do myself AND coach others to do is to pick a money day. You need to do this AT LEAST ONCE A YEAR and better if you do it once/quarter. This is a day where you make phone calls or write emails or letters to all the people companies,etc that owe you money! What?!?
I just did this last week and made over $400 in 4 hours. Here's what I did:
Called my credit cards to see if they would lower my interest rate - got "no" for an answer, but sometimes get yes
Put my mobile hotspot on vacation hold because I'm not using it - saved $150 over 3 months
Called my health insurance company because they denied a claim. I went out of network, so they should have covered part of it. They said they made a mistake and it would be covered - $192 in my pocket.
Called US Post Office Click 'N Ship because they double charged me. Now this is a challenge - still not resolved, but they will credit my account $12.95
Called the cable company because our cable box hasn't been working right since we upgraded - $120 credit
Go to www.missingmoney.com - didn't find any this time, but have before!
Called to discuss a service I wanted to drop because I wasn't sure it made sense. Funny when you want to cancel something all of a sudden "we can give you a reduced price". Why didn't they give me the reduced price to begin with?? Saved $12/month and still kept the service. Made sense to me to keep it at the reduced rate
I put on a headset or earbuds in, knowing ahead of time I am going to be on hold. Clean out my emails while I am on hold AND I don't push all the buttons they have you push for the automated stuff - they ask you the questions anyway once you get a human. I just hit "0" or say "representative" over and over until I get a human. I make a game of it - you have to. Now a days it's up to us to keep our financial lives straight. I can help you make your list for you Money Day! Bet I can save you some money!
About Us
Thanks for subscribing to this newsletter. You are an important piece of spreading the word.