Greetings!
I shared a booth with two of my good friends - Karen Wahner of www.WhatsHappeningGeorge.com and Carol Montgomery of www.GreenVillageGreen.com at the Healthy Living Expo in Knoxville the weekend of January 20th.
We were colorful!!!! and a bit confusing. But it worked to our advantage, because people would stop and ask "What is this?". Also when crowds came and one of us was talking the others could explain our business. Many times someone else promoting your business speaks volumes! We all helped each other set up and take down. Great teamwork - I love being on a good team. The three of us had a great time and met so many new people! I had five women that won a book - I hope you have started reading.
Thanks Carol and Karen and thanks to all those that stopped by. Those of you that signed up for my newsletter - enjoy!
Deb Schmitz
"The Money Mechanic"

Communication
Let me ask you a question. How do things go when you ask your spouse/significant other to teach you how to do something? Does it look like this?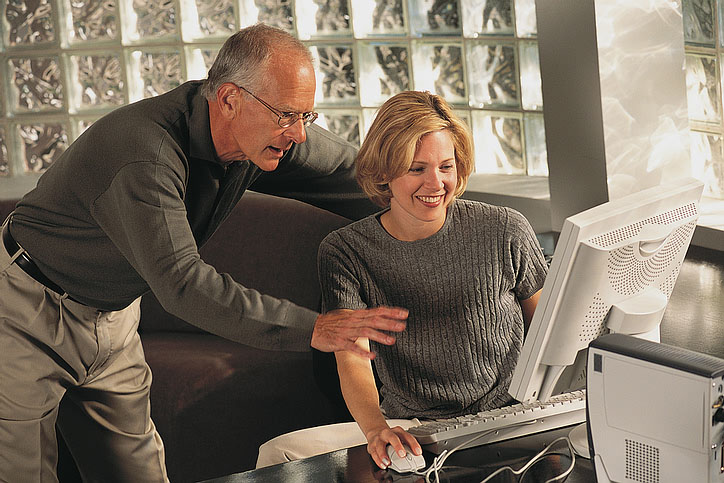 I am going to guess NO. Maybe it's playing a sport, fixing something in the house, driving a car or heaven forbid - explaining your retirement! I've asked many women this question. The answer I get most of the time is "He gets so frustrated with me, makes me feel stupid, so I just don't get involved" Does this sound familiar? For me, it's my husband's tone of voice or the roll of the eyes that will stop me from asking him something. That is how it was a number of years ago when I decided I wanted to try golf. After a few times at the driving range with my husband, I decided to hire a professional - someone objective who could be my "interpreter" - breaking the steps down into something I could understand. It went much smoother. I still don't golf, but when I do, I know what to do next time!
Why not try asking for a REAL gift from the heart this year? Ask for an interpreter for your finances. I know that sounds really weird, but what could be a greater gift than making sure you and your loved ones are taken care of? I know I keep harping on this, but I have seen it both ways - prepared as much as you can be and totally unprepared. I much prefer the former.
For Valentines Day I am offering a special!
For $100, I will be your interpreter for anything about your finances (one topic) that you get the frustrated, make you feel stupid feeling. Is it your retirement, life insurance, employee benefits, credit cards? I can help. For example, I can tell you in common terms what type of life insurance or investments you have and what to do if something happens. You don't have to live in Knoxville - I can do this long distance too!
deb@womensmoneymakeover.com 865-690-4646

www.WomensMoneyMakeover.com
About Us
Thanks for subscribing to this newsletter. You are an important piece of spreading the word.
"Ask The Money Mechanic"
I had an interesting question about credit cards that was emailed to me the other day from a client. It gave me the idea to have this be part of my newsletter! If you have a question email it to
info@womensmoneymakeover.com
Look for answers in months to come!

Thanks for all the great comments about my book!
"My Own Money Mechanic, Shifting Gears for a Money Makeover You Can Live With"
I loved your book, it was written straight forward, and interesting. As we know, money books can be boring. I loved the stories, as it brings a realization, which you have gone thru, so the reader can relate. -R.B-
It can be purchased on my website www.womensmoneymakeover.com
An easy read, 100 pages (on purpose)
Testimonial
Deb is especially helpful for women in transition who need to get a handle on their financial security. By that, I mean women are are at or nearing retirement, those recently widowed or divorced, or anyone going through a major life transition. -W.P.-
Money Showers
A way to have fun learning about finances.
you are guaranteed to know something about money that you didn't know coming into the shower
helps break barriers we all have about talking about money
helps you know you are not alone
Next Money Shower:

February 22nd at Dr. Spencer's office for his staff. A lunch 'n learn with 9 women. Should be FUN!!


Interested in getting a group of friends together for a Money Shower? Ask me how!

Deb Schmitz 865.690.4646