Greetings!

We are delighted to present you with the current issue of Iran Update, a publication of International Solidarity for Democratic Change in Iran (ISDCI). We recommend the following readings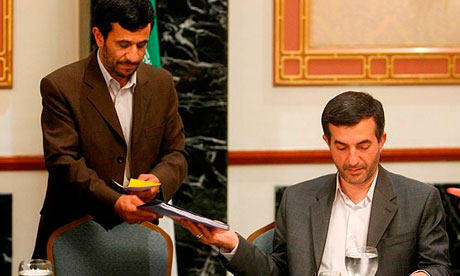 "Today Mashaei is the actual president. Ahmadinejad has held on to a decaying rope by relying on Mashaei," Says Khamenei's deputy representative in the powerful Revolutionary Guards
Ahmadinejad allies charged with sorcery
The Guardian
Iranian power struggle between president and supreme leader sees arrests and claims of undue influence of chief of staff...
Ayandeh, an Iranian news website, described one of the arrested men, Abbas Ghaffari, as "a man with special skills in metaphysics and connections with the unknown worlds". Read On...
What caused a recent spat between Ahmadinejad and Khamenei?
It appears that, once again, Khamenei has chosen a path whose goal is nothing more than establishing and expanding his own authoritarian power-the outcome of which will likely leave the regime fractured and weakened. Read On...
Iran Executed Two Juvenile Offenders in April

ISDCI
The Iranian regime announced the executions of 14 people in the fourth month of 2011, while there were reports of 4 executions not announced by the regime. Iran set a new record in public executions by hanging 9 people in public in the month of April. According to Amnesty International, two of those hanged in public were juvenile offenders. Read On...
MEP Calls for independent inquiry into Camp Ashraf Massacre
Four Members of the European Parliament, Struan Stevenson (ECR, UK), John Attard-Montalto (S&D, MT), Jelko Kacin (ALDE, SL), Mario Mauro (EPP, IT) visited Iraq on 26-29 April to meet political leaders in that country, reported the website of the European Parliament. Read On...
Bipartisan bill on Iran seeks more support for dissidents
A bipartisan group of lawmakers introduced legislation Wednesday that would increase U.S. support for Iranian dissidents and impose new sanctions on companies that aid the ruling regime. Read On...
Video: Protests continue across Syria as troops exit Deraa

AFP
Protests continue across Syria as troops exit Deraa