Greetings!


We are delighted to present you with the current issue of Iran Update, a publication of International Solidarity for Democratic Change in Iran (ISDCI).
US 'may have broken international law' over Iraqi attack on Iranian camp

The Guardian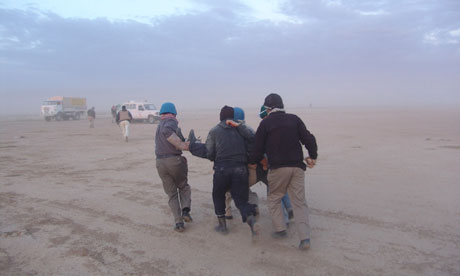 Iraqi forces storme Camp Ashraf
Iraqi forces have stormed a camp of Iranian dissidents in north-eastern Iraq amid warnings that the US government may have broken international law by failing to protect the camp.
Read On...
Iraq: Investigate deadly violence at Camp Ashraf

Amnesty International
The Iraqi authorities must immediately launch an independent investigation into reports that Iraqi troops killed and injured residents of a camp for Iranian exiles north of Baghdad in an unprovoked attack, Amnesty International said today.
Read On...
Gates urges Iraqi restraint in attack on Iranian rebels

AFP
CAMP MAREZ, April 8, 2011 (AFP) - US Defence Secretary Robert Gates said Friday he was concerned about reports of an Iraqi army attack on an Iranian opposition base in Iraq, and urged restraint.

Read On...
Clashes at Iranian Rebel Camp in Iraq

The Wall Street Journal
Iraq's armed forces moved against a camp holding thousands of members of an Iranian resistance movement that's based in Iraq Friday, killing dozens and wounding hundreds, according to a spokesman for the movement.
Read On...
Iraq does Tehran's bidding in attack on Camp Ashraf

Stop Fundamentalism
Why would Iraq's Al-Maleki order a heavy assault on 3400 unarmed, defenseless Iranian dissidents in a refugee settlement northeast of Baghdad? Reports reaching news agencies confirm that at least 31 Iranian dissidents have been killed and hundreds wounded. Medical supplies are being blocked as the critically wounded continue to die.

Read On...
Foreign Office Minister deplores the loss of life and injury at Camp Ashraf in Iraq

Foreign & Commonwealth Office - United Kingdom
The UK Government is deeply disturbed to read reports that a number of civilian residents have been killed and many more wounded at Camp Ashraf today. We absolutely deplore such loss of life and injury.
Read On...
Iraqi forces raid camp of Iranian dissidents

The Washington Post
Iraqi security forces in bulldozers and Humvees barreled into a camp that is home to an Iranian opposition group early Friday, an event coinciding with what is likely to be U.S. Defense Secretary Robert M. Gates's last official trip to Iraq, and a replay of a similar entry into the camp during a Gates visit two years ago.

Read On...