Annual Awards Ceremony
We need your votes!
On October 26th at The Loft, the SBC will host its annual Sustainability Awards Ceremony, honoring nonprofits, businesses and community members in the following 6 areas:
Advocate
SBC Volunteer
STS Program Achiever
Business
Non-profit
New Venture
Member Opportunities
- Speaker's List -
Did you know that the SBC provides a Speaker's List under the resources tab on our website? Click here to check out the full list of available speakers and topic. To be added to the list email info@sbcmontana.org.
Featured Speaker
Joellen Shannon from Farm To Family, a business that delivers local food directly to your door, is available to speak on the topic of sustainable and local food systems. For more information call 406-531-8189 or email.
Member Website Need Updating?
If your SBC member page needs updating, let us know! We'd be happy to get your page current and help you promote everything your business does to be sustainable.



Send your update to info@sbcmontana.org
National News
Sloan MIT Management Review reports that businesses that embrace sustainability may have an edge in today's economy.
Get Involved!
We are currently looking for community members to join our Buy Local & Fundraising Committees. If you are interested in any of these positions, please email Miriam at
Current internship openings:
Product Development & STS Sales ,
IT Maintenance & Development, and Marketing & Outreach.
Contact Drew to apply.
Greetings!
If you are a member, or interested in learning more about SBC membership, we hope you will be able to join us on Thursday, August 25th at the Missoula Winery for the first annual Membership Appreciation Night!
See "Upcoming SBC Events" below for more info. To RSVP click here, to add to your calendar click here, and for directions click here.
Also in this newsletter, enjoy an article from Missoula Federal Credit Union, check out our featured member speaker Farm To Family, as well as the Strive Towards Sustainability Profile for CTA Architects Engineers.
Hope to see you in at the winery next week!
Member Events & News
- MUD Workshops -
The Missoula Urban Demonstration Project, MUD,
is offering a bevy of useful workshops this summer including:
August 24th: Making Baby Food
August 25: Seed Saving
August 26: 30th Anniversary Garden Party
Visit MUD's event page for more information.
-homeWORD Financial Fitness class -
Held at homeWORD, 127 N Higgins, Ste 303 on
Saturday, August 20 9am-6pm
Cost: $10/person
Register and pay online at www.homeword.org
Childcare vouchers available for Busy Hands Fun Center
For questions or more information, call 532-HOME or email
- Missoula In Motion "Sunday Streets Missoula" -
Higgins Avenue from the X's, to 5th, to 4th an Toole Park
Sunday, September 11, 10am-4pm
This is a FREE event that celebrates Missoula as a bikeable and walkable community. On this day, Missoulians can enjoy all forms of human powered transportation on a car-free Higgins Avenue from the X's to 5th Street. By providing a venue for safe on-street activities like walking, biking and opportunities to support local businesses, Sunday Streets encourages spontaneous fun & festivities, games & activities, and dining & shopping in the Downtown Missoula area. For more info click here.
To submit your member event, email info@sbcmontana.org
Member Article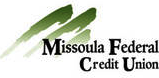 Green is More Than the Color of Money
at Missoula Federal Credit Union
Many have heard about the LEED Platinum branch Missoula Federal Credit Union built in 2008-the innovative concrete mix, the greywater system, the solar panels and even the recycled denim insulation. While one of the biggest impacts to the environment for an organization the size of MFCU (6 branches, 140+ employees) is its buildings, the 'green mindset' is much more than buildings at MFCU.
Every decision at the credit union is explored from several perspectives-Is it good for our members? Is it good for our credit union? Is it good for our community? Is it good for our planet? We are always looking for new ways to be more efficient and more environmentally friendly while providing more value for our members. For instance, we recently introduced the "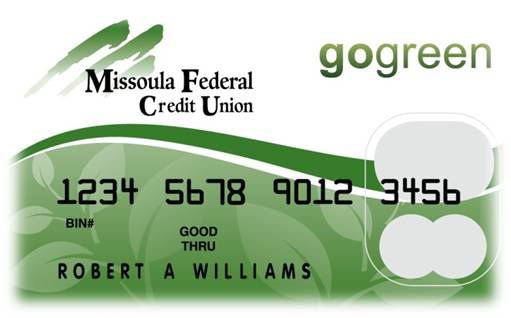 Go Green" debit card. This new card is made of 55% recycled plastic and we are the first credit union working with our provider to use this plastic.
Read more...
Upcoming SBC Events

- Membership Appreciation Event -

Thursday, August 25th, 6 pm - 9 pm

Missoula Winery, 5645 West Harrier Drive

Click here to RSVP to the Event

- STS Workshop -

Tuesday, October 18th,

8:30 am - 12 pm

Free for members, dependent on level

For more information or to register early click here

Questions? Email Drew@sustainablebusinesscouncil.org
The Strive Towards Sustainability (STS) Program
is the SBC's own graduated recognition program.
It includes a half day workshop, nine area assessment instrument, and research and marketing assistance for participants. For more information click here.
Featured Member:
CTA Architects Engineers
CTA received their Achiever Eco Seal by sending one representative to the workshop, earning nine out of nine STS Eco-area badges, and achieving their annual commitment to save energy by modifying their IT practices: company computers are now set to a low power setting at night, monitors are set to turn off after 10 minutes, and hard drives go to a low power setting after 20 minutes.
Some highlights from CTA's operations include:
Management:

Incorporates sustainability in company culture through a Green Advisory Council and Sustainable Initiative that includes a wide variety of employees

Purchasing:

Developed and maintains a purchasing log in each office to show products' practicality, performance, and benefits to the environment

Transportation:

Motivates employees with an alternative modes incentive program: pays for employee bus passes and provides a monthly "bonus" for employees who use a bike, walk, or carpool to work.
To read the complete results of CTA's STS assessment visit their SBC member page and click on the 'Read More' link next to their Eco Seal.
If you have been through the workshop and filled out the assessment, but have not received your Eco Seal, please contact Drew at Drew@sustainablebusinesscouncil.org
We look forward to seeing you soon!
Best,
The Sustainable Business Council