Director's Letter
Normally we would throttle back our programming over the summer months, but this year we have three exhibitions opening in June and July. The first is Patti Smith: Camera Solo, an exhibition of photographs by the artist/poet/performance artist whose early career was closely associated with Detroit. Smith's haunting images, as well as selected related objects, evoke an age of experiment that delighted and shocked people in equal parts--sometimes simultaneously!
The second exhibition, Five Spanish Masterpieces, was put together at rather late notice to coincide with the return of the DIA's Blue Period Picasso, Melancholy Woman (left), after a two-year absence from the museum. Usually, when we lend a work of art to a major exhibition, we expect it to be gone for about one year. When it returns, there have to be truly compelling reasons for us to lend it out again before another two years or so have passed. Partly, this has to do with not wanting to subject repeatedly any single work of art to the rigors of travel. But it also has to do with the fact that these precious works belong in the DIA, where the public should reasonably expect to see them on any given visit. In the case of Melancholy Woman, the work was already committed to one international exhibition when we received a request from San Francisco's Museum of Modern Art, the Musée d'Orsay in Paris, and the Metropolitan in New York, for the painting as part of an exhibition of art owned by Gertrude Stein and her family, who set the pace for avant-garde collecting in the first decades of the twentieth century. Declining the loan would not only have created a truly conspicuous hole at the core of the show, it would have frustrated valued colleagues at institutions from which we borrow regularly. So, when Melancholy Woman next appears on our walls it will be in the galleries south of the Rivera Court in the company of an El Greco from the Prado in Madrid, a Velázquez from the Metropolitan, a Goya from the Kimbell Art Museum in Fort Worth, and a Dalí from Philadelphia. The exhibition will discuss how the loan and potential loan of valuable works from our collection enables us to organize exhibitions such as Rembrandt and the Face of Jesus.
Matisse/Picasso is, by contrast, drawn entirely from the DIA's own holdings of works on paper. Spanning the careers of these fiercely competitive artists, it shows not only the protean creativity of these two giants, but also indicates the breadth and depth of the DIA's permanent collection and, by extension, the ongoing value that this institution brings to the greater Detroit area and beyond. Because of the fragile nature of works on paper, the department of Prints, Drawings, and Photographs has to rotate images regularly. Rather than present each exhibition as groups of singular works of art, for a number years the curators have organized thematic shows that add meaning for the nonspecialist viewer--the majority, in fact, of our visitors.
In addition, on August 8, thanks to an enormously generous loan from the National Gallery of Art in Washington, D.C., we will be showing, for one month, Jan Vermeer's exquisite painting Woman with a Balance. We will present it in our Dutch galleries, alongside our similar genre paintings by Pieter de Hooch and Gerard ter Borch. Vermeer is the most notable lack in our highly regarded Dutch collection, and it seems safe to say that it will never be filled. We do, though, have the power to bring such things to southeast Michigan for the delight of our public. Let's hope that the outcome of the ballot initiative for a dedicated millage, the results to be announced on the same day, will enable us to continue, through our collection, exhibitions, and programs to serve our area and constituents by presenting the best art the world has to offer.

Graham W. J. Beal
Above: Pablo Picasso, Spanish; Melancholy Woman, 1902; oil on canvas. Bequest of Robert Hudson Tannahill. © 2012 Estate of Pablo Picasso/Artists Rights Society (ARS), New York
Back to top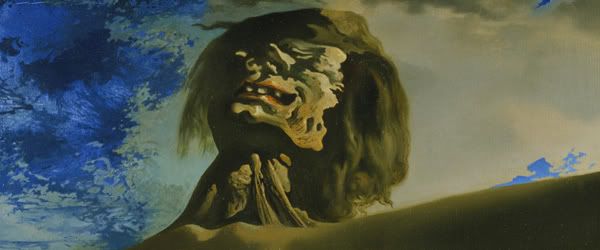 Exhibitions
Five Spanish Masterpieces
June 21-August 19, 2012
Special Exhibition Galleries: Central
| | |
| --- | --- |
| | |
| Salvador Dalí, Spanish; Soft Construction with Boiled Beans (Premonition of Civil War) and detail (top), 1936; oil on canvas. Philadelphia Museum of Art, The Louise and Walter Arensberg Collection, 1950. © Salvador Dalí, Fundació Gala-Salvador Dalí / Artists Rights Society (ARS), New York 2012. | |
Pablo Picasso's Melancholy Woman returns to the museum this summer after having been on loan to several prestigious museums over the past two years. In celebration, the DIA has borrowed four masterworks by other major Spanish artists for the exhibition Five Spanish Masterpieces. To be hung with Melancholy Woman are Francisco de Goya's Portrait of the Matador Pedro Romero from the Kimbell Art Museum in Fort Worth; El Greco's The Holy Family with St. Anne and the Infant St. John the Baptist, on loan from the Museo del Prado, Madrid; Salvador Dalí's Soft Construction with Boiled Beans from the Philadelphia Museum of Art; and Diego Velázquez's Portrait of a Man, borrowed from the Metropolitan Museum of Art, New York.
The DIA is a generous lender and grants dozens of loan requests every year from museums around the world. A stellar example of Picasso's Blue Period, Melancholy Woman has been featured in exhibitions in Zurich, Amsterdam, San Francisco, Paris, and New York. As DIA Director Graham Beal points out, if the museum granted every loan request for its masterpieces, they would never be on view here at home.
Back to top
Patti Smith
Camera Solo
June 1 through September 2
Albert and Peggy de Salle Gallery of Photography
| | |
| --- | --- |
| | |
| Patti Smith, American; Robert's Slippers, 2002; gelatin silver print. Courtesy of the artist and Robert Miller Gallery, New York. Image credit: © Patti Smith. | |
The more than sixty black-and-white images in this exhibition explore the themes that are significant to the multitalented Patti Smith: poets and writers; portraiture, including symbolic portraits; travel; and art and architecture. Smith's photographs are infused with personal significance and possess the same unfiltered, emotional quality prevalent in her poetry and song lyrics.
Smith began taking 35 mm photographs in 1968, but in 1995 turned to a Polaroid Land Camera, which lent intimacy to her images, whether casual, unvarnished portraits of herself and her children, or symbolic portraits, such as the one of her friend and vanguard photographer Robert Mapplethorpe's slippers (left). The modest size of her images belies their depth and power as a poetic document of a particular time and place.
Born in 1956, Smith has been drawing and taking photographs since the late 1960s. Her 1975 album Horses established her as an original and important musician of her generation and was followed by nine releases, including Radio Ethiopia, Easter, Dream of Life, Gone Again, and Trampin'. She continues to perform throughout the world and in 2007 was inducted into the Rock and Roll Hall of Fame. Most recently, Just Kids, a memoir of her remarkable relationship with Mapplethorpe in the New York City of the late 1960s and '70s, won the 2010 National Book Award for nonfiction.
For an interview with Patti Smith on her return to Detroit, click here.
Tonight's Patti Smith concert and Saturday's poetry reading are SOLD OUT.
This exhibition was organized by the Wadsworth Atheneum Museum of Art, Hartford, Connecticut. In Detroit, the exhibition is supported by the City of Detroit.
Back to top
Detroit Film Theatre
The DFT is taking a bit of a break this summer so vital structural repair work can be done, but the popular DFT 101 series takes up residence in the DIA's Marvin and Betty Danto Lecture Hall Saturday afternoons at 2 p.m., beginning June 23.
Repairs are being made to the marble staircase on the auditorium's east facade, the Crystal Gallery windows, and basement dressing rooms. Construction is set to begin June 4, with a scheduled reopening of the DFT on Friday, Sept. 14. Facebook users can follow construction progress through the summer on the Friends of Detroit Film Theatre page as the auditorium is carefully preserved for future generations.
DFT 101, which offers essential cinematic masterworks from around the world, opens Saturday, June 23, with what many film critics then and now consider to be one of the greatest American films of the sound era: Citizen Kane. Loosely based on the life of newspaper mogul William Randolph Hearst, Citizen Kane, co-written and directed by Orson Welles, tells the story of a great man's life through the eyes of those who knew him, resulting in a multidimensional portrait that is as much a cubist biography as it is a psychological mystery.
| | |
| --- | --- |
| | |
On June 30, come see Jean Cocteau's 1946 adaptation of Beauty and the Beast and discover what was clearly a source of inspiration for the Disney artists who fashioned their animated version decades later. The spectacular visions of enchantment, desire, and death in this French masterpiece (La Belle et la Bęte) have become timeless icons of cinematic wonder, and the majestic imagery of cinematography is both childlike and magical in its deceptively simple, stunningly dreamlike power.
All screenings of the summer DFT 101 series are in the ground floor lecture hall. Movies are free with museum admission and for DIA members.
Don't have time for a full-length film? Then check out the One-Minute Film Festival on the DIA's Youtube channel. Learn about the DIA from different perspectives and explore the galleries through these film shorts. And take a look at the rest of the DIA's Youtube videos while you're there.
For a complete DFT schedule, click here.
The DFT is presented by Buddy's Pizza.

Back to top
Summer Fun for Children and Adults
It's not too early to start thinking about summer activities for the kids or for yourself. There's plenty going on in our studio for artists of all ages, including summer camps for children and adults, extra drop-in workshops, and the return of the family fitting room for customized tours.
The DIA offers two summer studio art programs for children: one for kids ages five through eight and the other for youth nine to twelve. Campers are introduced to a variety of media and creative processes, and undertake projects as diverse as clay masks, multimedia puppets, painted portraits, imaginative drawings, and wood sculpture. They also exercise skills in interpreting art while exploring the galleries. Camp size is limited to twenty people and while space is still available, some time slots are filling quickly.
Each camp is offered twice during the summer: the week of July 16-20, from 9 a.m. to noon, and the week of July 30-August 3, with the same hours. For more information, check the DIA website or call 313.833.4008.
For adults, there are two one-day camps, running from 10 a.m. to 3 p.m. with a break for lunch: Hand-Built Platters and Vases in June, and Printmaking in July. Check the website or call the box office to confirm dates and to register.
There are weekend classes all summer long with seasonal projects for the whole family. Get your hands dirty making everything from pots and bowls to bird feeders and toad houses out of clay. Try your hand at painting in the spirit of the Spanish masters in a three-part class offered in conjunction with the exhibition Five Spanish Masterpieces. Or rediscover the crayon by scraping, scribbling, and melting common wax crayons on paper and cloth. All class sizes are limited.
Back to top
Inside|Out
Going to Mackinac Island this summer for vacation? So is the DIA's Inside|Out program, placing nine high-quality reproductions of favorite museum masterpieces in public spaces on the island.
Inside|Out, now in it's third year, has been a big hit in the Metro Detroit communities where it has been installed. This is the first time Inside|Out has traveled so far afield.
Claude Monet's Gladioli and Vincent van Gogh's The Postman are among the works placed within easy walking or biking distance from the grounds of the Grand Hotel or Marquette State Park, near the Richard and Jane Manoogian Mackinac Art Museum. The island's ban on motorized vehicles posed some unusual problems for installing the life-sized reproductions, which were brought to each location in a bicycle-pulled cart.
Inside|Out can be seen on Mackinac Island through September and in twelve communities in the Detroit metropolitan area through the end of June. For information about local Inside|Out events, click here.
An Inside|Out photo contest begins June 1. Photos will be judged based on their creativity in connecting with the subject matter of an Inside|Out work. We encourage entrants to reenact a scene from a reproduction in their community. The winner will receive a one-year DIA companion membership. Check the DIA Facebook page for more details.
Back to top
Exhibition Honors
| | |
| --- | --- |
| | |
| Swarupa Anila (left), senior interpretive specialist, and Nii Quarcoopome, exhibition curator, curator of African art, and head of the Africa, Oceania, and Indigenous Americas department, accept the AAM award on behalf of the museum. | |
The DIA's exhibition Through African Eyes: The European in African Art, 1500 to Present has been honored by the American Association of Museums (AAM) with the annual Excellence in Exhibitions award. The 2010 exhibition, organized by Nii Quarcoopome, the museum's curator of African art, explored African perspectives on the changing relationships with the West as seen through the art of the past 500 years.
AAM recognized Through African Eyes at its annual meeting in May for outstanding integration of new scholarship, innovative interpretation, evaluation, and community engagement. Among the eighteen entries, Through African Eyes was selected as the overall winner by unanimous vote.
"The art and science of creating wonderful exhibitions that excite and engage visitors is a challenge," said Elizabeth Kunz Kollmann, 2012 Excellence in Exhibitions competition coordinator. "Through African Eyes is one such exhibition and serves as a model of the capacity of museum exhibitions to provide transforming experiences visitors so often attribute to them."
The competition was open to all types of museum, including art, history, and science, among others.
Back to top
Reveal Your Detroit
| | |
| --- | --- |
| | |
| | |
| | |
| Photos (top to bottom) taken by members of the East Boston Arden Park Community Association, the Grandmount Rosedale Neighborhood, and the Vanguard Community Development Corporation in Detroit's north end. | |
The DIA has teamed up with the Detroit Public Library and the Detroit Free Press to keep the spirit of the exhibition Detroit Revealed: Photographs, 2000-2010 alive and well throughout the summer. Later this month, the library, in collaboration with the DIA and with the support of the John S. and James L. Knight Foundation, hosts a display of photographs submitted through the museum's Reveal Your Detroit program, which included fifty-five community-based organizations that gave more than 750 residents cameras to capture their perspectives of the city using a single roll of film. The show runs from June 15 to August 15 at the main Detroit Public Library, 5201 Woodward Avenue. An opening reception, free to the public, is set for Friday, June 15, from 3 to 6 p.m.
The Free Press's Detroit Self-Portrait project provides an online space for metro Detroiters to share their views of the city. Browse the images, vote on your favorites, leave a comment, or even submit your own portraits. And check out what photographers from the Detroit Revealed exhibition thought were among the best of the photographs submitted.
Back to top
Military Families Free
The DIA is again participating in the Blue Star Museums program that provides free general admission to active military personnel and their families through Labor Day, September 3. The holder of a military ID and five immediate family members may take advantage of the program.
Blue Star Museums is a collaboration of the National Endowment for the Arts, Blue Star Families, the Department of Defense, and more than 1,500 museums across the United States. Leadership support has been provided by MetLife Foundation through Blue Star Families, a national, nonpartisan, nonprofit network of military families from all ranks and services, including guard and reserve, with a mission to support, connect, and empower military families.
Back to top
Detroit Institute of Arts
5200 Woodward Avenue
Detroit, Michigan 48202
www.dia.org
313.833.7900

Comments or questions about the newsletter? Please contact us: comments@dia.org

ADMISSION
$8 adults, $6 seniors, $4 children
The museum is free for members
Contact the Membership HelpLine at
313.833.7971 or membership@dia.org

For group sales (15 or more) contact 313.833.1292 or dia.org/grouptours

CATERING & RENTALS
Call 313.833.1925 or
catering@dia.org

HOURS
Museum
Mon, Tue CLOSED
Wed, Thur 10 a.m.-4 p.m.
Fri 10 a.m.-10 p.m.
Sat, Sun 10 a.m.-5 p.m.

PARKING
Valet parking is available at the Farnsworth entrance on Fridays, Saturdays, and Sundays, during regular museum hours. The price per car is $8.

Lighted, secure self-parking is available in the Cultural Center parking lot, between John R and Brush, behind the museum.

Ford Free Second Sundays are generously supported by the Ford Motor Company Fund. Next Ford Free Sunday, June 10.

CaféDIA
313.833.7966
Wed, Thur 11:30 a.m.-2:30 p.m.
Fri 11:30 a.m.-2:30 p.m., 5-9 p.m.
Sat, Sun 11:30 a.m.-3 p.m.

Kresge Court Coffee Stop
Wed, Thur 10 a.m.-3 p.m.
Fri-Sun 10 a.m.-4 p.m.

Museum Shop
313.833.7944
Open during museum hours
Connect with us!

Keep up-to-date with text messages about upcoming DIA events! Sign-up here.