Director's Letter
The exhibition Rembrandt and the Face of Jesus was a resounding critical and popular success and drew 118,000 visitors. In the last week of the exhibition's run, 36,000 people visited the DIA, "only" 16,000 of whom attended the exhibition itself. CaféDIA was packed and the museum shop did land-office business--with Dutch chocolate candy being an especially big hit. All this activity and the associated revenues were profoundly gratifying, as is the sense that the DIA is bringing something to the community that could be delivered by no one else. What it was not, however, is financially profitable.
Perhaps because we've raised awareness of the DIA's fragile financial situation, there were more comments and questions than I recall from previous "blockbuster" shows about how helpful the profit realized from the exhibition will be in these trying times. In fact, we never make what is, in the "real world," understood as profit from special exhibitions. We may break even on the expenditures directly associated with an individual exhibition; we may, very occasionally, take in more cash than was expended, as we did with the Van Gogh exhibition twelve years ago, but we are not in a profit-making business. Although we may charge the costs of a guest curator or research assistant directly to the exhibition budget, we do not take any account of DIA permanent staff: the curator who may have spent a number of years working on the exhibition, the conservators who examine every object in it, the registrars who track them, the technicians who spend days or weeks installing them, the interpretive specialists who spend many months developing the thoughts and ideas we want to get across through the exhibition. It's just about impossible to calculate those costs, but a back of the envelope estimate indicates that it's well into six figures. Even that does not take into account the work done by our colleagues in the finance, public relations, marketing, and visitor services departments, just to name a few. And, unlike businesses, we have the benefit of hundreds of skilled volunteers who work behind the scenes and in the galleries. Finally, there's the cost of maintaining the facility. These overhead costs have to be taken into account in a "for profit" company, and their significance is demonstrated by the failure of most entities set up to organize and present special exhibitions as a profit-making enterprise.
Special exhibitions have long been central to art museum programming, and I have been involved with a few exhibitions where the revenues exceeded direct costs. Two of them were pure Van Gogh. As much as some of us might not like to admit it, the fact that certain names have greater pull with the general public plays a role in determining which exhibitions are organized. Our four Van Gogh paintings are in constant demand, and more exhibition catalogues must have been written about Van Gogh than just about anyone else. But it's not because Van Gogh's art is so much more profound than, say, that of Gustav Courbet. It's because his extreme popularity, for whatever reasons, with a broad public is almost certain to attract good-sized audiences. (As the wag said, for a lot of people the old saw "I don't know much about art, but I know what I like" should be "I don't know much about art, but I like what I know.")
Of course, covering costs ultimately helps the museum's bottom line, but successful exhibitions are better measured by the effect they have on the visitor and the difference they make to how we see the world. In this regard, Rembrandt and the Face of Jesus is one of the most successful I've been engaged in and that success comes, in large part, from the skills and talents of the DIA full- and part-time permanent staff and volunteers whose cost is not counted in the exhibition's budget.

Graham W. J. Beal
Back to top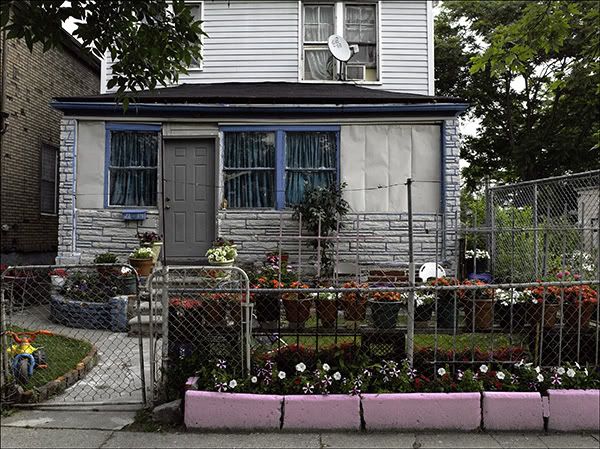 Exhibitions
Detroit Revealed
Photographs, 2000-2010
Through April 29
Albert and Peggy de Salle Gallery of Photography
| | |
| --- | --- |
| | |
| Scott Hocking, American, born 1975; Ziggurat - East, Summer, Fisher Body Plant 21, 2008 (printed 2009); pigment print. Museum Purchase, DeRoy Photographic Acquisition Endowment Fund. © Scott Hocking | |
Detroit has gained the reputation of being one of the most popular sites in the world for urban exploration, but just what have artists discovered in their travels through the city? Find out Friday night, March 16, and all day Saturday, March 17, in a series of panel discussions with photographers whose art is in this exhibition; writers and poets that have taken Detroit as their subject and muse; and teenagers, including the subject of an exhibition video. The day wraps up with an exploration of what is meant by "community" with a panel of Detroit photographers.
Three of the Detroit Revealed photographers discuss their exhibition work with curator Nancy Barr in "Perspectives on Photography: Detroit." Michelle Andonian, Carlos Diaz, and Scott Hocking share their views on the city in a panel discussion Friday, March 16, at 7 p.m.
Photographers, writers, and musicians who creatively engage the city in their work bring their perceptions of exhibition themes to three panel discussions moderated by DIA staff and scheduled for Saturday, March 17. The day starts with Literary Detroit (10:30 a.m.-noon), featuring Detroit-based poets Terry Blackhawk and Vievee Francis, journalist Desiree Cooper, and playwright and poet Bill Harris. High school students get a chance to present their work--poetry, photographs, and music--and express opinions in Teen Detroit (1-2 p.m.). Hunter Muldoon, subject of Ari Marcopoulos's exhibition video on a slice of the underground Detroit music scene shot in the Muldoon family home, performs a five-minute Marimba piece, which he says has a structure that serves as a metaphor for Detroit history.
The final session, Photography, Detroit, and Community Identity (2:30-4 p.m.), brings together Liz Cohen (photographer and chair of the photography department at Cranbrook Art Academy), Carlos Diaz (Detroit Revealed artist and former chair of the photography department at the College of Creative Studies), Martina Guzman (photographer, writer, and reporter for WDET), and Eric Howard (photographer, community activist, and founder of Inside Southwest Detroit) in a conversation about issues for artists working within a community setting.
All talks are in the museum's lecture hall and are free with admission, but please let us know if you're planning to attend the Friday night event, Saturday sessions, or both.
This exhibition has been organized by the Detroit Institute of Arts. Support has been provided by Quicken Loans and Team Detroit. Additional support has been provided by the City of Detroit. Support for the catalogue has been provided by Furthermore: a program of the J. M. Kaplan Fund.
Above: Carlos Diaz, American, born 1951; Untitled from Beyond Borders: Latino Immigrants and Southwest Detroit, 2010; pigment print.Museum Purchase, Albert and Peggy de Salle Charitable Trust. © Carlos Diaz
Back to top
Once Upon a Time
Prints and Drawings that Tell Stories
Through May 13
Schwartz Galleries of Prints and Drawings
| | |
| --- | --- |
| | |
| Jean Ferrier, American, born 1939; How Raven Brought Salmon to the Bella Coola River, 2010; acrylic, gouache, hand-pulled prints on paper with wooden cover collage with fabric, buttons and decorative stitching. Museum Purchase, Forum for Prints, Drawings, and Photography Purchase Fund | |
The subject of Jean Ferrier's accordion book, How Raven Brought Salmon to the Bella Coola River, follows a plot found in the lore of many cultures. Classic themes of trickery, theft, sacrifice, abduction, and miraculous transformations all find their way into this Northwest Coast explanation of nature's ways.
The story is based on the ancient Bella Coola belief that, in the beginning of time, human and animals lived together very closely and understood each other's speech and actions. Raven, frustrated that he could not stock his waters with sockeye salmon, undertook a canoe journey to the land of the Salmon Chief in order to procure the fish. Being a kind and welcoming leader, Salmon Chief threw his daughter into his river, where she transformed into a salmon and was served as a feast meal in Raven's honor. Raven learned that the spirit of salmon was found in a particular neck bone of the fish, which he tried to steal. Salmon Chief discovered the theft and tossed the neck bone into the water, where it changed back into the human form of the chief's daughter. Recognizing these magical powers, Raven kidnaps the daughter and throws her into his own river, the Bella Coola. And that is why her descendants, the sockeye salmon, return to the same spawning site to this day.
Ferrier, whose art education was obtained through her exposure to Northwest Coast Native American art, limited herself to a palette of blues, reds, golds, and black to paint and draw a variety of animals in the curvilinear, stylized forms typical of the Pacific Northwest. She used watercolor, ink, collage, and metallic inks to create both the words and pictures of this captivating tale.
Ferrier began her professional career as a painter, woodcarver, and book artist in Seattle in the mid-1970s. She migrated to the Northwest from New York City, where she had studied medicine and psychiatry.
Back to top
Gift of a Lifetime
The James Pearson Duffy Collection
Through May 13, 2012
Schwartz Galleries of Prints and Drawings
Only a few weeks remain to view this exhibition exploring the generous bequest of Detroit collector James Pearson Duffy (left), who, for forty years, looked at and acquired art in an uninhibited way, purchasing works he was drawn to and using intuition to guide his choices. Duffy's interests were wide ranging: sculpture, paintings, prints, drawings, contemporary photography, mixed-media work by Cass Corridor artists, and ancient Chinese sculpture. Among the works on view are those by Andy Warhol, Frank Stella, Georges Braque, Philip Guston, Gordon Newton, and Jane Hammond.
Duffy collected art locally and in New York for his Grosse Pointe apartment, and he commissioned site-specific works for the Jefferson Avenue warehouse of his family business, an industrial pipe and pipe-fitting company. In certain ways, the New York and Detroit artists had many commonalities, including a shared love of untraditional materials and an emphasis on the process of making art that celebrated the touch of the creator's hand.
Back to top
Detroit Film Theatre
| | |
| --- | --- |
| | |
| Leila Hatami as Simin. Photo by Habib Madjidi ©, Courtesy of Sony Pictures Classics | |
An Academy Award-winning film and classic cinema highlight the March DFT schedule, with Charlie Chaplin, John Wayne, and Dr. Caligari and his cabinet on the marquee. The Iranian A Separation won the 2012 Oscar for best foreign film. This searing contemporary family drama ingeniously morphs into a gripping legal thriller. Additional shows have been scheduled in the DIA's Lecture Hall for Friday, March 2, at 7 p.m.; Saturday, March 3, at 4 and 7 p.m.; and Sunday, March 4, at 4:30 p.m. The regularly scheduled 7:30 p.m. show on March 4 is in the auditorium. The Lecture Hall is considerably smaller than the DFT theater, so advanced ticket purchases are recommended.
| | |
| --- | --- |
| | |
Chaplin starred in, wrote, directed, and composed music for The Gold Rush, a wintry turn-of-the-century Klondike tale. Chaplin holes up with pal Mack Swain in an isolated mountain cabin, where desperate hunger makes even an old shoe a sumptuous repast. This new, painstaking restoration of the complete 1925 version is accompanied by a newly recorded orchestral performance of Chaplin's original score. The film shows the weekends of March 16 and 23.
Wayne leads a star-studded cast in the 1959 western Rio Bravo, directed by Howard Hawks. The plot is simplicity itself: small town sheriff John T. Chance (Wayne) is housing a murderer in the town lockup, but the bad guy's nefarious cohorts will do anything to bust him out. Dean Martin, Angie Dickenson, Walter Brennan, and Ricky Nelson, who sings duets with Martin and Brennan, are also featured. It plays Saturday, March 24, at 4 p.m.
The Cabinet of Dr. Caligari (1919) is one of the most important and enduring examples of German expressionist cinema, exploring the boundaries between madness and sanity, and rendering a universe on film that is nothing less than a physical manifestation of internal psychological states. Presented in a restored, tinted, 35mm print from the German national film archive, the film, with live musical accompaniment by David Drazin, is scheduled for Saturday, March 17, at 4 p.m.
Also in March is one showing of the Bolshoi Ballet performing Tchaikovsky's The Sleeping Beauty. Recorded live before an opening-night audience at the Bolshoi on November 20, 2011, and shown in HD, this enchanting fairy tale classic about Princess Aurora's coming of age is an exclusive DFT presentation. The two hour and fifty-one minute film, with one intermission, can be seen Thursday, March 8, at 7 p.m. Special ticket pricing applies: $18 general admission, $16 students, seniors, and DIA members.
If you're planning to see Louder than Love, the documentary about Detroit's legendary Grande Ballroom, on April 5, advanced ticket purchases are strongly recommended. As of March 1, the performance was already more than 50 percent sold out. And yes, it's opening day for the Tigers, but the game starts at 1:05 p.m. and should be well over in time for the 7 p.m. show.
For a complete DFT schedule or to buy tickets, click here.
The DFT is presented by Buddy's Pizza.

Back to top
New on View
| | |
| --- | --- |
| | |
| Francesco Xanto Avelli da Rovigo, Italian. Lustered by Vincenzo Andreoli (Maestro Cencio), Italian. Tin-glazed earthenware with polychromy and luster decorations. Museum Purchase, Robert H. Tannahill Foundation Fund and Joseph M. de Grimme Memorial Fund | |
In the sixteenth century, the best pottery artists were considered on a par with Raphael and Michelangelo for their painted narratives based on mythological and biblical stories on plates and other wares. This maiolica plate is of exceptional quality, lustered in two iridescent colors rather than a single shade. It is unusual in that it is signed on the reverse by both the painter and the artisan responsible for the luster highlights.
The complex iconography of the painted scene relates to an episode of Persian history from the sixth century B.C.E. as related by the ancient Greek historian Herodotus. The bearded figure at the right is Astyages, king of Media (reigned 585-550 B.C.E.), who had a dream about his daughter Mandane giving birth to a son. As depicted here, the dream, which Astyages regarded as an evil omen, features a fruit-bearing vine growing from Mandane to overshadow Asia to signify the coming of the ruler's grandson Cyrus, represented by the child wearing a helmet crowned by a gold-lustered lion. The grandson grew to become Cyrus the Great of Persia (reigned 559-530 B.C.E.) and eventually deposed his grandfather and conquered much of Asia.
Francesco Xanto Avelli da Rovigo, called Xanto, was among the best and most famous painters of istoriato maiolica, wares decorated with historical narratives, at Urbino. Known for his precision, vivid colors, and energetic figures, by 1539, he was described not as a potter but as an "outstanding painter of pottery vessels." In keeping with his workshop practice, Xanto copied figures from the engravings of Marcantonio Raimondi, who himself copied from Raphael and other leading High Renaissance artists. The figures on this plate are derived from three different examples of such prints.
Vincenzo Andreoli, known as Maestro Cencio, was a member of the leading luster family. He applied multiple layers of two iridescent pigments made from oxidized metals once the plate had been painted and fired. The luster embellishes and enriches the architectural space on the floor and columns and the clothes and accessories, including earrings, necklace, helmet, and boots, along with the hair of the female figure. The highly unusual use of two different lusters--a red ruby and a gold--gives a jewel-like effect to Xanto's work.
The plate is dated 1535 and signed on the reverse by both Xanto and Maestro Cencio. Also on the reverse is the identification of the scene depicted on the front. The international art magazine Apollo included the DIA plate among its ten top acquisitions by museums worldwide in 2011.
The plate is on view in the European: Medieval and Renaissance galleries on the second floor.
Back to top
March Classes
The DIA ventures into new territory this month with a class for people with dementia. This monthly program for people with early-stage dementia (including Alzheimer's disease) and their caregivers features gallery discussions about art led by DIA staff and volunteers with expertise in this area. Participants are made to feel welcome and comfortable, and discussions are based on the observations and connections made by the group. Meet Me at the DIA: A Program for People with Early Stage Dementia and Their Caregivers is modeled after a successful program at the Museum of Modern Art in New York. The first session is Saturday, March 17, from 10 a.m. until 11:30 a.m.
Families with children five and older can craft animal-shaped containers for small treasures in Clay Works: Animal Jars. Such jars were created in many ancient cultures, and some examples can be found in the DIA. See some of these creature vessels in the museum's galleries, then head to the art studio to create your own animal jar using terra-cotta clay and colorful glazes. Class size limited to twenty. It runs from 1 to 3:30 p.m. on Sunday, March 11.
For more information, check the DIA website. Preregistration and prepayment are required for all classes; call 313.833.4005 to enroll.
Back to top
Detroit Institute of Arts
5200 Woodward Avenue
Detroit, Michigan 48202
www.dia.org
313.833.7900

Comments or questions about the newsletter? Please contact us: comments@dia.org

ADMISSION
$8 adults, $6 seniors, $4 children
The museum is free for members
Contact the Membership HelpLine at
313.833.7971 or membership@dia.org

For group sales (15 or more) contact 313.833.1292 or dia.org/grouptours

CATERING & RENTALS
Call 313.833.1925 or
catering@dia.org

HOURS
Museum
Mon, Tue CLOSED
Wed, Thur 10 a.m.-4 p.m.
Fri 10 a.m.-10 p.m.
Sat, Sun 10 a.m.-5 p.m.

PARKING
Valet parking is available at the Farnsworth entrance on Fridays, Saturdays, and Sundays, during regular museum hours. The price per car is $8.

Lighted, secure self-parking is available in the Cultural Center parking lot, between John R and Brush, behind the museum.

Ford Free Second Sundays are generously supported by the Ford Motor Company Fund. Next Ford Free Sunday, March 11.

CaféDIA
313.833.7966
Wed, Thur 11:30 a.m.-2:30 p.m.
Fri 11:30 a.m.-2:30 p.m., 5-9 p.m.
Sat, Sun 11:30 a.m.-3 p.m.

Kresge Court Coffee Stop
Wed, Thur 10 a.m.-3 p.m.
Fri-Sun 10 a.m.-4 p.m.

Museum Shop
313.833.7944
Open during museum hours
Connect with us!

Keep up-to-date with text messages about upcoming DIA events! Sign-up here.