| | |
| --- | --- |
| Best Practices | May 25, 2011 |
"'And lo, the Lord God passed by. There was a mighty wind, splitting mountains and shattering rocks, but the Lord was not in the wind. There was an earthquake but the Lord was not in the earthquake.' [1 Kings 19:11-12]

"To me, that is the key: the Lord was not in the earthquake. Natural disasters are acts of nature, not acts of God. God cares about the well-being of good people; Nature is blind, an equal-opportunity destroyer. Where is God? In the courage of people to carry on their lives after the tragedy. In the resilience of those whose lives have been destroyed, families swept away, homes lost, but they resolve to rebuild their lives. In the goodness and generosity of people all over the world to reach out and help strangers who live far from them, to contribute aid, to pray for them."

- Rabbi Harold Kushner
Ministry
Give Sabbath School Leaders and Teachers a Well-Deserved Break
By Aileen Andres Sox, Editor Our Little Friend & Primary Treasure
Working around vacation schedules and the weekly fluctuation in summer attendance is challenging-especially in children's Sabbath School.
Here's how my Kuna, Idaho, church meets this yearly challenge: we combine our children's Sabbath Schools for three months. Our children's ministries coordinator selects a curriculum and then finds volunteers for each summer Sabbath. Volunteers aren't always the Sabbath School leaders and teachers themselves-although usually each of them takes a turn-but rather people who can commit to help one Sabbath.
In a small church, a leader and a helper are usually all the personnel needed. However, if you find yourself with lots and lots of kids on any particular Sabbath, you need to be able to tap additional help. This "minute person" is an adult who doesn't lead out, but helps children do what leader/teacher asks. Actually, a helper does the same thing, but may also lead out in some portions of day's activities.
The Primary GraceLink lessons work well as the curriculum for such a combined Sabbath School. The genius of the GraceLink Sabbath School materials, with the emphasis on active learning, is that children of different ages, maturity, and reading skills can learn by doing together, making a combined Sabbath School fun for everyone, especially if older kids are put to work helping younger ones. A VBS curriculum or a book with thirteen lessons on a theme from one of the many wonderful publishers of children's ministries materials would also work.
Several years ago, I accepted the challenge of putting on the kids' programming during a local ASI convention. I was told to expect approximately 15 kids from ages 4 to 13 coming to my group. A volume of Sunday School Specials, a book series from Group Publishing, worked very well as my curriculum. No one was bored and the two of us who led out weren't worked to death either. For added interest, my helper read a continued story: Julius, the Perfectly Pesky Pet Parrot. (Julius is a particular favorite of mine.)
A combined children's Sabbath School offers many benefits: Leaders get a well-deserved rest; kids get to know and help one another; church members get better acquainted with the church's children; the Spirit can expose people to their undeveloped gift for children's ministry.
Responses
Responses to last week's editorial, "The Multi-Church Dilemma"
I think we're too focused on preaching as the key function of pastors as well as the elevated place of the sermon in our worship services. What about the challenge of discipleship, building leadership, and leading each church to discern their mission in the local community? How about energy focused on empowering each congregation to teach each other through Bible study instead of lay preaching?
- Nathan French
I wonder why more training is not offered to pastors on how to do multi-church ministry successfully? I don't recall one course on it in undergrad or seminary. In 23 years of ministry, I don't recall one speaker at a worker's meeting who ever did any specific teaching on it. I would pay to attend a ministry seminar where all the lectures are given by district pastors, but I have never heard of such a program. Instead, we listen to superstars who don't pastor districts. If we viewed multi-point charges as a specialty and aspired to shine in this work, we would have more success. Instead, we often view it as a necessary evil to be tolerated until we can graduate to one large church. With that philosophy, no wonder that the current state of affairs exists.
- Barry Kimbrough
God has given us very clear instruction on this, both by inspiration and experience. The experience is evident in other countries, as the paragraph mentioning "Hispanic pastors" refers to. Much of the direct instruction is found in Evangelism pp. 381-383. The paid ministers are to raise up churches in new places. Then the local people are to be trained to carry on the work there while the ministers go on to new areas. We are suffering in the NAD from not following this plan.
- Daniel Manzano
The key may well be the unbundling of the traditional package of pastoral services. We ask the question: "Where can we find a lay person who can and will do all the work of a traditional pastor?" Perhaps the better question would be, "What are the essential functions of pastoral ministry in the local church which our members are called and gifted to contribute?"
- Mark Welch
Media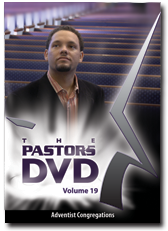 Pastor's DVD Volume 19 will soon be on its way to Ministerial Directors to distribute to the pastors of the North American Division. This special edition on Adventist Congregations began with the question of what it would be like if we could give every pastor the weekend off to visit another Adventist congregation? Obviously budget would not permit such a reality but we could virtually do it through the power of a documentary series. Come, take a weekend off and visit four different churches through the eyes of four different pastors as they learn how other pastors do ministry in fresh settings.

And if you can't wait for the DVD you can watch all of the documentary pieces on the Adventist Congregations on-demand internet video channel. This week's featured documentary

follows Pastor Trey Sharp as he takes the weekend off to visit Pastor Boyan Levterov who is planting a church in the affluent growing community of Frisco Texas. Trey wonders what kind of a person makes for a good church planter? What are some of the challenges of church planting? How can you make sure that your core team carries the values of the new church? All of this and more in this compelling documentary entitled "A Visit to Frisco."



Reading for Pastors
"Too Much Judgment": a compassionate piece on Harold Camping by Tiffany Stanley of the New Republic. Quote: "Now to me, the schadenfreude has turned sinister. Based on the high traffic the articles are garnering, it would seem as if many of us are intrigued voyeurs, gleeful in knowing the exact day when these people will experience their life's greatest disappointment. We feel superior, knowing that even though they told us we were heading for death and destruction, now, they get theirs.... But should our reaction to them be chuckling glee or something more like sadness? Pay attention to their individual stories - their willingness to sacrifice everything in anticipation that their earthly lives are over - and I dare you not to feel the latter."


Is preaching a performance art? Quote: "T.S. Elliot said the purpose of literature is to turn blood into ink. In preaching, we're called to turn ink back into blood." (Thanks, Bill Davis.)

Joplin tornado:Be careful what you say when decrying the worsening state of the world, says Monte Sahlin. At least one thing is improving: the divorce rate is down.


The uniting power of the King James Bible.

According to the Faith Communities Today newsletter, 68% of congregations have been hit by money problems during the current recession.


To the Point
With a natural disaster, who do you get mad at?
- David Fassler
He who sees the calamity of other people finds his own calamity light.
- Arabian Proverb
I always tried to turn every disaster into an opportunity.
- John D. Rockefeller
Can you see the holiness in those things you take for granted - a paved road or a washing machine? If you concentrate on finding what is good in every situation, you will discover that your life will suddenly be filled with gratitude, a feeling that nurtures the soul.
- Harold Kushner
There's a need for Christians to stop being portrayed in our industry as crazies... Christians - whether as a priest, a nun, a minister, whatever - have just been stereotyped to death. You try to be a model of kindness and love and forgiveness to all those around you, because you have received kindness and love and forgiveness from God through Christ. That's what Christianity is.
- Patrician Heaton (actress from "Everybody Loves Raymond"
God doesn't use scare tactics to win people. He uses love tactics and acceptance. He also doesn't invite people to join a gated community or club to work on peoples hearts and minds. His kindness is available to everyone.
- Tony Romeo
News, Ideas & Reminders
Upcoming NAD Events
Do you have an event you'd like to invite NAD pastors to? Send details to
BestPractices@Ameritech.net
.
World No Tobacco Day. May 31, 2011, Worldwide. "World No Tobacco Day" is celebrated around the world every year on May 31.
ARMe Intense Special Ops. Jun 5, 2011 - Jun 12, 2011, Camp Cedar Falls, 39850 State Hwy 38, Angelus Oaks, CA 92305.
GYC en espaņol 2011: Firmes y Adelante. Jun 9, 2011 - Jun 12, 2011, Southwestern Adventist University, 100 W Hillcrest Street, Keene TX 76059. Participate in seminars, devotionals and mission work. Connect with ministries and other young people from around the country that share a passion for souls and a vision of finishing the work of God in this generation! All youth and adults who await the soon coming of the Lord Jesus. Phone: Kayla Piņa (401) 649-9256. For more information, email: kayla.p@gycesp.org
Community Services Leadership Development. Jun 11, 2011 - Jun 12, 2011, Blue Mountain Academy, 2363 Mountain Road, Hamburg, PA 19526. Plan now to attend the Community Services Leadership Development "Reach Out" Symposium where you will develop church growth by building a relationship with the community through outreach ministries. Phone: 610-476-4255. For more information, email: jdare@paconference.org
Women's Ministries Emphasis Day. Jun 11, 2011, North American Division. Free program materials are available from the NAD Women's Ministries Web site. Phone: 301-680-6427.
SEEDS Plus 2011 Multiplication Movement. Jun 14, 2011 - Jun 18, 2011, Blue Mountain Academy, 2363 Mountain Road, Hamburg, PA 19526. Plan now to attend SEEDS 2011 Multiplication Movement a church planting seminar. Come learn the steps necessary to plant a church, or help a recently planted church grow. Phone: 800-255-7566. For more information, email: clarkc@andrews.edu
Great Controversy Tour - Summer, 2011. Jun 19, 2011 - Jun 30, 2011, Italy, Switzerland, France and Germany. Retrace the Adventist heritage in Europe from its roots in early Christianity, through the Dark Ages, to the Reformation. Tour Host: Dr. P. Gerard Damsteegt, Specialist in Adventist Studies and Church History. Phone: 269-471-5172. For more information, email: gctours@mac.com
PSI International Conference on Philanthropy. Jun 21, 2011 - Jun 24, 2011, JW Marriott Indianapolis, 10 S West Street, Indianapolis, IN 46204. Planned by and designed for the chief executives and fundraising professionals of Adventist organizations, the conference's goal is to foster vision. Recognized internationally, Principles & Techniques gives you the foundation and inspiration to lead your nonprofit to its financial goals. It provides you with the framework for operating a successful total development program. Phone: 301-680-6133 or 6134. For more information, email: Chris.Bearce@nad.adventist.org.
Best Practices

is a

Vervent

publication of NAD CHURCH RESOURCE CENTER. Editor: Loren Seibold, Ohio Conference. E-mail: Best Practices.

You are free to republish pieces from Best Practices in your own newsletter or blog, with attribution to the Best Practices newsletter and the author of the piece.