Meet the Jesuit Novices
Did you ever want to visit the Jesuit residence?
Here is your chance!
What: You are invited to meet and visit with five of the fourteen Jesuit novices (young men who have recently joined the Jesuits) and hear their vocation stories. They are currently spending seven weeks serving at Catholic agencies in Kansas City.
When: Sunday, February 12th, following the 6pm Student Mass.
Where: The Jesuit Residence
RSVP: Email Fr. Bill Oulvey, SJ if you want to attend or have questions. Please RSVP by Friday, February 10th.
Tell Us What You Want,
What You Really, Really Want . . .
This Tuesday, Campus Ministry's annual survey will arrive in your Rockhurst email. We want to hear from you! Please take ten minutes to tell us about your experience and your ideas.
When finished, print off the confirmation page, sign your name to it and drop it by our office in Massman 3 to be entered to win one of 12 Target gift cards.
Winter Jam and Winsteads
What
: WinterJam Concert at the Sprint Center (featuring several Christian artists, including Skillet, Sanctus Reel, Building 429 and more!). We will follow the concert with dessert at Winsteads!
When: Friday, February 17th. Buses load at 4:30pm.
Cost: $5
Want to Go?!? Sign-ups begin on Monday, February 6th at 8am in
the Campus Ministry Offices. Stop by with your $5 registration fee to reserve your space. Limited to first thirty-five students who register.
NEW Men's Bible Study
Want to break open the Word with other men on campus? A new men's bible study group is starting this semester. Hop on board! Contact
Justin Langfield
(303-789-7243) for more information.
Here's to You:
CLC Retreaters!
To the nearly seventy students who attended the CLC retreat last weekend, we pray it was an opportunity to reflect on your unique callings and to relish your relationships with others, yourselves and, importantly, God. Know of our continued prayers for you!
Contemporary Ensemble!
We loved having your beautiful and prayerful music enhance our worship last Sunday! Thank you Bill Kriege, Helen Schultz, Courtney Campbell, Courntey Stanger, Monica Pflug, Matt Beermann, Libby Karcher, April Jecha, James Fister and Brian Golka. We appreciate you and look forward to when your music graces us next at our 6pm Student Mass on February 26th.
Leftovers with Love
Every Monday and Thursday, dedicated student volunteers prepare and deliver the food leftover in Rockhurst's cafeteria to St. James Soup Kitchen. If you are free at 4 on Mondays or Thursdays and would like to help either periodically or regularly, we would love to have you! Email leftovers@hawks.rockhurst.edu.
Last Week's Question of the Week
The Answer is . . .
In his 2010 synodal document titled "Verbum Domini" or "Word of God," Pope Benedict XVI wrote, "God does not reveal himself in the abstract, but by using languages, imagery and expressions that are bound to different cultures."
The Winner is . . .

Kaylin McNamara!
The More You Know . . .
Ten Reasons for Choosing to Live a Simple Lifestyle
As an act of faith and an expression of personal commitment to more equitable distribution of the world's resources.
As an act of self-defense against the mind and body polluting effects of over consumption.
As an act of withdrawal from the mindset of our materialistic society.
As an act of solidarity with the majority of humankind, who have no choice about their lifestyles.
As an act of sharing with others who have given so much to us or to return what was usurped by us through unjust social and economic structures.
As an act of celebration of the riches found in creation and shared in community.
As an act of provocation. When we simplify our lifestyle, we arouse curiosity, which leads to dialogue with others about affluence, alienation, poverty, and social justice.
As an act of anticipation of the times to come when natural human-made resources are depleted.
As an act of advocacy for changes to patterns of production and consumption (i.e. fair trade, buying direct from the producers, etc.).
As an exercise of purchasing power to redirect production away from artificially created wants toward the supplying of goods and services that meet genuine social needs.
- Adapted from a list compiled by Jorgen Lissner, a UN Develoment Programme worker in Addis Ababa, Ethiopia
This Week in
Campus Ministry
Sunday, February 5th
6pm: Mass (SFX)
Monday, February 6th
Noon: Mass (MC)
10:10pm: Mass (MC)
Tuesday, February 7th
Noon: Mass (MC)
3:30-4:15 Reconciliation (MC)
4:30pm Pasta & Prayer (MC)
9:00pm: UNITY (STD)
Wednesday, February 8th
Noon: Mass (MC)
7:30pm: Hawks for Life (Fishbowl)
10:10pm: Mass (MC)
Thursday, February 9th
Noon: Mass (MC)
4:00pm: Men's Bible Study
9:00pm: VOICES (FJC)
10:10pm: Mass (MC)
Friday, February 10th
Noon: Mass (MC)
Sunday, February 12th
6:00pm: Student Mass (SFX)
Following 6pm Mass: Pizza with the Jesuit Novices (Jesuit Residence)
Mark Your Calendar!
Upcoming Prayer Services

:
Service Trip Send-Off: Thursday, March 1st
Yom Hashoah: Holocaust Remembrance Day:
Wednesday, April 11th
Need Prayer?
Email the Campus Ministry staff with your name and your intention, and we will happily hold you in prayer throughout the week.
Question of
the Week
A Two Parter:
Where is the Jesuit Novitiate for the Missouri and New Orleans Provinces located? And, how long is the novitiate period for a Jesuit?
Do you know the correct answer? If so, respond to Michelle Scheibner with the answer by Tuesday at noon to be entered to win a free Twister from Sodexho. Each week, we will draw one winner.
Check back next week for the answer to this week's question!
We Celebrate You, February Birthdays!
Happy birthday to all of
you who
enjoy birthdays in February!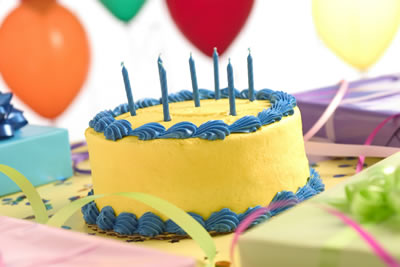 Y
ou are a gift - a g
ift
from God to th
e w
orld
and to our
community.