Jaltemba Bay Life
Newsletter
---
Publisher
The Jaltemba Bay Life Newsletter is published by:
Frequency
Emailed every Monday
(bi-weekly in summer)
Newsletter Submissions
Submit news, information stories and/or photos to:
Tosia@JaltembaBayLife.com
Info / Advertising
Allyson@JaltembaBayLife.com
Back Issues
To view back issues of our newsletter, click here
Featured Articles
To access and read all past featured articles included in our newsletter, click here
Jaltemba Bay Life
Quick Links
---
Jaltemba Bay Hotels
& Vacation Rentals
---
No matter whether you're looking for an upscale resort, all-inclusive hotel, beachfront vacation rental home, quaint Bed & Breakfast or RV park for your rig -- at Jaltemba Bay Life, there's something for everyone and every budget:
Jaltemba Bay
Real Estate Directory
---
Realtors & Real Estate Companies
Welcome / Bienvenidos
Welcome to all 1,127 newsletter subscribers!
We have a short newsletter this week as both Allyson and I volunteered at the JBAR Spay and Neuter Clinic in Guayabitos (read more below).
Many of you are heading "home" for the summer. Whether you were here for a short time or have spent the winter enjoying the sun, we want to wish you all a safe journey and "hasta pronto"!
Daylight Savings Time for Mexico goes into effect Sunday, April 1 at 2am, so be sure to set your clocks ahead one hour. All three countries (US, Canada, and Mexico)
have now "sprung" ahead. The daylight hours will get longer until we reach the summer solstice on or around June 21.
To help plan your upcoming trip or your day in the Bay, or if you are heading back home, don't forget to check the current weather conditions on the Official Jaltemba Bay Weather Page.
You may notice a few small changes to our newsletter in the next few weeks, including our new publishing date on Tuesdays instead of Mondays (yes, Allyson and I desperately need Sundays off). Look for the next issue of the Jaltemba Bay Life Newsletter on April 3rd, just in time for coffee. Pour a cup and enjoy!
Saludos,
Tosia Polomski-Archer
Editor, Jaltemba Bay Life Newsletter
Spring Lilies
by Lyle Brown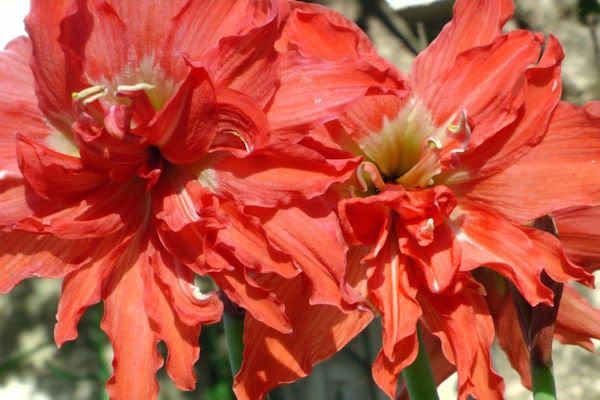 As I was packing up my things to move out of the park, I took a minute to photograph these flowers to share with you. I have had this plant for a few years and it only blooms in the spring.
Featured Articles
You'll only find these on Jaltemba Bay Life
Sweet Kids!
by Patty Schemenauer & Susanne Richter
Returning Canadians to Los Ayala, Susanne & Bernie along with their two sons, Gabriel & Felix like to become involved with the local families, especially the children. This year Susanne bought 12 white t-shirts and tye-dye kits and proceeded to round up the locals kids for an afternoon of fun. Read More
Health Care in Mexico
by David Thompson
Pamela Thompson of HealthCare Resources Puerto Vallarta was the featured speaker at the Jaltemba Bay La Peņita Rotary Club meeting this past Wednesday. She touched on many facets of the insurance conundrum for foreigners who wish to have some form of coverage while visiting Mexico. Here is an overview of the topics she discussed... Read More
JBAR Spay & Neuter Clinic was a
Huge Success
Jaltemba Bay Animal Rescue wrapped up their last free spay and neuter clinic of the season on Saturday. The 4-day clinic was held in Guayabitos and brought in 199 dogs and cats, with 181 sterilizations, 10 consults and 16 adoptions. Many, many thanks to the dedicated...
Read more
Restaurant + Business News

Fitness Pad Summer Special
We invite you to hear how to "Live Life in Shape", a special program by Luis. Get connected, get moving and get in shape. Register now and get your membership.

Visit

Fitness Pad for more information.
Price redu
ced to $350,000 USD and seller will pay closing costs. This new 3-bedroom home is located in the Residential Zone in Guayabitos and is 2 1/2 blocks from the beach. It has a beautiful pool and incredible details and tile work.
More photos and contact information
Why We Love Jaltemba Bay
Tell us why YOU love living or vacationing here!
This is your chance to let the world know why YOU love living or vacationing in Jaltemba Bay. We want to thank Jeffrey, Lilianne, Barenda and Bea for starting us off on the right foot. Now let's see what the rest of you have to say... get ready, get set, get writing!
To submit your story (long or short) and to view what others are saying on the Jaltemba Bay Folk Forum, click here.
(Please note that these posts are quoted exactly as our readers write them on our forum)
Community Corner
Updates on groups, organizations and other good works
Health Care Insurance Options for Residents and Long-Term Visitors

Pamela Thompson presented a variety of medical health insurance options to a packed house (in this case restaurant Piņa Colada) last Wednesday morning, at the Jaltemba Bay La Peņita Rotary Club meeting. Read More
Indoctrination of New Rotarians
Proud to be a Rotarian? Yes they were! Sydney Richmond and Karina Shecter were inducted into the Jaltemba Bay La Peņita Rotary Club at last Wednesday's weekly meeting. Rotary President Doctor Lidia Ana Flores did the honors. Read More
Rotary Search was Rewarded
Rotarian, Bill, from the Edmonds Washington Rotary Club spent two days looking for a Rotary club in Puerto Vallarta. Through luck, he found the Jaltemba Bay La Peņita Rotary Club, brought his wife and stayed for a few days. While in the area, he gave a short presentation to the La Peņita Rotary Club. Read More
Gambling into Fundraising
Rotarians are a crafty lot. They have a mission: raise money to improve the quality of life for children. To reach their annual goals, money must be raised. How? Grants Pass Rotarian, Ellie, told the Jaltemba Bay La Peņita Bay Rotary Club how her club raised $200,000 USD. Read More
Cancer de Mama Annual Report

This is a brief summary of CDM's 2011/2012 operations. At final count this year, we fitted 465 women with prostheses, tit bits and bras. Many of the women also received wigs, scarves, hats and make-up from our "Look Good - Feel Good" tent. All of the women and their companions... Read More
JBAR: Animals for Adoption
Rescued and adopted animals make the best pets! There are always dogs and cats available for adoption in the Jaltemba Bay area that are looking for good loving homes, and there are numerous ways you can help. For more information, visit the Jaltemba Bay Animal Rescue (JBAR) community webpage.

Monday, March 26

Tianguis, Guayabitos Plaza

Weekly open air market.
Read More
Los Amigos de Jaltemba Meeting, La Penita
The meeting will be held at La Palapa de Guty, Circuito Libertad #4, La Penita. There will be a social gathering at 6:30pm, with the formal meeting starting at 7pm. Key agenda items are approval of our plans and budget for the new year beginning April 1 and the election of officers. This will be the last general meeting of the season. Everyone is welcome.

Monday-Wednesday, March 26-28
Tianguis Turistico Mexico 2012

Mexico's largest annual trade show will be held in and around Puerto Vallarta and includes events like Restaurant Week, golf tournaments and the San Pancho Polo Cup.
Read More
Please note that there are road closures associated with this event
.
For more information
click here
.
Wednesday-Saturday, Mar

c

h 28
-31
JBAR Spay & Neuter Clinic, Las Varas
Cats and dogs are welcome, volunteers too.
Read More
Thursday, March 29
Tianguis, La Pe

ņ

ita Plaza
Friday, March 30
Arte Vida Gala, Puerto Vallarta

Arte Vida features the work of international artists and includes silent and live auctions, live entertainment, food and beverages. All proceeds to benefit PEACE Mexico.
Read More
Sunday-Sunday, April 1-8
Semana Santa (Holy Week)

Semana Santa is Mexico's second most important holiday season of the year next to Christmas, and runs from Palm Sunday to Easter Sunday.
Read More
Recent Articles
You May Have Missed
We want to thank you for taking the time to read this issue of the Jaltemba Bay Life Newsletter.
Our staff works hard to provide you with the most up-to-date and informative site for both locals and visitors to the area.
If you own a business, hotel or vacation rental, and/or have real estate to sell, we hope you will consider advertising on our site. You'll be listed in our directories and be seen by hundreds of locals and visitors each and every day. We stand by our product and our commitment to the community -- that's why all fees are 100% money-back guaranteed!
We value your opinions and feedback. Please let us know if you have comments or suggestions about how we can make our community website even better!
Gracias!
David & Allyson (and Taco & Panchito the Rescue Dogs, too)
Founders, Jaltemba Bay Life
Owners, Jaltemba Bay Folk Forum