Jaltemba Bay Life
Newsletter
---
Publisher
The Jaltemba Bay Life Newsletter is published by:
Frequency
Emailed every Monday
(bi-weekly from May through mid-September)
Newsletter Submissions
If you have news, information stories, photos, comments or suggestions, email us at
Allyson@JaltembaBayLife.com
Back Issues
To view back issues of our newsletter, click here
Featured Articles
To access and read all past featured articles included in our newsletter, click here
Jaltemba Bay Folk
Forum
---
To ask questions or share information about the area, visit the Jaltemba Bay Folk Forum
Jaltemba Bay
Community Calendar
---
To see what's going on in our area, including upcoming annual fundraising and charity events, view the Community Calendar -- and while you're there, add your event. It's free!
Jaltemba Bay
Maps
---
To view our interactive maps, click on any of the links below.
Jaltemba Bay Hotels
& Vacation Rentals
---
No matter whether you're looking for an upscale resort, all-inclusive hotel, beachfront vacation rental home, quaint Bed & Breakfast or RV park for your rig -- at Jaltemba Bay Life, there's something for everyone and every budget:
Jaltemba Bay
Real Estate Directory
---
Realtors & Real Estate Companies
Community Groups
& Organizations
---
The Jaltemba Bay area has several wonderful community organizations and charitable causes. To learn more, click on the links below:
Jaltemba Bay Weather
---
To view up-to-the-minute weather conditions as well as historical data, go to the Official Jaltemba Bay Weather Page
Welcome / Bienvenidos
Welcome to all 1,109 subscribers, and the many more who view it on Jaltemba Bay Life and the Jaltemba Bay Folk Forum.
I am looking forward to hearing from you readers, your stories of what you experienced here in Jaltemba Bay while on vacation or during your winter stay. Was it unexpected or planned? Did it involve local wildlife or in town critters? Did you participate in one of the many local holiday parades or event? Was it a dining experience you wish never ended or could re-create yourself?
Showing the wondrous happenings around here to others will be one of the goals I am setting for myself, and would love to hear your stories! On that note please read this week's 'Why I Love Jaltemba Bay'. Our new Forum member named Savannah, who is 10 years old, has given us a view from her young eyes. We have reprinted it as she has written it.
To help plan your upcoming trip or your day in the Bay, don't forget to check the current weather conditions on the Official Jaltemba Weather Page.
The next issue of the Jaltemba Bay Life Newsletter will be in your Inbox just in time for coffee on March 12th. Pour a cup and enjoy!
Saludos,
Tosia Polomski-Archer
Editor, Jaltemba Bay Life Newsletter
How Cute is This Smile?
by Tosia Polomski-Archer

A frog has taken up residence in one of my agave plants.
Time for One More Big Party Before the Season Ends
by Dave Easby
As the calendar turns to March, many of the seasonal residents of Jaltemba Bay start to think about making plans to head back north. But before you do, Los Amigos de Jaltemba, the Citizens Action Committee of La Peņita and the Municipal Delegation would like to invite you to one last big bash: Fiesta 2012 -Taste of Jaltemba / Sabor a Jaltemba.
Read More
Comedy and Dinner - Pe

ņ

ita Players Return
Dinner Theatre is coming to the Pina Colada Restaurant in Guayabitos on March 15, 16 and 18. For more information
PEACE Mexico brings Arte Vida to Vallarta
by Beth Brennan
PEACE Mexico will hold its Arte Vida Fundraising Gala in Puerto Vallarta on March 30th. Arte Vida features the work of international artists and will take place at Casa Corona in Centro from 6-10pm. The line-up includes silent and live auction, live entertainment, food and beverages. Read More
Restaurant + Business News
Congratulations to the Tonita Family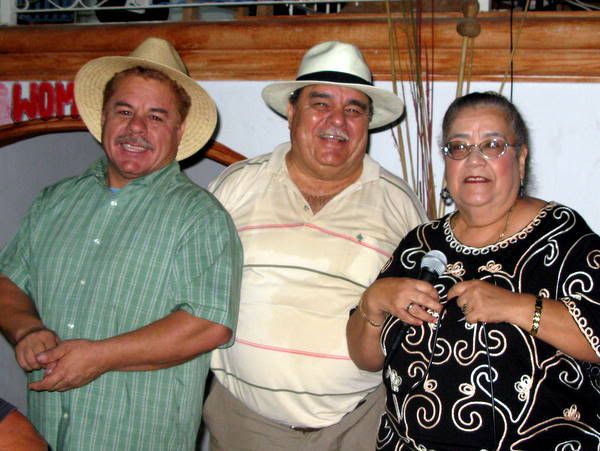 On Tuesday, Tonita, Samuel and their family celebrated the 26th Anniversary of Tonita's Restaurants with a traditional Mexican-style fiesta filled with music, dancing, horses, food, drink... and no party at Tonita's would be complete without singing. Congratulations!
Why We Love Jaltemba Bay
Tell us why YOU love living or vacationing here!
Tell Us Why YOU Love Jaltemba Bay
This is your chance to let the world know why YOU love living or vacationing in Jaltemba Bay. We want to thank Jeffrey, Lilianne, Barenda and Bea for starting us off on the right foot. Now let's see what the rest of you have to say... get ready, get set, get writing!
To submit your story (long or short) and to view what others are saying on the Jaltemba Bay Folk Forum, click here.
Why I Love Jaltemba Bay
by savannah February 25, 2012
r.c.de g. and la panita is heaven on earth.My papa has raised me alone since i was a baby.He has been bringing me here since i was 3 yrs old.I am now 10.I have made many local friends,children and adults.Everyone is extremely friendly.
Read More
Community Corner:
Updates on groups, organizations and other good works
La Casa de los Niņos Coco Project
La Casa de los Niņos just began their amazing new Coco Project in which they teach local children about planting and propagating, discuss different plant materials and explain the benefits of using natural products in the garden. Click here to view the video.
Kinderaide: Success in Compostela!
by Jane Fellows
KinderAide representatives Jane Fellows and Karen Decker went to Compostela on Mon Feb 27th, to the Audiencia Publica. They had the pleasure of meeting with the Presidente of Compostela and the Director of Development, Jose Alfaro. They discussed the lack of water, among other issues, at the Jardin de Niņos: Luis Pasteur kinder school in La Peņita. Read More
Last
Workshop for Learning For Life Leadership Training
by Susana Connors
Eighty high school scholarship students from La Peņita's Los Amigos and Chacala's Cambiando Vidas will be coming together for their last of three, Learning For Life leadership training workshops, to be held at the Marina Chacala Beach Club on Sunday, March 4th.
Read More
La Casa de los Niņos - Success or the Ashes of Tragedy
by Susana Connors
David and Pat Martinez suffered the loss of their children and grandchildren in an auto accident. They turned their grief into a mission, focusing on the young children of the Lo de Marco area. They opened an after-school center, called Casa de los Niņos. They did not know how many children would want to take advantage of such a program. Read More
Highlights from the Last Los Amigos Meeting
by Dave Easby



The most recent Los Amigos meeting, which was held earlier this week, began in anything but the normal fashion. Arriving members and guests were greeted by an enthusiastic rendition of AC/DC's Highway to Hell, performed by members of the Telpochcalli Youth Group. The meeting also... Read More


JBAR: Animals for Adoption
Rescued and adopted animals make the best pets! There are always dogs and cats available for adoption in the Jaltemba Bay area that are looking for good loving homes. You can view the new JBAR Adoptee Photo Album here.
For more information, visit the Jaltemba Bay Animal Rescue (JBAR) community webpage.
Events are a wonderful way to immerse yourself in, and learn about, the Mexican culture. Here is a list of upcoming holidays, festivals, events, and activities worth planning around. Also check out our Community Calendar for a complete list of what's going on in the Jaltemba Bay area. If you have information about an event, please email us so we can include it in our next issue. And don't forget to add your event... it's FREE!
Monday, March 5

Tianguis, Guayabitos Plaza

Weekly open air market.
Read More
Thursday, March 8
Tianguis, La Penita Plaza
Friday - Sunday, March 9 - 11
3rd Annual Punta Sayulita Longboard & Stand-Up Paddle Classic
Sayulita. Invited pros from Brazil, Hawaii, Mexico and the USA
Read More
Saturday, March 10
Los Amigos Recycling Basket Workshop
The Recycling Committee of Los Amigos will be having its last Basket Making Workshop of the season starting at 10 am and running until noon.
Read More


Fiesta 2012 -Taste of Jaltemba/Sabor a Jaltemba
Non-stop entertainment from 3pm until midnight. Dance to the Perez Brothers, enjoy the stylings of Adan Lopez, Manuel and Friends, and many others

. Read More
Saturday - Sunday, March 10 - 11
Guayafest 2012 - 13th Annual Reunion de Amigos del Volkswagen

The Guayabitos Plaza will be jam-packed with VW Bugs, Things, and Buses in all shapes, sizes, and colors
.
Read More
Recent Articles
You May Have Missed
Featured Businesses + Vacation Rentals
We are proud to promote the following businesses, vacation rentals, and real estate listings on the Jaltemba Bay Life site. Please support these and the other local businesses that make our website possible through their advertising. Thank You!
FEATURED RENTAL
Los Compadres Resort
La Peņita
Beautiful resort with 7 spacious and private suites and stunning views of the entire Jaltemba Bay. Stay for a week or month. more
NEW
Estudio de Danza
(Dance Studio)
La Peņita
Offers Classical Ballet, Flamenco, Belly Dance, Quinceaņera Dance and Wedding Waltz. more
NEW
Los Tulipanes
Guayabitos
Offering the best flavors in Guayabitos with specialty dishes like Coconut Shrimp, Fajitas, Surf & Turf Filet and their famous omelets. more
NEW
PakMail
La Peņita
One-stop service center for your packing and shipping needs, whether local, national or international. Bi-lingual and friendly staff. more
NEW
Tequila Villanueva
Guayabitos
Their newly remodeled restaurant is on the south end of the beach (where Tequila Willy's used to be). Come in, you're family! more
Listing your Real Estate By-Owner on our site is easy, affordable and it runs until you sell. Click here to find out how.
View more Homes & Condos here. Or let one of the local Realtors & Real-Estate Companies help find your perfect place.
FEATURED REAL ESTATE
Casa Tequila
Guayabitos, Residential
$1,350,000 USD
Spectacular beachfront home with oceanfront pool, five bedrooms and immaculately maintained property. more >
We want to thank you for taking the time to read this issue of the Jaltemba Bay Life Newsletter.
The team at Jaltemba Bay Life works hard to provide you with the most up-to-date and informative site for both locals and visitors to the area.
If you own a business, hotel or vacation rental, and/or have real estate to sell, we hope you will consider advertising on our site. You'll be listed in our directories and be seen by hundreds of locals and visitors each and every day. We stand by our product and our commitment to the community -- that's why all fees are 100% money-back guaranteed!
We value your opinions and feedback. Please email us or post on the Jaltemba Bay Folk Forum if you've enjoyed this issue of our newsletter or if you have comments or suggestions about how we can make our community website even better!
Gracias!
David & Allyson (and Taco & Panchito the Rescue Dogs, too)
Founders, Jaltemba Bay Life