PEI Services
Employment Verification
Drug Testing
Applicant Tracking System
Fingerprinting
IRS 4506-T Processing
Industry Specific Services
Transportation
Healthcare
Food and Beverage
Retail and Grocery
Other Industries
More Resources
Private Eyes, Inc.

August 2010 Newsletter
Greetings!


Private Eyes, Inc. has experienced a very busy month with changes and upgrades to our procedures. We have been improving our processes to better serve clientele's needs!

In upcoming events, Private Eyes, Inc. will be exhibiting at the ASA Convention & Expo in Las Vegas this coming October. We are excited to apply the knowledge we absorb from this convention into our work here at Private Eyes, Inc.

This month's Employee Spotlight in on Janice Worrall, our receptionist. Janice is an extremely important part of Private Eyes, Inc.

The importance of pre-employment and background screening is reiterated by Maricela Solorio in the second article. In this day and age, employers need to be extremely careful when selecting there employee, especially those who will work directly with and responsible for others. Private Eyes, Inc is here for exactly that. Take the stress off your hands and let us deal with making sure your work environment is safe.

Looks as though the economy might be making a turn for the better! The third article states that the US economy is improving every day. The recovery remains slow; however, it does appear to be on a steady climb.

Employee Spotlight


Janice Worrall is our wonderful receptionist. She is the first person most people hear and see when they call or visit Private Eyes, Inc. Janice greets all visitors with a warm, inviting smile. Her position is key to the culture of our office environment and keeping everything flowing smoothly. When asked about her job, Janice stated, "I look forward to coming into work every day. I love interacting with people and this job provides that opportunity. Each day is full of a variety of things that I am responsible for completing."

Report: Nurses Have Criminal Records
by Maricela Solorio


The California State Board of Registered Nursing made quite a disturbing discovery. They found that dozens of registered nurses have been convicted of serious crimes including murder, sex offenses and robbery. Apparently since the background checks and fingerprints were not required until 1990.

Many nurses did not go through background checks. Since a Los Angeles Times article in 2008, the board has made background checks mandatory. The investigation also revealed that not only did the regulators not know about the convictions nor did they act quickly once the found out about them.

Attorney General Jerry Brown is looking at least 13 cases against nurses.
Economists See "Healthy Expansion" in U.S.

Steady Progress Expected, but Job Growth to Remain Sluggish, According to Economic Group's Survey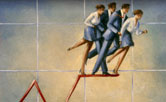 (AP) Economists expect the recovery to remain "firmly on track" over the next two years though job growth is likely to remain slow, according to a new survey.

The latest outlook from The National Association for Business Economics, set to be released Monday, sees regular job gains resuming this quarter but no drop in unemployment below 9 percent for another year. Consumer spending will be relatively sluggish as consumers continue to dig themselves out of debt but inflation is expected to remain subdued, and home prices should rise at a rate slightly above inflation in 2010 and 2011.

"We see a healthy expansion under way, although it will take time to reduce economic slack and repair damaged balance sheets," said Lynn Reaser, the group's president and chief economist at Point Loma Nazarene University.

The NABE forecast is largely consistent with its last quarterly forecast in November and reflects an economy in slow-but-steady recovery mode.

For the full article, click here.

Sincerely,

Sandra James

President, CEO
Private Eyes, Inc.
877-292-3331