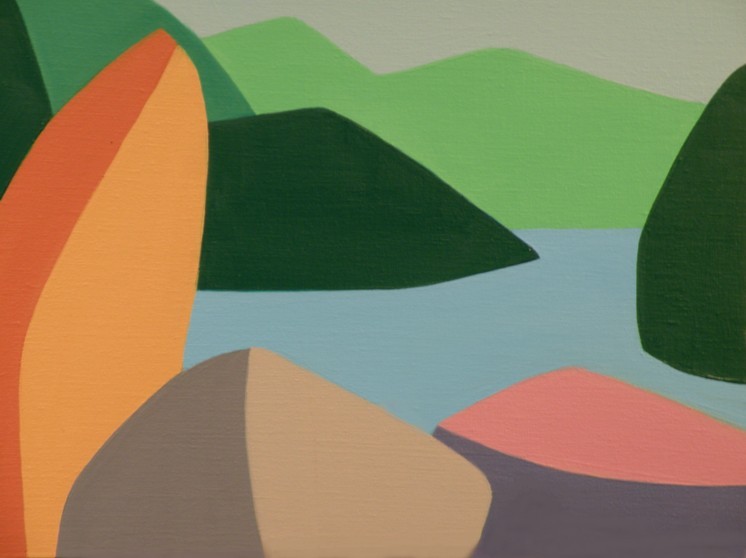 Current Exhibition: Landscape Dreams by Gregg Simpson
February 1 to February 26, 2012
Coastal Patterns Gallery Newsletter

| | |
| --- | --- |
| Bowen Island, British Columbia | February 2012 |

Greetings!

Carol Cram, Director

Coastal Patterns Gallery

Welcome to the first issue of the

Coastal Patterns Gallery

newsletter! You are receiving this newsletter either because you have visited the gallery on Bowen Island or because I'm hoping you'll enjoy reading the art-related content and maybe visiting us one day! If you prefer not to hear from us, you can unsubscribe below.

Coastal Patterns Gallery on Bowen Island, BC, features the work of west coast artist Gregg Simpson along with exhibitions by other artists--both local and international. Stay tuned for our 2012 Exhibition Schedule in our next issue (March 30).

In this newsletter, you will find a range of articles on art-inspired topics. You can check out an amazing art destination--

the Fondation Maeght

near Nice in the south of France and then learn how to do

frottage

--an art technique that involves rubbing to reveal cool textures and forms. You can also read a review of an exhibition by the late

Ladislav Guderna

--a surrealist artist who made Vancouver his home and who was just honored by an amazing exhibition in his native Slovakia.

Coastal Patterns Gallery on Bowen Island

Do you know Bowen Island? If not, you'll want to check

out our article on

Artisan Square

--the artistic hub of the island where several shops and galleries, including

Coastal Patterns Gallery

, provide visitors with lots to see and do.





Sincerely,

Carol Cram

Gallery Director

Gregg in front of the Fondation Maeght in the south of France

Fondation Maeght in France: Modern Art Heaven

Located high above Nice near the village of Ste. Paul de Vence, the Fondation Maeght has got to be one of the world's most amazing modern art museums. Walking through the grounds of the Maeght is a delight for all the senses! You'll see huge sculptures by Calder and Miro, hear the soft splashing of water in the many fountains, and smell the hot scent of lavender and sunshine. And then there's the art!





Miro Trident at Fondation Maeght

Since the mid 1990's, Gregg and I have traveled frequently to the Fondation Maeght. It's pretty much one of our favorite modern art museums. All the exhibitions we've seen have been amazing, but the real standouts were the retrospective of Kandinsky's work and the exhibition of work by Lucien Freud and Francis Bacon.

Are you lucky enough to be traveling to France this summer? If so, take the time to visit the Fondation Maeght for a truly miraculous art experience.

Check this space in future newsletters for more cool art destinations. Whenever we travel, we make a habit of seeking out art museums and foundations that specialize in modern art.

View from Artisan Square on Bowen Island

Artisan Square on Bowen Island

Bowen Island has long been known for the beauty of its forests and beaches, but did you know that Bowen Island is also the 4th most artistic community in Canada? A goodly number of islanders make a full or partial living out of the arts and many of those artists exhibit their work in Artisan Square.





Artisan Square is a brisk walk from the ferry terminal (uphill!) or a very short car ride. Just carry on up the hill after you drive off the

ferry

and you'll see the sign on your left to Artisan Square. You can also catch the 210 - Bluewater bus when you get off the ferry. The bus is parked at the corner to your right as you walk off the ferry.

Get

Rubbing!

Frottage techniques were used to create Ayesha by Gregg Simpson

In each issue of the

Coastal Patterns Gallery

newsletter, we'll feature a different art technique that you can experiment with. Artists use a whole toolbox full of techniques to get a wide range of effects--and you can too.

In this issue, we focus on the technique of frottage--or rubbing. If you've ever placed a piece of paper over a penny and then rubbed over it with a pencil, you've done frottage! When you are creating an art piece of your own, you can use frottage to achieve an amazing array of cool effects.





Ladislav Guderna in Paris

Ladislav Guderna - National Treasure

A retrospective exhibition of the work of the late Ladislav Guderna, the Slovak artist who moved to Vancouver in 1979, was just held at the City Museum of Bratislava. Guderna was a key member of the West Coast Surrealist Group and Melmoth Group established in Vancouver during the 1970's and 1980's.

Transcience by Ladislav Guderna

The long overdue re-discovery of Guderna, who contributed so much to the Vancouver art scene, is reflected in the competition among museums in his home land for his 100th anniversary exhibition, the recent publication of a major book on his work. and the increasing prices of his work at auction.

Read a review of Guderna's exhibition in Bratislava.

Jeweled Island by Gregg Simpson

Featured Painting - Jeweled Island

Jeweled Island by Gregg Simpson is featured in the current exhibition at Coastal Patterns Gallery. Entitled Landscape Dreams, this exhibition brings together an eclectic selection of Simpson's landscape-based works. Here's what Simpson has to say about Jeweled Island:

I used gouache with pastel to create Jeweled Island. Gouache is like a more opaque form of watercolour. The bright reds and yellows suggested jewels to me and the pod shapes suggest islands--an archipelago of dreams. The use of black and white added a certain feeling of volume to the floating shapes, making them slightly sculptural.

I completed the piece while traveling in the south of France. Working in an environment where you can view the greatest 20th Century Modern Art on a daily basis has an emboldening effect on an artist!

Check out Jeweled Island in the current exhibition at Coastal Patterns Gallery. Interested in purchasing? Contact us!

Cliffside with Cave - Collection of Richard and Jocelyn Hobbs

Featured Collector - Richard Hobbs

Richard Hobbs purchased Cliffside with Cave by Gregg Simpson from Coastal Patterns Gallery for his office but he loved it so much that it now resides in his home! Here's what Richard has to say about his painting:

Cliffside with Cave is a masterpiece of colour! It simply belonged in our dining room to complement the Western sunsets that we have come to enjoy as part of the gift of living on Vancouver Island! This piece is a pleasure to own.

Richard Hobbs

is an investment counselor with Investors Group. He specializes in helping his clients feel confident about their financial choices.




Have you purchased a piece from

Coastal Patterns Gallery

? Would you like to be featured in one of our newsletters?

Contact us

!

The Wizard by Gregg Simpson included in "Surrealism in 2012"

What's New?




This exhibition of the international surrealist movement from the 1960s through today is being held at the Goggleworks Center for the Arts in Reading, Pennsylvania.




If you're out that way, check out the exhibition. It runs until February 19, 2012.

Upcoming Exhibition: Root Forms - a Tribute to Spring!


Root Dance by Gregg Simpson will be featured in the exhibition "Root Forms" in March

At

Coastal Patterns Gallery

, we want to invoke an early spring so our March exhibition does just that. A collection of organic abstractions by Gregg Simpson explores textures and forms inspired by the earth.




Join us for the opening reception on Sunday, March 4, 2012 from noon to 4 pm. Refreshments are served.




Root Forms runs from March 1 to March 25.




In the next issue of the Coastal Patterns Gallery newsletter, we will announce the full 2012 Spring-Summer Exhibition schedule. Right now, we're putting the finishing touches on a line-up of eight exhibitions that will include both local and "off island" artists. Stay tuned!

Portrait of Keltie by Katharine Vingoe-Cram

Gallery Partnerships

In each issue of the newsletter, we will feature a partnership between Coastal Patterns Gallery and other artists and organizations.




In this issue, we're featuring a partnership with Katharine Vingoe-Cram, a talented young artist who will have an exhibition at Coastal Patterns Gallery in June. Katharine is also offering her services as a portrait artist.




If you are interested in commissioning a portrait, please give me a call at

778 997 9408

or send me an

email

. Katharine can create portraits from life or from photographs.




Reasonable prices and guaranteed satisfaction.

Special Offer in our Gift Shop - FREE Mug

Coastal Patterns Gallery features a variety of gift shop items that you can choose to commemorate your visit to Bowen Island. We have cards, mouse pads, reproductions, and...mugs!

For the month of February -- pick up a FREE mug of your choice (while quantities last) when you come into Coastal Patterns Gallery and mention this newsletter! Choose from four styles, each featuring a different work by Gregg Simpson.

Right to left: In the South, Munich Moment, Arcadia, and Coast Patterns 1.

Mugs are regularly priced at $20.00.

In February, Coastal Patterns Gallery in Artisan Square on Bowen Island is open from Thursday to Sunday from noon to 4 pm. If you miss us, just call me at 778 997 9408. I'm never that far away!