Tips For the Changing Seasons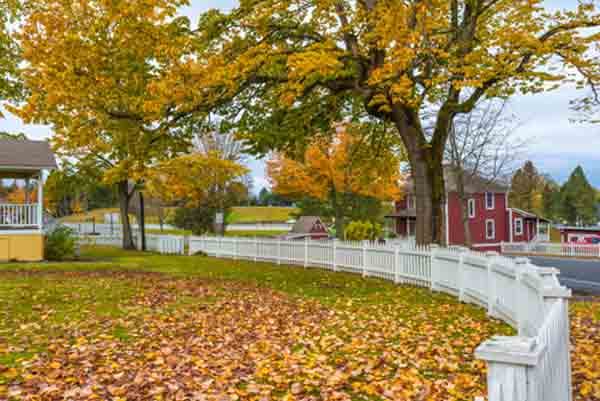 The temperature is starting to cool down, mums and pumpkins are decorating doorsteps, and leaves are blazing with beautiful color. The cherished season of autumn is upon us, bringing a welcome change from the heat and humidity that has hung around all too long.

While the scenery is beautiful and the weather remains crisp and refreshingly cool, many of us are faced with the not-so-popular task of raking leaves.
How to Avoid Raking Injuries
According to the Consumer Products Safety Commission, 28,000 Americans suffer injuries from raking each year. It's important to be cautious as you go about this chore. Poor body mechanics could lead to pulled muscles, back pain and sore shoulders.
Here are some tips to keep you pain free during fall yard clean-up:
Loosen up with some stretches for your quads, hamstrings and back prior to raking. Click here to


view directions for some basic stretches.

Use sturdy, slip resistant shoes to avoid risk of a fall.
Bend at your knees and not at your waist.
Keep your legs aligned w/ your trunk; avoid twisting.
Don't overdo it; take frequent breaks.
Listen to your body if you have any pain...that


means to STOP!
Be sure to follow these tips and continue to enjoy an injury-free fall season!
Take Time to Relax
T

he end of fall means the holiday season is right around the corner. Although full of festive decorations, gatherings wi

th loved ones and plenty of home-cooked food and drinks, the winter holidays are inevitably

filled with stress. This stress can be counterproductive and harmful to your health, even if it lasts just a few weeks.

If you start feeling the effects of the hectic season, experts say relaxation techniques can bring you back into balance. Click here to learn 10 relaxation techniques that can help reduce stess in five minutes or less.
Enjoy Calming Foods
Experts agree certain foods have calming effects. Try incorporating some of these foods into your diet and enjoy!


Bananas, Rice, Warm Tea, Toast, Yogurt, Apple Sauce, Chamomile, Mashed Potatoes, Papaya, Dark Chocolate, Cashews, Spinach, Vanilla Bean, Ginger, Peppermint , Coconut Water.
Focus on Prevention
It's not necessary to wait until you're sick or injured to seek medical care. Take proactive, preventative measures to keep your body strong. A visit or two to your physical therapist can go a long way toward injury prevention and better overall health and fitness. Click here for more information on how PT can help.
If you want to get a head start on a healthy 2012, call and schedule an evaluation at HARTZ PT today. Now is a good time to take advantage of insurance deductibles that are met. And thanks to Direct Access, you no longer need a prescription from your physician to see a physical therapist immediately. For more information, visit our website at www.hartzpt.com.
Thank you to all who supported the 8th Annual
Fall Blast 5-K
Run/Walk.
Because of your generosity we were able to raise over $10,000 for


"Being a PTA is such


a fun and rewarding job. It's especially encouraging to be a part of helping patients achieve their goals."
Alicia Gingerich
Physical Therapy Assistant
"Alicia's energy and positive attitude made coming to HARTZ Physical Therapy
a pleasure!"
~Scott K.
HARTZ PT's Medically Adapted Gym (M.A.G.) provides a safe and non-intimidating environment for those who would like to start or continue an exercise program.
Call 717.735.8880
to schedule your appointment.
Open evenings and Saturdays!
Click here to learn more.
If you have questions about fitness, injury prevention or rehabilitation go to www.lancmoms.com and click on
"Ask the Expert" to submit them today.
Or send them
directly to us at info@hartzpt.com.