1. Follow the 10% Rule
Whether you're new to running or just getting back into the swing of things after a long winter, start slowly and work your way up. Increase your mileage by 10% each week. (New runners should start with very short distances). The 10% Rule is one of the most time-proven principles in running. Remember, the same rule applies to walkers!
2. Strength Train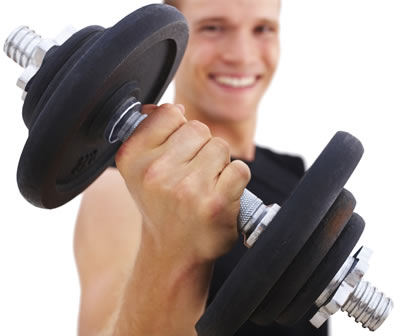 Strength training increases muscular endurance & mass, builds bone density, and reduces the risk of injury. This is important for all runners,but especially for women. Strength training also becomes increasingly important as we age.
3.Cross Train
Cross-training exercises like swimming, cycling and stair climbing, are a g
ood supplement to running.
They also give variety
to your exercise program and keep it exciting. Cross-training exercises will strengthen muscles
not normally used while running, which will ultimately improve your stride.
4. Stretch
During periods of inactivity we lose some flexibility and range of motion. There has been much debate over whether stretching actually benefits runners. But the fact is a flexible body is more efficient, has a larger range of motion, is injured less, recovers quicker, and simply feels better. Runners should be aware of the difference between static and dynamic stretching and how both can affect performance.
Click here
to learn more.
5. Stay Properly Nourished
Eat to run, don't run to eat! Familiarize yourself with the basic principles of good nutrition and make sure you're getting the right amounts of the primary nutrients (carbohydrates, fats, proteins and water). For more information on how to stay properly nourished as you train
click here
.
6.Set Goals
Most runners find that training for a specific event
can be highly
motivating. So pick an event, register and enjoy the journey! Consider signing up for the HARTZ PT Fall Blast 5-K Run/Walk (you can find details in the column to the right). Or check out other local runs on the Lancaster Road Runners Club site:
www.lrrclub.org
Both the preparation for the race and the race itself will be rewarding and beneficial to our health. If you need help setting realistic running goals,
click here
for a
running pace/goal time calculator.
And don't be afraid to reach for the stars!