YMCA offers Family Art Night program
The Downtown Y
provides affordable child care the first Friday of each month via
Family Art Night.

Serving children ages 3 months to 12 years, 6:30-9 p.m., the cost is $10 per child with pre-registration, $13 per child without pre-registration. Kids enjoy healthy activities and snacks, story time and a hands-on art project to take home.

Call (417) 862-8962, ext. 149, to pre-register
First Friday Art Walk 2012 Gallery Links
The Vision Clinic
The Vision Clinic
Nomad
Nomad
Springfield Regional Arts Council
Visit the Arts Council
First Friday Art Walk 2012 Gallery Links
The Vision Clinic
The Vision Clinic
Nomad
Nomad
Springfield Regional Arts Council
Visit the Arts Council
First Friday Art Walk 2012 Gallery Links
The Vision Clinic
The Vision Clinic
Nomad
Nomad
Springfield Regional Arts Council
Visit the Arts Council
First Friday Art Walk 2012 Gallery Links
The Vision Clinic
The Vision Clinic
Nomad
Nomad
Springfield Regional Arts Council
Visit the Arts Council
First Friday Art Walk 2012 Gallery Links
The Vision Clinic
The Vision Clinic
Nomad
Nomad
Springfield Regional Arts Council
Visit the Arts Council
Greetings!
Letters Never Sent
by Stephanie Cramer, Mercy R&D
Art Walk is tomorrow night, and it's going to be fantastic! Be sure to welcome our three new sponsors: The Hamels Foundation, Nomad and The Vision Clinic, all of whom invite you to stop by and enjoy an evening of art, entertainment and fellowship. Enjoy art by local school students at The Hamels Foundation, a variety of art, wearables and music at Nomad and Artist Meganne Rosen O'Neal at The Vision Clinic.
Here are some other highlights for April:
Abundant Life presents variety of art, plus
live music during April 6 Art Walk

This month at Abundant Life Covenant Church

,

157

Park Central Square

,

Photographer Nate Sims will be displaying images from his professional work titled: Life on the Water. Tyler Thrasher will be displaying his Flame Test paintings, creating art LIVE and accepting commissions for his year-long "Commissioned Christmas" project. For this project, Tyler will be selling his artwork and putting the proceeds towards helping those in need with coats and clothing for Christmas 2012. Also check out Chris Wood's abstract art with poetry series entitled; "Where Are You?", Horse Power images by Harold Patterson and Spring images by Dr. Annette Wardell. Plus, LIVE music and FREE refreshments. (417) 864-4971, www.abundantlifecovenantchurch.com Office hours 9-4:30 p.m. M-F; Services 7:30 p.m. W, 10 a.m. Sun.
CaraDee Photography captures life's
fleeting moments as enduring art

Image by CaraDee Photography

At CaraDee Photography Fine Art Portraits and Gallery
, 305 E. Walnut, Photographers Cara Stucke and Mark Gilmore are setting contemporary trends in individual, couples and family photography. (417) 368-7341 www.caraspictures.com
Central High IB students shine
in A Fortunate Inspiration at The Creamery

Collage by Kaitlyn Box
The Creamery Arts Center
, 411 N. Sherman Parkway, proudly hosts
A Fortunate Inspiration
, a presentation of the Central High School International Baccalaureate Art, Film, Music and Theater departments, 6-9 p.m. April 6 during First Friday Art Walk. A Fortunate Inspiration is the result of a nine-month collaboration between the four departments and showcases student work as part of their International Baccalaureate curriculum and examinations. The collaboration began with a poem inspired by a fortune cookie, which became a film, which led to artwork, student musical compositions and finally a student-produced play. (417) 862-ARTS (2787)
www.SpringfieldArts.org
Open 9 a.m.-5 p.m. M-F; closed major holidays
Digital Painters Robert & Deanna Henion
bring large scale works to DB Design

DB Design Salon & Art Gallery, 326 S. Campbell, invites you to enjoy Robert & Deanna Henion, digital painters. Experience the work of this delightful art duo in large scale with geometric works by Robert and marvelous landscapes by Deanna. In addition, explore DB's ongoing display of pottery by Cheryl Matlock, Julia Schaefer, John Ehlers, Katrina Stevens, George Milne and Duane Bone; and jewelry by Tammy Kirks.(417) 864-4343
Visit Drury Pool Art Center Gallery for
the Annual All Student Competitive Exhibition

Drury Pool Art Center Gallery, 940 N. Clay St., presents the Annual All Student Competitive Exhibition comprising student work from across the campus. Works include ceramics, design, drawing, fibers, mixed media, painting, photography and sculpture. (417) 873-7263 www.drury.edu/pacgallery Open 8 a.m.-5 p.m. M, T, W, F; 8 a.m.-8 p.m. Th
Evangel University Bellwether Gallery spotlights
Graduating Senior Artwork in April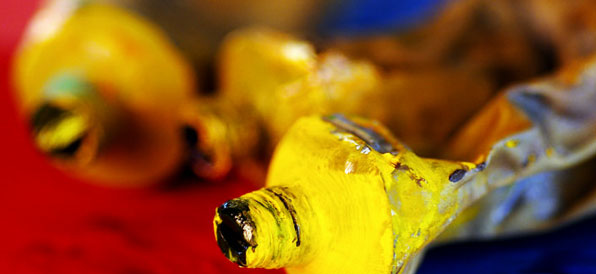 The Evangel University Bellwether Gallery, 600 W. College, Ste. 116, presents Graduating Senior Artwork on display during the April 6 Art Walk. (417) 865-2815, ext. 7258 Open 11 a.m. to 4 p.m. W-Sat
International Award Winner Farmers Gastropub
presents Artists at Work for April 6 Art Walk

Farmers Gastropub, 431 S. Jefferson, Ste. 160, recently garnered international headlines when U.K.-based newspaper The Telegraph named the Springfield gastropub Best Restaurant in its Best of British competition. Enjoy the art of gastropub cuisine, plus Artists at Work during the April 6 Art Walk. Artists demonstrate and sell their art in an echo of the art scene at Montmartre, Paris. Farmers Gastropub invites artists who are interested in demonstrating their talents on future First Fridays to contact owner Bill Griffiths. (417) 864-6994 www.farmersgastropub.com. The Gastropub is open 9:30-11 p.m. M-W and 9:30 a.m.-midnight Th-Sat, with Bistro Dining 6-9:30 p.m. Th-Sat
Fresh Gallery celebrates 3rd Anniversary
with Annual Silent Art Auction

Wildcat Glades
Fresh Gallery
, 400 W. Walnut, presents the
Fresh Gallery 3rd Anniversary Silent Auction
. Stop by Fresh during the April 6 Art Walk to bid on original paintings and prints, as well as jewelry, pottery, fiber art, and wood turning crafts, all donated by the Fresh artists. Proceeds go towards promotion of the artist-collective gallery. Seeking a one-of-a-kind Mother's Day gift? Fresh is the place for you.
www.freshgallery.org
. (417) 862-9300 Open 11 a.m.-6 p.m. T-Sat
NY Night
Black and White Beauty
Enjoy Fifty for Fifty by Cindy Pedigo, plus
visit Good Girl Art Gallery's Wabbit Woom

Art by Cindy Pedigo
Good Girl Art Gallery
, 325 E. Walnut St., Ste. 101,
presents Fifty for Fifty, featuring 50 paintings by artist Cindy Pedigo for $50 each, all in celebration of her 50th birthday. These paintings reflect images of the Ozarks and her experiences growing up and living her entire life here. The artist will donate her proceeds to benefit art programs for underserved children through Community Partnerships. A 1984 graduate of
Drury
University
with a BA in art, Cindy went on to earn
I see wabbits!

her master's from Drury in 2010 in studio art and theory. "I want my art to be diverse and playful because I believe that creating, in its most basic form, is playing. The benefits in the process of art for children, the disabled and the elderly are endless and untapped. To enable and inspire others to create, for whatever reason, is my heartfelt goal." Also, as you begin Easter weekend, enjoy GGA's Wabbit Woom, featuring all things "bunny." (417) 865-7055 www.goodgirlartgallery.com Open
11 a.m.-7 p.m.
T-Sat
The Hamels Foundation welcomes Art Walkers
with Artwork by Local Students

The Hamels Foundation, 425 W. McDaniel St., Ste. 164, invites you to celebrate the April 6 Art Walk at College Station with A Variety of Artwork designed and produced by area elementary, middle and high schools students.The Hamels Foundation is a nonprofit dedicated to enriching the lives of children and giving them the tools to achieve their goals and is now an Art Walk sponsor! A 501 (c) (3) organization founded by Philadelphia Phillies 2008 World Series MVP pitcher Cole Hamels and his wife Heidi, the foundation's dual mission is to provide support for quality education in Springfield, Mo., and Philadelphia, Pa., communities, and to establish a school in Malawi, Africa. (417) 988-2369 www.thehamelsfoundation.org
Hawthorn Galleries presents Life's Pieces:
recycled and mixed media sculptures by CJ Art.

CJ Art at Hawthorn Galleries
Hawthorn Galleries Inc., 214 E. Walnut St., is pleased to present Life's Pieces: A collection of recycled metal and mixed media sculptures by CJ Art. Carol Chappell and Joan Gentry of CJ Art share a common interest and concern about the environment. They use recycled objects to create works of art which may be whimsical, humorous, elegant, nostalgic, or that make a social statement. According to Chappell and Gentry, part of the challenge of working with recycled materials is to be able to see and use these items in a totally new way. Enjoy the Opening Artists' Reception during the April 6 Art Walk, meet artists Carol Chappell and Joan Gentry of CJ Art, and experience live music by guitarist Dale Augustson.(417) 866-6688 www.hawthorngalleries.com
Open 10 a.m.-6 p.m. T-F; 1-5 p.m. Sat
Enjoy Local Student Artwork at
Hollywood Theaters College Station 14

Hollywood Theaters College Station 14, 415 W. College Street, is a family-friendly theater that is proud to show the artistry of cinema 365 days a year. For First Friday Art Walk, Hollywood will be showcasing Local Student Artwork. Bring the family and come see the creativity of Springfield's youth! Visit us online at www.gohollywood.com

Photography by Amber Dougan
Enjoy Photography by Amber Dougan, Abstract Paintings by John Payne at Kiss My Gas Scooters

Kiss My Gas Scooters!, 212 S. Campbell,
presents Photography by Amber Dougan and Abstract Paintings by John Payne in April. Also, view the latest models of fuel-efficient scooters, plus plenty of accessories and apparel for the well-dressed rider. (417) 863-9600. www.kissmygasscooters.com

Painting by John Payne
Mercy R&D presents
Spring Originals by Stephanie Cramer and Kat Allie

il fascinodi primavera by Kat Allie
Mercy R&D, 429 N. Boonville Ave., invites you to stroll into the Mercy R&D Gallery for some Spring Originals by Stephanie Cramer and Kat Allie. We feature the hottest local artists and display Mercy co-worker inspired medical device designs. www.mercyrnd.com
(417) 831-1270.
Brick City Gallery features Todd Bertolaet and David Wharton: Photographs from the American South through April 27

MSU Brick City Gallery, 215 W. Mill, presents Todd Bertolaet and David Wharton: Photographs from the American South, on display until April 27.
(417) 829-5092 www.art.missouristate.edu/gallery.php Open 1-6 p.m. M-Sat, closed Sunday, Monday and University holidays
Explore Nigeria at MSU Center of International Programs

MSU Center of International Programs
, 301 S. Jefferson,
is celebrating the country of
Nigeria
! Visit the
Jim
D.
Morris
Center
to visit with our students from
Nigeria
and learn more about their amazing country. All evening long you can enjoy light refreshments and view amazing photos
c
aptured by
Missouri
State
University
's
study abroad students. This event is free and open to the public.
(417) 836-3733 http://international.missouristate.edu
Enjoy local art, microbrand clothing, live music
with Nomad's Art Walk debut in April

Nomad,
318 W. Walnut, joins the Art Walk as a new sponsor in April. Enjoy local paintings, upcycled jewelry and lamps, graphic
illustrations and live music 7-9 p.m. Experience Nomad's five microbrand clothing lines, plus original purses, wallets, travel bags, jewelry, and one-off furniture. 603-530-2586
Obelisk Home presents
Carl James' Aegean Odyssey

Aegean Odyssey
Obelisk Home at the Inspired Commerce Building
, 214 W. Phelps,
presents Aegean Odyssey, a show by Photographer Carl James. "Sail with me to
Ephesus
and walk the
Arcadian Way
in the footsteps of Marc Anthony and Cleopatra. Journey to Delos, the home of the gods, to Crete, home of the Minoans, to Patmos, the island prison of John the Evangelist, and Santorini, the lofty city of bright blue roofs and snow white walls. Shop in the ancient Grand Bazaar of Istanbul. Stand with me on the Acropolis and marvel at the perfect architectural proportions of the Parthenon, and contemplate the birthplace of our Democracy." - Carl James (417) 616-6488 www.obeliskhome.com
OTC Fine Art Gallery at The Gillioz welcomes
iPhone art by Fine Art Photographer Elise Ellis

Elise Ellis iphoto
OTC Fine Art Gallery at The Gillioz, 325 Park Central East, Third Floor, presents Fine Art Photographer Elise Ellis. Elise Ellis grew up in the world of photography as the daughter of a Master Photographer. Working in traditional portraiture, she established a successful business of her own, Elise Ellis Photography, but about two years ago, feeling burned out with portraits, she put her professional gear on the shelf. That's when she began to experiment with iPhoneography. "In 2011, I began using the camera on the iPhone as my primary camera. As the camera on the iPhone has evolved, my love for iPhoneography has grown. I realized the best camera to have is the one you have with you at all times," she said. Taking photos with the iPhone and processing the images with
iphoto by Elise Ellis
Apple apps including ScratchCam, Filter Mania, Filter Storm and Photo Toaster, Elise's images are reproduced on metal, lending the image visual depth and luminosity. "iPhoneography challenges me. It pushes me to be a better photographer and artist," Elise says. "When you take away all the fancy lenses, flash units, camera bodies, all you have left is your creativity, your vision, your skill in composition and in manipulating the light. iPhoneography is photography in the simplest form." Enjoy Elise's amazing images, plus special musical performances by OTC Fine Art students and refreshments. (417) 447-8873 www.otc.edu Open 9 a.m.-6 p.m. M-Th; 9 a.m.-3 p.m. F; and 9 a.m.-10 p.m. on First Fridays
Don't miss the Fordland Photogs, Big Read Iron
Chef Cook-Off & Edible Books at Park Central Branch

Park Central Branch Library, 128 Park Central Square, presents an evening of delicious activities focused on The Big Read book "The Maltese Falcon," by Dashiell Hammett, plus enjoy Photography by the Fordland Photogs, featuring the original work by students from Fordland Middle School. The Big Read Iron Chef Cook-Off, focusing on the cuisine of San Francisco, setting of "The Maltese Falcon." At 7, enjoy the Edible Books Festival, with entries from June's Cakery, Amy Cakes, Style By the Slice and last year's winner, Stacey's Sweets. Vote for your favorite, and then enjoy eating these delicious cakes that highlight the Big Read book title, "The Maltese Falcon." (417) 831-1342 facebook.com/parkcentrallibrary Open 8:30 a.m.-9 p.m. M-Th; 8:30 a.m.-10 p.m. F-Sat
Everything is a Problem brings Daniel Zender's
poster art to Randy Bacon Photography Studio

Randy Bacon Photography and Figment Art Gallery in the Monarch Art Factory, 600 W. College St.,
presents Everything is a Problem, a show by featured artist Daniel Zender. Enjoy the opening reception with free refreshments and music by The Eskimo Girls and Special Guests during the April 6 Art Walk. Daniel Zender is a Springfield-based freelance illustrator, designer and artist. Everything is a Problem showcases a variety of new work. In the past year, Daniel has been commissioned by New York Times, the Boston Globe, the Progressive, McSweeney's and the Brown University Alumni
Little Red Riding Hood

Magazine. His poster work has been featured in international poster shows in
Chicago
,
Mexico
,
Poland
, France,
China
and more. In addition, Parables, a show of original works by Shannon Bacon, continues through April. Also, enjoy Art Demonstrations by Figment Gallery and Culture House artists

Ashley Haws and Darlene Prater

, and displays by Lane Simmons, Ben Sonner, Sarah Hurlburt and Lindsay Breidenbach. Information regarding free photography sittings with Randy Bacon will be available during Art Walk! (417) 868-8179 www.randybacon.com Open
11 a
.m.-6 p.m. T-F;
11 a
.m.-4 p.m.
Sat
Enjoy the Work of Award-Winning
Artist Gavyn Sky at Revel Advertising

Revel Advertising
, 214 W. Phelps, Ste.102,
conveniently
located next to Obelisk Home in the Inspired Commerce building,

invites you to welcome the new year
with Award-Winning Artist Gavyn Sky during the Jan. 6 Art Walk. Gavyn's unique paintings have an interactive and captivating quality that has art lovers across the country taking notice. "Art is so complex and yet so simple. We know when we are touched by something. You can feel it physically. My art is designed to create the same physical reaction in you." - Gavyn Sky (417) 368-6966 www.reveladvertising.com
Springfield Hot Glass Studio presents live
glassblowing demonstrations during Art Walk
Springfield Hot Glass Studio,
314 S. Campbell Ave., is a working hot glass studio/gallery with facilities for furnace, torch and kiln work. Enjoy live demonstrations on Tuesdays, Thursdays, Saturdays and First Fridays

!

(417) 868-8181 www.springfieldhotglass.com Open 10 a.m.-6 p.m. T-Sat
Enjoy an ever-changing selection of amazing
ceramic art at Springfield Pottery
Springfield Pottery, 416 S. Campbell Ave., invites you to the opening reception for Recent Vessels and Sculptures, an exhibition of current work by

Missouri

artist and College of the Ozarks professor Jeff Johnston. A resident of Nixa, Jeff is a ceramic sculptor and potter who has shown his work in numerous international, national, and regional exhibitions. His work is in the collections of the

Springfield

Art Museum

, the

Daum

Museum

,

Sedalia

,

Mo.

; the

Yingge

Ceramics

Museum

,

Taipei

,

Taiwan

; and several universities and private collections. Speaking of his work and influences, Jeff said, "I
Xian Road, Wall Cairn

am interested in markers or objects that symbolize important places or the passage of time in our lives. In ancient
Britain
, people left piles of rocks or markers called
cairns
. The word 'cairn' has come to mean the markers used by surveyors as well as stacks of rocks left by hikers to mark a trail. My cairns record my personal journey and experiences." Note: On Saturday, April 7 from
10 a.m.
to
5 p.m.
, Jeff will give a demonstration workshop on throwing, altering and assembly as well as sculptural techniques and discussion on wood firing. The fee is $35 and space is limited. Pre-register at (417) 864-4677. www.springfieldpottery.com Open
11 a
.m.-6 p.m.
T-Sat
The Vision Clinic welcomes
Artist Meganne Rosen O'Neal
The Vision Clinic, 213 W Olive St., Ste. 101, celebrates its Art Walk Sponsorship with an Open House during the April 6 Art Walk featuring Artist Meganne Rosen O'Neal. A graduate of Drury University with a Bachelor of Arts with Honors in art history with minors in fine art, English and global studies, Meganne subsequently completed her Master's Degree in Studio Art and Theory at Drury in 2011. She is now adjunct faculty in the department of art and design at Missouri State University. "My work is the result of a partnership between myself and the media I work with. I am a process artist; the process of painting and the direction the paint takes of its own accord have strong influence in the end result." Meganne says. "As an intuitive formalist, I am not trying to tell you anything, nor am I particularly interested in expressing myself or anything else. My paintings are about form, material and the aesthetic value of color and texture. My only agenda is to create pleasing and interesting paintings. I hope you enjoy them." A recent addition to the downtown scene, The Vision Clinic provides a full range of vision and eye-health services. (417) 862-3937 www.myvisionclinic.com
I look forward to seeing you at the April 6 Art Walk! For more details on Art Walk's participating venues, please visit
www.ffaw.org
.
Sincerely,

Clarissa French
First Friday Art Walk