YMCA offers Family Art Night program
The Downtown Y
provides affordable child care the first Friday of each month via
Family Art Night.

Serving children ages 3 months to 12 years, 6:30-9 p.m., the cost is $10 per child with pre-registration, $13 per child without pre-registration. Kids enjoy healthy activities and snacks, story time and a hands-on art project to take home.

Call (417) 862-8962, ext. 149, to pre-register
First Friday Art Walk 2011 Gallery Links
Springfield Regional Arts Council
Visit the Arts Council
First Friday Art Walk 2011 Gallery Links
Springfield Regional Arts Council
Visit the Arts Council
First Friday Art Walk 2011 Gallery Links
Springfield Regional Arts Council
Visit the Arts Council
First Friday Art Walk 2011 Gallery Links
Springfield Regional Arts Council
Visit the Arts Council
First Friday Art Walk 2011 Gallery Links
Springfield Regional Arts Council
Visit the Arts Council
First Friday Art Walk 2011 Gallery Links
Springfield Regional Arts Council
Visit the Arts Council
First Friday Art Walk 2011 Gallery Links
Greetings!
Art by Cyndilee Dawson at Obelisk Home
Start the Labor Day Weekend with First Friday Art Walk, 6-10 p.m. Friday Sept. 2 in 22 participating venues! Enjoy live jazz, a craft beer tasting, live art demonstrations and the reopening of Drury Pool Art Center Gallery, MSU Brick City Gallery, MSU Student Exhibition Center and OTC Fine Art Gallery at The Gillioz for the fall semester!
The September Art Walk also marks the launch of the First Friday Art Walk 10th Anniversary Art Contest and Exhibit. The entry fee is only $10; and $500 in cash prizes will be awarded, including a $250 Grand Prize. The Exhibit will be unveiled at OTC Fine Art Gallery at The Gillioz during the Oct. 7 Art Walk, and Art Walk visitors will vote to select the winner of The People's Choice Award. Download the 10th Anniversary Art Contest Entry Form now!
Celebrate back-to-school with student artwork
at Abundant Life Covenant Church

Abundant Life Covenant Church,

157 Park Central Square,
celebrates back-to-school by highlighting student works. Enjoy new photographic images from KSMU Sense of Place history series reporter and MSU student Rebekah Clark; Living Words images by OTC art student Patricia Frater; and Urban Images by Drury student Nathan Wood and College of the Ozarks student Jonathan Wood. Also featured is a new Clouds photography series by Harold Patterson; Annette Wardell's Tribute to Wilson's Creek; Chris Wood's Where are You? poem with images; and George W. Kiefer's historic murals. Enjoy LIVE music and FREE refreshments. (417) 864-4971 www.abundantlifecovenantchurch.com Office hours 9-4:30 p.m. M-F; Services 7:30 p.m. W, 10 a.m. Sun
See Wind in Motion, live jazz, Living Art &
Featured Artist Kat Philbin at Canvas

Canvas
,
315 South Avenue
,
presents the theme Wind in Motion in September. Experience Rhonda Simon's wind sculptures made from plastic sheeting, bags and fans and Eric Vaughn's Living Art, plus enjoy Live Jazz by MSU students and the works of Featured Artist Kat Philbin. Kat's medium is watercolor and she focuses on unique pairings of animals and people in odd situations, such as Tiny Cheeseburger, which depicts a smiling Tyrannosaurus Rex holding a tiny cheeseburger. Canvas will have a dozen other artists on hand during Art Walk, as well as a final showing of Animals of Eden, featuring the animal creations from the Springfield Little Theatre's June production of Children of Eden. And Canvas always welcomes kids at the make-and-take art table where they can create their own, free piece of art. (417)-869-4138 Open on First Fridays and by appointment
Experience Amazing Images at
CaraDee Photography Fine Art Portraits and Gallery

Image by CaraDee Photography

At CaraDee Photography Fine Art Portraits and Gallery
, 305 E. Walnut, amazing images are an everyday occurrence! Photographers Cara Stucke and Mark Gilmore are setting contemporary trends while capturing the poetry and art that is life. (417) 368-7341. www.caraspictures.com
Enjoy Civil War-themed art, writing at The Creamery,
part of the 2011 Missouri Literary Festival: The Civil War

The
Creamery Arts Cente
r, 411 N. Sherman Parkway,
invites you to experience the Civil War through the eyes of Springfield 5th grade and 8th grade students in the
Civil War Art and Writing Competition Display
. Enjoy art by 5th graders and poetry, diary entries and other writings by 8th graders, all inspired by a beautiful collection of white horses donated by Obelisk Home. Also, don't miss the Awards Ceremony Sept. 22 where prizes will be presented to the winning students. The contest and display is sponsored by the 2011 Missouri Literary Festival: The Civil War, to be held Sept. 23, 24 and 25 at The Creamery and Jordan Valley Park.
www.missouriliteraryfestival.org
(417) 862-ARTS (2787)
www.SpringfieldArts.org
Open 9 a.m.-5 p.m. M-F; closed major holidays
Debra Sutherland returns to
DB Design Salon & Gallery in September

Drury Pool Art Center Gallery launches 2011-12 season
with Inviting the Bell to Sing by Mike Dickey

Berlin Wall, East Side by Mike Dickey
Drury Pool Art Center Gallery, 940 N. Clary St., presents Inviting the Bell to Sing, a one-man show by Drury Professor Emeritus Mike Dickey featuring his recent photographic works. Inviting the Bell to Sing opens the Pool Art Center Gallery 2011-2012 season; enjoy the opening reception 6-9 p.m. during First Friday Art Walk. Mike earned his MFA from Ohio University in 1971 during the time of the "grand experiment" in certain graduate programs and photographic schools. At that time, the emphasis was on complete open freedom and academia was set far into the background. He brought that philosophy to Drury University during the 1980s and '90s, and it is a significant influence in his work. (417) 873-7263 www.drury.edu/pacgallery Open 8 a.m.-5 p.m. M, T, W, F; 8 a.m.-8 p.m. Th
Evangel University Bellwether Gallery
presents Foundations Show in September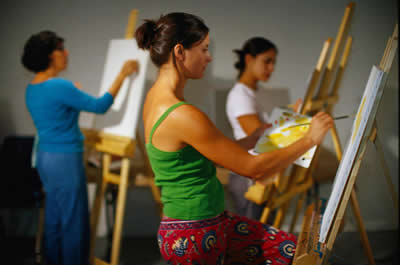 The Foundations Show focuses on work by Evangel art students in 100-level courses.
The Evangel University Bellwether Gallery, 600 W. College,
Ste. 116, presents its Foundations Show, featuring the work of Evangel students in the university's 100-level art courses. (417) 865-2815, ext. 7258 www.evangel.edu/
Academics/Humanities/Art/index.asp Open 11 a.m. to 4 p.m. W-Sat
See Artists at Work at Farmers Gastropub
during the Sept. 2 Art Walk

Farmers Gastropub, 431 S. Jefferson, Ste. 160, presents Artists At Work in the Bistro during the Sept. 2 Art Walk. Farmers Gastropub invites artists who are interested in demonstrating their talents on future First Fridays to contact owner Bill Griffiths. (417) 864-6994 www.farmersgastropub.com The Gastropub is open 9:30-11 p.m. M-W and 9:30 a.m.-midnight Th-Sat, with Bistro Dining 6-9:30 p.m. Th-Sat
Fresh Gallery features Karla Breeding Trammell &
Maneesh Anand in September

Lone Peony by Karla Breeding Trammell

Fresh Gallery,

located at the southwest corner of Campbell and Waln
ut,
presents
Featured Artists Karla Breeding Trammell and Maneesh Anand
. A native of the East Central Arkansas Delta, Karla began making art as soon as she could hold a pencil. "The goal of my art," she says "is to capture the beauty and complexity of life, especially nature, and share my experiences with others by recording elements of time so that the fleeting moment endures indefinitely." Working in various media - drawing, painting and jewelry crafting - Karla is a founding member of Fresh Gallery. Karla has taught art at OTC and is available for private instruction for individuals and groups. She also takes commissions. Maneesh is an abstract artist who uses simple elements of artistic expression to create complex yet minimalist abstract drawings. "Each line dot and curve is placed precisely to create images that
Once again Jenni Jazz teetered on the cusp of crisis when she desperately wanted to go out tonight, but found herself without a stitch to wear.
beg the eyes' caress," he says. The pieces are created in such a way that the vision and experience is dynamic and unique. Ideally, the work is informed not only by him self as the artist but by the experiences of the individuals who view them. "It is this basic form of interaction which fuels the creative spirit of my art," he says. www.fresh.org. (417) 862-9300 Open 11 a.m.-5 p.m. T-Sat
A Monument to the Pirate Robot Who Saved the
People of Earth at Good Girl Art Gallery

Good Girl Art Gallery
,
325 E. Walnut St., Ste. 101
,
presents
A Monument to the Pirate Robot Who Saved the People of Earth
by Artist Nate Ferree in September. Nate's exhibit in fired clay includes a 6-foot tall ceramic robot and a series of original tiles that reveal the story referenced in the show title. (417) 865-7055 www.goodgirlartgallery.com Open 11 a.m.-7 p.m. T-Sat
Darkness Into Light: New Works by Dale Augustson
on display at Hawthorn Galleries in September

Byzantium by Dale Augustson

Hawthorn Galleries Inc.,
214 E. Walnut St.
,
is proud to present
Flight by Dale Augustson

Darkness into Light: New Works by Dale Augustson
. In his third annual show with Hawthorn, Dale Augustson presents a new body of work exploring the subtleties of color and light. Investigating the emergence of color from darkness - the concept that black is the presence of all colors - Augustson's work evokes a unique sense of potential and possibility. Enjoy the Opening Reception 6-10 p.m. Sept. 2 when you can meet the artist and experience live music by harpist Darice Augustson. (417) 866-6688 www.hawthorngalleries.com Open 10 a.m.-6 p.m. T-F; 1-5 p.m. Sat
Gavyn Sky's Hypnotize exhibit
offers 'pure engagement' with art

Play Date by Gavyn Sky
Inveno Health, 429 N. Boonville Ave., presents Hypnotize at the Sept. 2 Art Walk. Hypnotize will draw you in to a conglomeration of colors, allowing you to fully experience the brilliance of Artist Gavyn Sky. This is more than a show, its pure engagement with the art. Inveno Health proudly hosts the latest advances in medical device development by St. John's Research & Development Division www.mercyrnd.com (417) 831-1270.
Artist Rodney Schertz displays his drawing skills
at Kiss My Gas Scooters in September

Hunt'n Buddies by Rodney Schertz

Kiss My Gas Scooters!, 212 S. Campbell, continues its show of
Pencil Drawings by Rodney Schertz,

and Kiss My Gas owner Joe Berrer will offer Art Walk visitors 10 percent off riding jackets during the Sept. 2 event.

Rodney Schertz has always loved pencil drawing. As a child, he sometimes sketched his fellow parishoners or the pastor during Sunday service. Over time, "Drawing became a way to have things I could not afford
and a great pastime," he says.
After High School, Rodney entered the Air Force as an aircraft mechanic on the A-10 Warthog. He has been stationed at Nellis Air Force Base, Las Vegas, Royal Air Force Bentwaters in England, Davis-Monthan AFB in Tucson and ultimately Dyess AFB in Texas. During his military career, he continued to draw, winning a USAFE art contest, and printing and selling Christmas cards at an arts and crafts fair in England. www.kissmygasscooters.com (417) 863-9600.
MSU Student Exhibition Center
presents Foundations Exhibition

Exuberance: The Artwork of Cyndilee Dawson
debuts at Obelisk Home in September

Art by Cyndilee Dawson

Obelisk Home at the Inspired Commerce Building
,
214 W. Phelps,
presents Exuberance: The Artwork of Cyndilee Dawson "Like everyone, I have made art since childhood; I just never stopped," Cyndilee says. "In school, my favorite medium was crayons, because it allowed me to lay down heavy layers of COLOR! I naturally progressed to oil paints and pastels, drawn to their creamy texture, which evoke a feeling of pure sensuousness in me." Her latest interest is the encaustic medium. "This ancient technique combines layers of beeswax and oil paint fused together with a torch, giving my work a luminous quality. It's like painting with fire!" (417) 616-6488 www.obeliskhome.com
Featured Artist Isaac Karner kicks off
OTC Fine Art Gallery's 2011-12 season

Experience The Art of Jodie Laravee, plus
an Art Talk on La Galerie des Glaces

Park Central Branch Library, 128 Park Central Square, proudly presents The Art of Jodie Laravee. She uses a combination of pencil drawings and digital manipulation to create her striking images. At 6 p.m., Desiree Dixon of Drury University will give her Art Talk on the subject of La Galerie des Glaces: The Imagery of the Sun King. First Friday Art Talks are collaboration between the library and Dr. Billie Follensbee of MSU's Art History Department in which undergraduate students present their papers on a variety of topics. (417) 831-1342 facebook.com/parkcentrallibrary Open 8:30 a.m.-9 p.m. M-Th; 8:30 a.m.-10 p.m. F-Sat


Randy Bacon puts focus on Resident Artists of
Figment Art Gallery & Culture House

Solar Storm by John Payne
Randy Bacon Photography and Figment Art Gallery in the Monarch Art Factory, 600 W. College St., present the Figment Gallery Resident Artists in an extended exhibition. Enjoy the free opening reception with live music and refreshments 6-10 p.m. during the Sept. 2 Art Walk. Visitors will see work by Figment in-house artists Sarah Hurlburt, John Payne, Lane Simmons and Lindsay Breidenbach, including a unique blend of painting, drawing, photography, ceramic and installation art. The Figment Resident
Cocoon by Lindsay Breidenbach
Artists Exhibition is also the kick-off for their newest endeavor: Art Classes, debuting this fall. Also, a bonus from Randy Bacon for Art Walk attendees: Free Photography Sittings ($95 value) will be offered to those that book a photo shoot during the Art Walk. (417) 868-8179 www.randybacon.com www.gallerysounds.net Open 11 a.m.-6 p.m. T-F; 11 a.m.-4 p.m. Sat
Stephanie Cramer, Live Jazz, Craft Beer
at Revel Advertising in September

Acts of Inquiry by Stephanie Cramer

Revel Advertising
, 214 W. Phelps, Ste.102,
conveniently located next to Obelisk Home in the Inspired Commerce building, features Stephanie Cramer for autumn, plus Live Jazz by MSU students and a Beer Tasting for O'Fallon Brewery's craft beers during the Sept. 2 Art Walk. Stephanie's warm, rich shades of orange and cool contrasting blues are distinctive and instantly recognizable. "Center state in my art is the figure - an object in motion, as if the figure is caught, just for an instant; a glimpse, a snapshot before the gesture is complete," Stephanie says. Exact representation is not her goal: "I'm intent rather on provoking a sense of tension or intensity. These, plus color, bring the emotion to the painting." (417) 368-6966 www.reveladvertising.com.
Springfield Hot Glass shares harvest of
Glorious Glass Pumpkins for fall

Springfield Hot Glass Studio
,
314 S. Campbell Ave.
,
welcomes fall with demonstrations of its one-of-a-kind, hand-crafted Glass Pumpkins. These whimsically colorful pumpkins are the perfect fall addition to any home and will take your decor all the way through the Thanksgiving holiday in unique style. (417) 868-8181 www.springfieldhotglass.com Open 10 a.m.-6 p.m. T-Sat
Springfield Pottery, 416 S. Campbell Ave., presents New Work by Jeff Johnston in the front gallery and New Work by Sherri Alexander in the back gallery in September. Springfield Pottery is a fine craft gallery and community clay center that features some of the best examples of fine craft in clay, wood, metal, glass, fibers, photography, printmaking and jewelry by over 45 local, regional and national artists. (417) 864-4677 www.springfieldpottery.com Open 11 a.m.-6 p.m. T-Sat
I look forward to seeing you at the Sept. 2 Art Walk! For more details on Art Walk's participating venues, please visit
www.ffaw.org
.
Sincerely,

Clarissa French
First Friday Art Walk