YMCA offers Family Art Night program
The Downtown Y
provides affordable child care on Art Walk nights via
Family Art Night. Serving children ages 3 months to 12 years, 6:30-9 p.m., the cost is $10 per child with pre-registration, $13 per child without pre-registration. Kids enjoy healthy activities and snacks, story time and a hands-on art project to take home.
Call (417) 862-8962, ext. 149, to pre-register
Bistro Market
by Price Cutter
Visit Bistro Market online
Bistro Market
by Price Cutter
Visit Bistro Market online
Bistro Market
by Price Cutter
Visit Bistro Market online
Bistro Market
by Price Cutter
Visit Bistro Market online
Bistro Market
by Price Cutter
Visit Bistro Market online
Greetings!
Happy 2011 Art Walkers! Join us for an intimate little Art Walk with fabulous art by Brad Noble, Debbie Reed, Joyce McMurtrey and more, 6-10 p.m. Jan. 7. Also, First Friday Art Walk celebrates its 10-year anniversary in 2011! The anniversary celebration begins this summer, but in the meantime, Art Walk invites its fans, friends and artists to send their favorite Art Walk memories and/or photos to ArtWalkNews@gmail.com, or upload them to our Facebook page.
Abundant Life Covenant Church, 157 Park Central Square, continues its
new series, The Night Watches; images from 6 p.m. to 6 a.m. Enjoy Paintings by Ed Gibson, Photography by Chris Wood and Annette Wardell and George W. Kiefer's historic murals. Also enjoy music and FREE refreshments. (417) 864-4971 www.abundantlife


covenantchurch.com

Office hours 9-4:30 p.m. M-F; Services 7:30 p.m. W, 10 a.m. Sun

Enjoy A Variety of Art Experiences
at Canvas in January

Canvas, 315 South Avenue,
presents A Variety of Art Experiences during the Jan. 7 Art Walk. Canvas is a gallery and event venue designed to connect people relationally through all forms of creative art, and kids are always welcome to explore their creative side at our make-and-take table!
Farmers Gastropub recreates French artists'
bistro atmosphere for Art Walk

The Place du Tertre
Farmers Gastropub

, 431 S. Jefferson, Ste. 160
invites visitors to see artists at work at their easels, recreating the French artists' bistro atmosphere of
the Place du Tertre
at Montmartre, Paris.
(417) 864-6994 www.farmersgastropub.com The Gastropub is open 9:30-11 p.m. M-W and 9:30 a.m.-midnight Th-Sat, with Bistro Dining 6-9:30 p.m. Th-Sat
Fresh Gallery presents
Featured Artist Debbie Reed
Fresh

, located at the southwest corner of Campbell and Walnut, features Artist Debbie Reed in January.
Born in Lubbock, Texas, Debbie has made Joplin her home for the last 25 years. She holds an RN and BSN from the University of Nebraska, and she earned another degree in studio art from Missouri Southern State University. A love of art has always dominated her life, and in her work Debbie strives to incorporate environmental concerns with a sense of spirituality. Watercolors and oils are her favorite mediums, but Debbie also enjoys mixed media projects. She has won numerous awards for her artwork, and is a member of several artist organizations. Fresh is a cooperative gallery of fine art and craft featuring 24 juried regional artists. (417) 862-9300 www.springfieldarts.org/fresh Open 11 a.m.-5 p.m. T-Sat
Good Girl Art
presents Sensual Sects and
Cherry Street and the Lone Star State in January

Good Girl Art Gallery, 325 E. Walnut St., Ste. 101, presents two shows in January. Becca Rutledge's playful and stimulating new body of work is called Sensual Sects. She invites the viewer to explore our connectedness through the seduction of insects. With color, media and exploration she relates to our condition of moods, feelings and flight. MSU student Ashley Byers continues her senior exhibition show
through the month of January with her mixed media acrylic paintings in Cherry Street and the Lone Star State.
(417) 865-7055
www.goodgirlartgallery.com
Open 10 a.m.-8 p.m. T-F; 11 a.m.-8 p.m. Sat
Hawthorn Galleries heralds return of
acclaimed native son, Painter Brad Noble

Weather Wars by Brad Noble
Hawthorn Galleries Inc.

, 214 E. Walnut St.,
is pleased to present
Painter Brad Noble. After finding international acclaim, Noble's work returns to Springfield for the first time since 2002. Noble combines the proficiency of the Old Masters with the
Aquarius by Brad Noble
imagination of the Surrealists to effortlessly bring bodies, souls and worlds into being. Lying somewhere between waking life and the unconscious, Noble's paintings explore the relationship between ourselves and our subconscious. Meet artist Brad Noble and enjoy live music by guitarist Dale Augustson during the January Art Walk.
(417) 866-6688 www.hawthorngalleries.com Open
10 a
.m.-6 p.m. T-F;
1-5 p.m.
Sat
Inveno Health features work by Karen Schneider,
Kat Allie, Stephanie Cramer

Art by Stephanie Cramer
Inveno Health

, 429 N. Boonville Ave.,
features artwork from Karen Schneider, Stephanie Cramer and Kat Allie during the month of January.
Adjacent to Obelisk Home and Revel Advertising, enjoy three venues with convenient parking north of the square! (417) 831-1270 www.invenohealth.com
Obelisk Home welcomes
Photographer Joyce McMurtrey

Obelisk Home at the Inspired Commerce Building

, 214 W. Phelps,
presents Photographer Joyce McMurtrey, who was recently featured in the December issue of 417 Magazine. "My photography is honest," Joyce says. "Vineyard pictures are my interpretation of a wonderful, but complicated place to spend a lifetime. It's easy to imagine that vineyard life is romantic. The flip-side of all this beauty is the hard work that is required to produce grapes for making wine. In working with the land comes an appreciation of life in total, and a reminder of the cycles of life from birth to death."
(417) 616-6488 www.obeliskhome.com
Young artists from Ash Grove High School,
plus The Retro Gnomes at Park Central Branch

Park Central Branch Library
Park Central Branch
Library

,
128 Park Central Square,
is showing works by the students of Faye Clifton's art class at Ash Grove High School. Also, enjoy live music by The Retro Gnomes, a Springfield-based band of 9-, 10-, 11- and 12-year-old musicians!
(417) 831-1342 facebook.com/parkcentrallibrary Open
8:30 a.m.-9 p.m.
M-Th;
8:30 a.m.-10 p.m.
F-Sat
Red Door Studios unveils New Artwork,
new albums with drawings, discounts

Red Door Studios offers classy boudoir photography, as well as family photography
Red Door Studio

s, 313 Park Central East, Ste. 201,
comprising
Crystal Renee Photography and VM Photo Design, presents New Artwork, plus new albums and drawings for a free 20-page10x10 album from Behind the Red Door Photography, and a free family portrait by Crystal Renee Photography. Everyone coming to see us for Art Walk will receive discount offers and special promotions for family photography and also Boudoir Photography. Check out Jack and
Crystal
's amazing photography on their web sites: www.CrystalReneePhotography.com, www.VMPhotoDesign.com and www.BehindTheRedDoorPhotography.com (417) 818-2665 or (417) 300-9892 Open by appointment only.
Revel Advertising continues show with
Featured Artist Gavyn Sky

Revel Advertising
, 214 W. Phelps, Suite 102,
features Artist Gavyn Sky. Gavyn's unique paintings
Art by Gavyn Sky
have an interactive and captivating quality that has art lovers across the country taking notice. His designs tend to produce images unique to each viewer. Looking closer, every square inch of a painting is an entire world of textures, colors and detail and that makes Gavyn's paintings some of the most captivating works of art you will ever see. (417) 368-6966 www.reveladvertising.com.

Gabe Bloodworth demonstrates glass crafting techniques at Springfield Hot Glass Studio.
Springfield Hot Glass to craft Abstract Animal Sculptures

Springfield Hot Glass Studio, 314 S. Campbell Ave.,
is making Abstract Animal Sculptures, including elephants and antelopes, for the January Art Walk.
A working hot glass studio/gallery with facilities for furnace, torch and kiln work, Springfield Hot Glass offers live demonstrations on Tuesdays, Thursdays, Saturdays and First Fridays.(417) 868-8181
www.springfieldhotglass.com
Open 10 a.m.-6 p.m. T-Sat

Springfield Pottery presents
fine craft by more than 45 artists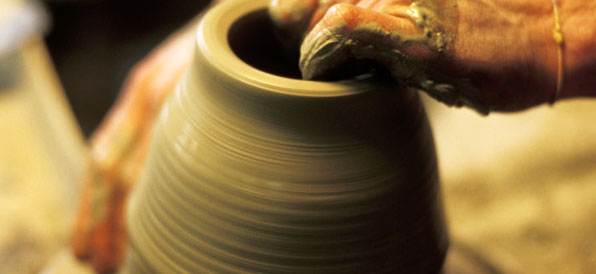 Springfield Pottery, 416 S. Campbell Ave., is a fine craft gallery and community clay center that features some of the best examples of fine craft in clay, wood, metal, glass, fibers, photography, printmaking and jewelry by over 45 local, regional and national artists.
(417) 864-4677 www.springfieldpottery.com Open
11 a
.m.-6 p.m.
T-Sat
I look forward to seeing you at the Jan. 7 Art Walk! For more details on our participating venues, please visit
www.ffaw.org
.
Sincerely,

Clarissa French
First Friday Art Walk