Greetings!
Fall has arrived, and with it the reopening of five of our college galleries: Drury Pool Art Center Gallery, MSU Brick City Gallery, MSU International Center, MSU Student Exhibition Center and OTC Fine Art Gallery at The Gillioz.
Experience a wide range of art and entertainment in 26 Art Walk member venues 6-10 p.m. this Friday, including two shows at The Creamery Arts Center and a late addition by Smart Group & Gallery.
For parents, the Downtown Y offers affordable child care via
Family Art Night
. Serving children ages 3 months to 12 years, 6:30-9 p.m., the cost is only $10 per child. Kids enjoy healthy activities and snacks, story time and a hands-on art project to take home. Call (417) 862-8962, ext. 149, for information or to preregister.
Abundant Life presents new works, live music

The Way, a photo compilation by Chris Wood
Abundant Life Covenant Church
, 157 Park Central Square, once again demonstrates that variety is the spice of life! Abundant Life kicks off the fall season with a variety of new works. Chris Wood features his new series,
Where are You
?, and continues his series of natural images in
For Everything There is a Season
; Harold Patterson expands his series,
Blessed
, with new nature photos;
Photographer Donna Bieber
will feature images of barns from throughout the country; Annette Wardell presents her newest photography series,
Bridges of Springfield and Greene County: Spanning our History;
a variety of works by
OTC art student Patricia Frater
will be featured in the Emerging Artist section and she will be on-site to do a
live art demonstration
; also, enjoy
handcrafted jewelry by Amanda Bears
; and
George W. Kiefer's historic murals
, plus
flute & piano music by Michelle Yarbrough & Stephanie Hogsett
and
FREE refreshments
. (417) 864-4971 www.abundantlifecovenantchurch.com Office hours 9-4:30 p.m. M-F; Services 7:30 p.m. W, 10 a.m. Sun
Todd Reynolds' graphic novel-inspired
Floating Hinges on display at APO After Dark

APO After Dark
, 303 Park Central West, presents
Photographer Todd Reynolds
. Todd unveils a new body of work titled
Floating Hinges
that explores the realm between being awake and falling asleep - the point where the pictures he is working on begin speaking of their secret narrative properties. By letting the images tell a different story from the awake world, a new tale, and form, emerges. Embracing the aesthetics of the graphic novel, Todd lets the in-between world of the photos speak for itself. Todd is currently studying photography at MSU and will receive his BFA in December. APO After Dark is the evening/weekend drop-in center for AIDS Project of the Ozarks, offering confidential HIV/syphilis testing, safer sex supplies and risk-reduction counseling free to the general public. (417) 832-0462 www.aidsprojectoftheozarks.org or follow us on Facebook. Open 7 p.m.-midnight every F & Sat
Canvas presents

Muralist Tarah Wilson, Photographer Mike Williams

, plus kids' art activities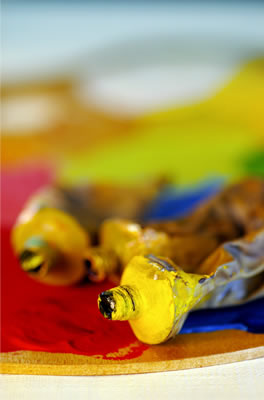 Canvas
, 315 South Avenue, proudly welcomes
Muralist Tarah Wilson
and
Photographer Mike Williams
as our featured artists, celebrating our September theme of Together. Kids are welcome to explore their artistic side at the make-and-take corner! Canvas is a venue designed to connect people relationally through the creative arts and to see the city transformed. We do this through Performances and Visual Art, Dance, Music and Writing. (417)-869-4138 Open on First Fridays and by appointment
Enjoy

The Art of Neanie Squires

plus
hooked rug art by The Center City Hookers

The Cr
eamery Arts Center
, 411 N. Sherman Parkway, home of the Springfield Regional Arts Council, presents two shows:
The Art of Neanie Squires
and hooked rug art by
The Center City Hookers
.
Neanie began private art lessons at age 8 and pursued that interest to a Fine Arts degree from DruryCollege. Her work was chosen for Watercolor USA 1976 and 1977, and has also received Special Mention during the School of the Ozarks' Regional Show. As a Junior League member, Squires took on special projects for the arts, collaborating with the Springfield Art Museum on the Muse Art Rental Gallery. She operated one of the first downtown art galleries, Park Central Gallery on South Street, with five other local artists.
The Center City Hookers
features the hooked-rug art of Sheri DeMate, Dulcy Stewart and Tammy Burks. Their works are beautiful, engaging the viewer through color, texture and tactility. (417) 862-ARTS (2787)
DB Design presents
Oils by Karolyn Farrell
DB Design Salon & Art Gallery
, 326 S. Campbell, continues its show by
Feature
d Artist Karolyn Farrell
showing her award-winning oil paintings. DB Design also continues its show by
Photographer Jim Mayfield
, while its ongoing display of pottery features Julia Schaefer, John Ehlers, Katrina Stevens, George Milne and Duane Bone. (417) 864-4343
Drury gallery returns for fall with
Uncommon Threads: Threads of Memory

Drury Pool Art Center Gallery, 940 N. Clay St., presents
Uncommon Threads: Threads of Memory
. Uncommon Threads is a group of 16 fiber artists bound together by talent, friendship and love for their art. "We are inspired by the feel of the cloth, the pattern and texture of fiber, and the depth it conveys to both the makers and the viewers of our art." The centerpiece of the Pool Gallery showing is "Good Grief," an unusual funeral or coffin quilt. The quilt is a compilation of panels by individual artists which comes together as a comprehensive whole. The goal in creating this quilt was to express our affection and support for each of the Uncommon Threads members at the end of their lives as well as during their more productive years. Don't miss the Artist Talk by members of Uncommon Threads, 6-7 p.m., during the opening reception, 6-9 p.m. during First Friday Art Walk. (417) 873-7263 www.drury.edu/pacgallery Open 8 a.m.-5 p.m. M, T, W, F; 8 a.m.-8 p.m. Th
The Evangel University Bellwether Gallery, 600 W. College, Ste. 116, will present its
Fall 2010 All Student Show
featuring works by a variety of Evangel students plus live music. (417) 865-2815, ext. 7258 Open 11 a.m. to 4 p.m. W-Sat
Experience the

Place du Tertre

Farmers Gastropub

Farmers Gastropub
, 431 S. Jefferson, Ste. 160 (entrance on Pershing next to The Moxie), once again converts its bistro space into a replica of the
Place du Tertre at Montmartre, Paris,
once home to such artists as Picasso, on First Fridays with artists working live at their easels accompanied by French music and food. (417) 864-6994 www.farmersgastropub.com The Gastropub is open 9:30-11 p.m. M-W and 9:30 a.m.-midnight Th-Sat, with Bistro Dining 6-9:30 p.m. Th-Sat
Fitzwilly's brings Tuscany to downtown Springfield

Fitzwilly's Gifts & Antiques
, 308 South Ave., features the award-winning artistry of
Charli Stout
this month, showing the wide range of talent and interest Charli brings to her art. From reflections of the Tuscany Hills, to the beauty of a water fall and the grace of a prairie hawk, the talent of the artist is paramount in her work. (417) 866-3696 Open 10 a.m.-5 p.m. M-F, 11 a.m.-4 p.m. Sat; First Friday hours 11 a.m.-10 p.m.
Fresh Gallery presents
Featured Artists Carl Huser and Lori Radford

Fresh
, located at the southwest corner of Campbell and Walnut, presents
Featured Artists Carl Huser and Lori Radford
in September.
Carl
, a PhD in biology who taught on the university level for 40 years, has worked in wood for most of his life, getting into wood-turning seriously in the last decade. "Wood," he explains, offers "a warm, organic greeting to the viewer." In woodturning, each piece of wood has its own distinct characteristics. "The challenge for the turner is to find the artistry within and present it for others to experience tactilely as well as visually," he says.
Lori
is a photographer who is working on a Master's in Art at Drury University and a Master's in Counseling at MSU. "The past few years I have been combining my images with other media using the transfer process and acrylic or pastels," she says. "I enjoy trying to carve out new
avenues to explore with my photographic images, and it helps to keep my work fresh!" A juried member of "Missouri's Best" since 2005, Lori is also a member of the Springfield Regional Arts Council. Fresh is a collective gallery of fine art and craft featuring 22 juried regional artists. (417) 862-9300 www.springfieldarts.org/fresh Open 11 a.m.-6 p.m. T-Sat
The Gillioz delves into the historic legacy of
Heers on the Square

The Gillioz Theatre
, 325 Park
Central East,
presents

Pieces of the Past

from Springfield's own

Heer's Department Store

. Once THE place to be downtown, many local residents remember shopping, dining or visiting Santa Claus at Heer's, which was also known for its elaborate shop windows and fashion shows. See photos, advertisements and an assortment of memorabilia from the department store's past. (417) 863-7843 www.gillioz.org
Global Fayre presents

Art Through a Lens

,
plus music by the Archimedean Point

Global Fayre
, 324 S Campbell,
puts its focus on

Art Through A Lens

, a display of work by members of the Southwest Missouri
Camera Club. Club members come from all walks of life with varying degrees of photographic experience - from the novice to the professional and everything in between. The most important aspect of the organization is its members. They learn from each other by sharing their photographic experiences and skills. Plus, don't miss live music by The Archimedean
Point, "an exciting blend of progressive songwriting and socially conscious lyrics with a hard rock heart" that is "designed to
inspire those who value independent thought." Featuring Jeremy Shelton on vocals/ guitar and Daren Hudson on drums/ vocals, The Archimedean Point aims to restore amiable experience to existence via
musical journeys with the public as the prime passenger. (417) 873-9792 www.globalfayre.com Open 10 a.m.-6 p.m. M-W, 10 a.m.-7 p.m. Th-Sat, Closed on Sunday
Jared Gillett's

For Kids

brings childhood to life
at Good Girl Art Gallery
Good Girl Art Gallery
, 325 E. Walnut St., Ste. 101,
presents
Artist Jared Gillett

in September with a show titled

For Kids

. Jared's 30 8x10 oil paintings morph into a neighborhood of unassuming head shots of kids being kids. These portraits are painterly, bright and energetic, and they feel unposed and natural. Accompanying the "Kids," making up one large piece, will be other oil paintings relating to children, such as toys, cupcakes and Silver Dollar City. Jared holds an MFA from SVA in New York, and has recently moved to Springfield from Utah. He enjoys doing commissioned portraits. For information about commissions, visit GoodGirlArtGallery online. (417) 865-7055 www.goodgirlartgallery.com Open 10 a.m.-8 p.m. T-F; 11 a.m.-8 p.m. Sat
Aerial Views: New Work by Dale Augustson
at Hawthorn Galleries
Aerial View by Dale Augustson
Hawthorn Galleries Inc.
, 214 E. Walnut St., welcomes autumn with
Aerial Views: New Work by Dale Augustson
. A prolific artist in the Springfield area, Augustson has been painting for more than forty years. Featuring new paintings that emulate the earth's natural landscapes from afar, as well as showcasing a range of Augustson's earlier works, Aerial Views allows us to see our own environment from a different perspective while simultaneously allowing us a broader view of Augustson's extensive
Looking Glass Orange by Dale Augustson
artistic career. Meet the artist and enjoy live music by
harpist Darice Augustson
at the opening reception, 6 p.m. to 10 p.m. during the Sept. 3 Art Walk. (417) 866-6688 www.hawthorngalleries.com Open 10 a.m.-6 p.m. T-F; 1-5 p.m. Sat
MSU Brick City Gallery presents

Origin and Form: New Work by Howard Koerth

MSU Brick City Gallery, 215 W. Mill, 215 W. Mill St., presents
Origin and Form: New Work by Howard Koerth
. The artist will speak about his ceramic sculpture at 7 p.m.
in the gallery during First Friday Art Walk. A nationally recognized ceramic artist currently residing in Oklahoma, Koerth holds a BFA from the University of Kansas and an MFA from Indiana University/Bloomington. His award-winning work has been appeared
invitational and juried exhibitions throughtout the United States, in the Fletcher Challenge in Auckland, New Zealand, and in many solo exhibitions. (417) 829-5092 www.art.missouristate.edu/gallery.php Open 1-6 p.m. M-Sat, closed Sunday, Monday and university holidays
MSU International Center presents
Paintings by Batjin Boldbaatar

MSU International Center
, 301 S. Jefferson, presents
Paintings by Batjin Boldbaatar
, an international student from Mongolia. Batjin graduated from the Mongolian Fine Art Institute before coming to Springfield. His many paintings will be on display in the lobby of the International Center. (417) 836-6618 http://international.missouristate.edu
MSU Student Exhibition Center hosts the
Art & Design Department's Foundations Exhibit

MSU Student Exhibition Center
, 838 E. Walnut St., presents the
Art and Design Department's Foundations Exhibit
. Enjoy the artists' reception 6-10 p.m. Sept. 3 during First Friday Art Walk. The art featured in this exhibit is from courses required to gain acceptance into a degree program of the Art and Design Department. Work displayed will be from the previous semester's projects in the following courses: Art 100: Two-Dimensional Design; Art 101: Three-Dimensional Design; Art 115: Drawing I; and Art 215: Drawing II. The exhibit continues through Sept. 18. (417) 836-6999 www.sec.missouristate.edu Open 1-5 p.m. T-Sat, closed major holidays and University holidays.
Obelisk Home welcomes Artist Joan Smith

Obelisk Home at the Inspired Commerce Building
, 214 W. Phelps, presents
Artist Joan Smith
. "My art is a combination of my personal history and influences," Joan says. While Carl Jung and the other major theorists of psychology have tried to explain the dynamic of the conscious and the unconscious, Joan feels art itself develops from the need to understand this dynamic. "As an artist, I love light, color and motion, leaving me caught in the moment and movement of our time," Joan says. "We journey in art, and it is alive." (417) 616-6488 www.obeliskhome.com
Visit one80one for a smorgasbord of art, plus celebrate the Web site launch of
Katie's Voice

One80One, 318 W. Walnut, invites visitors to enjoy

Art by Delores Albers, Joan Smith, John Coleman, Shon Rainey, Katie O'Neal, Lori Radford, Becca Doss and David Coleman

. Join One80One in celebrating the launch of the Web site for

Katie's Voice

, http://www.katiesvoice.org, with snacks, beverages and music during the September Art Walk! (417) 865-0181 www.one80one.com Open 8 a.m.-5 p.m. M-F
Experience

Art as Therapy: Therapy as Art


at OTC Fine Art Gallery

OTC Fine Art Gallery

, 325 Park Central East, Third Floor, presents

Art as Therapy: Therapy as Art

by Cassie Dennis-Elson and Rachel Nelson. Cassie, a Springfield native, and Rachel, from Kansas City, are both trained counselors who use art as a tool to communicate with clients about feelings and emotions. They have explored their own artistic styles by incorporating various mediums into art therapy interventions. Rachel and Cassie began a journey to find themselves while learning to help
others communicate and feel through the use of art. Cassie "up-cycles" most of her artwork by using objects that already exist and have served some precious meaning in her life. Rachel's art reflects her quest for inner strength and wisdom. Through the act of repetition and use of media such as encaustic, Rachel achieves a sense of calmness, stability and balance. (417) 447-8873 Open 9 a.m.-6 p.m. M-Th; 9 a.m.-3 p.m. F; 9 a.m.-10 p.m. on First Fridays
The Library presents
Santiago Jim Delgadillo
Park Central Branch
Library
,128 Park Central Square,
presents OTC professor and Arizona native

Santiago Jim Delgadillo

for September's First Friday Art Walk. His work is postmodern mixed-media sculpture that mixes Catholic and pop culture imagery. He also does shadow boxes and 2D work in pastel, charcoal and watercolor. Make Park Central Branch Library your stop for downtown information - our staff will be happy to guide you to galleries, parking, shopping and (of course) all things library. (417) 831-1342 http://parkcentrallibrary.blogspot.com Open 8:30 a.m.-9 p.m. M-Th; 8:30 a.m.-10 p.m. F-Sat
Fall Into La Mode

fashion show,

Artist Shawn-Weston McLaughlin

take spotlight at Randy Bacon Studio

Leap, by Shawn-Weston McLaughlin
Randy Bacon Photography and Figment Art Gallery

in the Monarch Art Factory, 600 W. College St., will host a fashion show on a closed Main Street during the Sept. 3 First Friday Art Walk. The Bacon Gallery presents

The Second Annual Fall Into La Mode

street fashion show and will highlight MSU independent designers, former MSU graduates, local boutiques and major area retailers. Combining art with fashion,

Artist/Designer Shawn-Weston McLaughlin

will contribute to the show with painted accessories. His paintings inside the gallery will be a reflection on fashion and design. The reception/fashion show is free and open to the public, 6 - 11 p.m. Live music, refreshments and indoor/outdoor seating will be available for the fashion show - doors open at 6:30 p.m. and the show begins at 8. Modelquins, raffle winners and independent designer awards will complete the night of fashion. (417) 868-8179 www.randybacon.com www.gallerysounds.net Open 11 a.m.-6 p.m. T-F; 11 a.m.-4 p.m. Sat
Red Door Studios introduces Springfield
to classy boudoir photography

Red Door Studio

s, 313 Park Central East, Ste. 201.
Crystal Renee Photography and VM Photo Design have teamed up to bring
you Springfield's premier boudoir photography studio,
Behind the Red Door
. Behind the Red Door is a new intimate-portrait photo gallery located in downtown Springfield. Under the experienced eyes of Crystal Renee and Jack Van Matre, your boudoir photo shoot will be comfortable, classy and beautiful. Behind the Red Door believes that every woman is a goddess and deserves a chance to have that beauty preserved artistically and shared with those who love them most. The boudoir photo session features slenderizing posing and flatters your best features. The result is images that are both sassy and sexy, balancing classiness and elegance in a way that clients have come to expect from Jack and Crystal's combined years of expertise. Check out their web sites: www.CrystalReneePhotography.com, www.VMPhotoDesign.com and www.BehindTheRedDoorPhotography.com (417) 818-2665 or (417) 300-9892 Open by appointment only.
Smart Group & Gallery features two new shows

Smart Group and Gallery

, 405 W. Walnut, introduces two new shows in September.

The Art of Marketing

shows the transformation of the SRO (formerly Springfield Regional Opera) to the new Lyric Theatre Company. The exhibit uses a large wall display to demonstrate how the art of design, photography, videography, writing and re-positioning can be used to help arts organizations evolve in a challenging environment.

Photography of R. Brannon Estis

shows the talent of Brannon Estis in a display of portraiture, still life, color, black-and-white and color-enhanced images. Also, the food and drink of Big Mike's Crab Shack and Pizza will return in September by popular demand. (417) 425-7596 www.smartgroupandgallery.com Open 10 am to 6 pm M-F; 11-8 Sat
Springfield Hot Glass Studio
, 314 S. Campbell Ave.,
presents its annual Pumpkin Party. Watch as the artists craft Springfield Hot Glass's popular blown-glass pumpkins - a seasonal favorite -- and introduce their NEW line of giant pumpkins. A working hot glass studio/gallery with facilities for furnace, torch and kiln work, Springfield Hot Glass offers live demonstrations on Tuesdays, Thursdays, Saturdays and First Fridays.(417) 868-8181 www.springfieldhotglass.com Open 10 a.m.-6 p.m. T-Sat
Springfield Pottery presents fine craft by 45+ artists
Springfield Pottery, 416 S. Campbell Ave., a fine craft gallery and community clay center, features some of the best examples of fine craft in clay, wood, metal, glass, fibers, photography, printmaking, and jewelry by over 45 local, regional and national artists. (417) 864-4677 www.springfieldpottery.com info@springfieldpottery.com Open 11 a.m.-6 p.m. T-Sat
I look forward to seeing you at the Sept. 3 Art Walk! For more details on our participating venues, please visit
www.ffaw.org
.
Sincerely,

Clarissa French
First Friday Art Walk