Greetings!
First Friday Art Walk blossoms in May with Springfield Symphony art, college senior exhibits, live music, a wine tasting, a poetry reading, and much, much more.
Art Walk is proud to partner with
Ozark Greenways
to promote Bus Bike Walk to Work Week May 17-21. Art Walk and Ozark Greenways invite you to ride your bike to Art Walk and park it on the square, sign up for Bus Bike Walk Week, enter your uniquely decorated art bike in the Art Bike contest and enjoy all downtown has to offer during the May 7 Art Walk.
And remember, the Downtown Y offers affordable child care for Art Walking parents via
Family Art Night
, serving children ages 3 months to 12 years, 6:30-9 p.m. for only $10 per child. Kids enjoy healthy activities and snacks, story time and a hands-on art project to take home. Call (417) 862-8962, ext. 149, for information or to preregister.
Abundant Life features Springfield Symphony art

Contemporary art by Chris Wood
Abundant Life Covenant Church
, 157 Park Central Square, presents the
Springfield Symphony's 75th Season Artwork Collection
featuring original works by Brad Noble, Ellen Baird, Jane Troup, Renee Alyson, Sophie Parker, Bill Armstrong, Kate Baird, Debra Sutherland, Kathleen Allie and one of the final paintings by the late Robert E. Smith. The collection is part of a silent auction benefiting the Springfield Symphony Orchestra that will end on May 15. Also enjoy
Everyday Light
, a show of pastel paintings by Ed Gibson;
Ancient Architecture
, featuring Annette Wardell's photographs of Rome;
Finding the Sun
, a series of floral images by photographer Donna Bieber; a quintet of images by Chris Wood from his series,
For Everything There is a Season
, and images from his
Iphone Xpressions
collection; plus George W. Kiefer's historic murals. Enjoy a
poetry reading by local poet
Paul Gabbert
at 7 p.m., plus
acoustic guitar music by Tom Tyson Jr.
and refreshments. (417) 864-4971 www.abundantlifecovenantchurch.com Office hours 9-4:30 p.m. M-F; Services 7:30 p.m. W, 10 a.m. Sun
Artist M. Scott Phifer

headlines APO After Dark

Alien Bigtop by M. Scott Phifer
APO After Dark
, 303 Park Central West, one of Art Walk's newest additions, features the work of
Artist M. Scott Phifer
, who presents a collection of pastels in vivid color. APO After Dark is the evening/ weekend drop-in center for AIDS Project of the Ozarks, offering confidential HIV/syphilis testing, safer sex supplies and risk-reduction counseling free to the general public. A variety of community artists will be displaying and offering art for purchase in the venue during Art Walk. (417) 832-0462 www.aidsprojectoftheozarks.org or follow us on Facebook. Open 7 p.m.-midnight every F & Sat
Mid-Lakes Conference art show at The Creamery

The Creamery Arts Center
The Cr
eamery Arts Center
, 411 N. Sherman Parkway, home of the Springfield Regional Arts Council, presents the
Mid-Lakes Conference High School Art Competition & Show
, 6-9 p.m. during Art Walk.The Mid-Lakes Conference features approximately 500 exemplary artworks created by regional 9th-12th grade students from Ash Grove R-IV, Fair Grove R-X, Marionville R-IX, Pleasant Hope R-VI, (Skyline) Hickory Co. R-I, Stockton R-I, and Strafford R-VI high schools. Awards will be selected for 1st, 2nd, 3rd, and Honorable Mention in each of the 29 categories on display. Plaques will be awarded for Best of Show 2-D and Best of Show 3-D. Light refreshments will be served during the Art Walk reception. Work will remain on display through the month of May. (417) 862-ARTS (2787) www.SpringfieldArts.org Open 9 a.m.-5 p.m. M-F; closed major holidays
DB Design features Debra Sutherland in May

Seniors shine in Capstone Exhibit at Pool Art Center

Enjoy studio, graphic art in Evangel senior show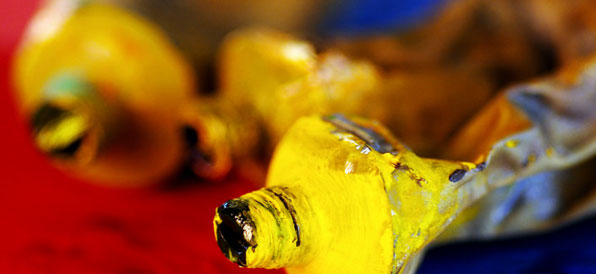 The Evangel University Bellwether Gallery
, 600 W. College, Ste. 116, is a beautiful and comfortable space for display of art by Evangel art students and faculty. It continues its show of Work by Graduating Seniors, featuring the work of 12 Evangel seniors in studio and graphic arts. (417) 865-2815, ext. 7258 Open 11 a.m. to 4 p.m. W-Sat
Farmers Gastropub recreates French artists' bistro

Farmers Gastropub
, 431 S. Jefferson, Ste. 160 (entrance on Pershing next to The Moxie), converts its bistro space into a replica of the
Place du Tertre at Montmartre, Paris,
with artists working live at their easels accompanied by French music and food. Matt Hale is featured in May. Farmers Gastropub also invites artists who are interested in demonstrating their talents on future First Fridays to contact owner Bill Griffiths. (417) 864-6994 www.farmersgastropub.com The Gastropub is open 9:30-11 p.m. M-W and 9:30 a.m.-midnight Th-Sat, with Bistro Dining 6-9:30 p.m. Th-Sat
Art Walk debut:

Artist Jennifer Purvis

at Fitzwilly's

Fitzwilly's Gifts & Antiques
, 308 South Ave., is showing collections of charcoal drawings by
Artist Jennifer Purvis
in her Art Walk debut. Jennifer first became interested in drawing while in college and has continued drawing and sketching since. (417) 866-3696 Open 10 a.m.-5 p.m. M-F, 11 a.m.-4 p.m. Sat; First Friday hours 11 a.m.-10 p.m.
Fresh spotlights Sharon Warren, Sandra Strother

Fresh
, located at the southwest corner of Campbell and Walnut, presents
Featured Artists Sharon Warren
and Sandra Strother
in May, plus enjoy live music by
Springfield Opera
during Art Walk. Sharon is an award-winning artist who loves the versatile world of watercolor and acrylics. The love of the beauty of all creation is at the core of her works, which have been featured in the Missouri Watercolor National Show in 2007, the MOAK Show at Springfield Art Museum in 2008 and the National Oil & Acrylic Society's Best of America Show 2009. A local, state and national award-winning artist, Sandra is well-known for her custom watercolor portraits of people and animals. Her lifelong love of horses and rural scenes is
a continuing theme in her work, along with her passion for the rodeo, Western art and bird dog hunting. Fresh will also conclude its First Anniversary Celebration and Silent Auction during the May 7 Art Walk. Fresh is a collective gallery of fine art and craft featuring 22 juried regional artists. (417) 862-9300 www.springfieldarts.org/fresh Open 11 a.m.-5 p.m. T-Sat
Visit The Gillioz for

OTC's Fine Art Student Showcase
The Gillioz Theatre
, 325 Park
Central East, will display artwork by OTC students in its lobby gallery as part of OTC's Fine Art Student Showcase. The Gillioz Theatre displays work by a variety of artists and is a magnificent work of art itself. Built in 1926 using architectural cues from all over the world, this Springfield landmark features ornamentation inspired by European and Mediterranean cultures. (417) 863-7843 www.gillioz.org
Global Fayre presents
Where the Wild Things Are
Global Fayre
, 324 S Campbell, presents

Where the Wild Things Are

, an exhibit by Springfield R-12 Early Childhood Special Education, plus live music by

Randy Buckner

during the May Art Walk. Randy is a fingerstyle guitarist from Springfield whose influences include Merle Travis, Chet Atkins, Marcel Dadi and Jerry Reed. Music has been an important part of his family since the 1870s when his great-great grandfather, Sam Weatherman, took up the fiddle. Randy's father, Jerry, taught him how to play the guitar at age 9. Randy teaches at Hoover Music Co., and his CD,

Bronwyn's Songs

, will be released in May. (417) 873-9792 www.globalfayre.com Open 10 a.m.-6 p.m. M-W, 10 a.m.-7 p.m. Th-Sat, 1-5 p.m. Sun or by appointment .

Good Girl

Art presents

Text and Context

, BFA exhibit

Good Girl Art Gallery
, 325 E.
Walnut St., Ste. 101,
presents two shows:

BFA Exhibition: H.E. Croan

and

Text and Context

, plus a wine tasting by

Peaceful Bend Winery

.
"Do you ever catch yourself staring at the shapes clouds make only to find yourself faced with a girl who is part tree, part seedling offering her heart to the heavens or perhaps a pair of slumbering dreamers who are slipping out of their heads?" Croan asks. "I often find myself seeing these very things while looking at the images splatters of paint make on a piece of paper. ... The work in this exhibition explores the search for meaning in what appears to be random."
Text and Context is a show of mixed media and collage art by Jo Van Arkel and Carla Stine.As a writer and literature professor, Jo is drawn to words and stories which she has translated to canvas in the form of magical vignettes. Carla's work has spanned the gamut of mediums, from ceramics to interior design. Her artistic evolution has brought her most recently to graphic design and illustration, which has inspired an appreciation for typography, explored in this current work. Jo and Carla share a penchant for whimsy, humor, and the many ironies of the human condition, which are reflected in their work. (417) 865-7055 www.goodgirlartgallery.com Open 10 a.m.-8 p.m. T-F; 11 a.m.-8 p.m. Sat
Hawthorn presents artist trio in
Studio Madness
Hawthorn Galleries Inc.
, 214 E. Walnut St., presents
Studio Madness: New Work by Emily Frost, Elizabeth Chapman and Lyn Phariss
. While the subject matter and the techniques of these three women is vastly different, ranging from Frost's assemblages to Chapman's vibrant abstracts to Phariss' plein air landscapes, their work is ultimately connected through the presence of a unique and compelling feminine voice. Meet the artists and enjoy live music by the Ojakangas String Group during First Friday Art Walk. (417) 866-6688 www.hawthorngalleries.com Open 10 a.m.-6 p.m. T-F; 1-5 p.m. Sat
Inveno Health exhibit celebrates childhood
Inveno Health
, 429 N. Boonville Ave., invites visitors to relive their younger days while perusing paintings from
Childhood in its Landscape
, an art initiative inspired by Lil Olive of Good Girl Art Gallery to benefit underserved children, ages K-teen, from the Springfield Community Center. Local favorite Stephanie Cramer is also featured, recently taking "Best in Show" honors in the Childhood in its Landscape project. Hidden talent is proudly on display in our beautifully renovated gallery space, adjacent to Obelisk Home, just steps north of the square. (417) 831-1270 www.invenohealth.com
MSU Brick City Gallery presents
Senior Exhibitions
MSU Brick City Gallery
, 215 W. Mill St., presents

Senior Exhibitions

by Brett Baureis, Kendle Durden, Lara Hoyt, Caleb Knodell and Jeffrey Markus, students completing requirements for the Bachelor of Fine Arts degree at MSU. (417) 829-5092 www.art.missouristate.edu/gallery.php Open 1-6 p.m. M-Sat, closed Sunday, Monday and university holidays
MSU International Center presents

Miracles

exhibit

MSU International Center

, 301 S. Jefferson, presents

Miracles-Religious Festivities in Peru

, a photo display by Artist Angie Keller. (417) 836-6618 http://international.missouristate.edu
MSU's SEC presents
BFA in Design Senior Exhibition
MSU Student Exhibition Center

,
838 E. Walnut St., presents an artists' reception for the

Art and

Design Department's BFA in Design Senior Students' Professional Design Practicum Final Projects Exhibition

during the May 7 Art Walk. (417) 836-6999 www.sec.missouristate.edu Open 1-5 p.m. T-Sat, closed major holidays and University holidays.
Gavyn Sky returns to Obelisk Home

Obelisk Home at the Inspired Commerce Building
, 214 W. Phelps, presents two events during the May 7 Art Walk: artwork by
Artist Gavyn Sky
and a
Silent Birdhouse Auction
to raise funds for Habitat for Humanity. Enjoy the unique abstract works of award-winning artist Gavyn Sky, which will amaze viewers with its unique textures and fluidity of color, and bid on artist-designed birdhouses to help the Drury University Campus Chapter of Habitat for Humanity raise funds for safe and decent housing. (417) 616-6488 www.obeliskhome.com
Enjoy trio of artists, live music at one80one

One80one
, 318 W. Walnut, features the works of
Artists Jessica Mahan, Meganne Rosen O'Neal, Lori Radford, Debbie Raymer, Javier Saltares and Nicholas K. Tarr
in May. Jessica Mahan, who is making her one80one debut, is a sculptor who works in plaster, handmade paper, copper and aluminum wire, cut and assembled mat board, and wood. She also enjoys painting in oil and acrylic, batik, drawing and printmaking. "If I am creating I am happy!" says Radford, a photographer, painter and mixed media artist. "I have always enjoyed creating and the idea of getting lost in the materials and the process." Active in the southern Florida art scene as well as in Missouri, Radford has recently become a member of Fresh Gallery.
Visitors will also be treated to live acoustic music by
Jessel Harry
and light hors d'oeuvre. One80One is a strategic marketing firm with a focus on Web development and new media, as well as utilizing traditional branding and advertising to enhance clients' brands and engage clients' audiences. (417) 865-0181 www.one80one.com Open 8 a.m.-5 p.m. M-F
OTC presents Fine Art Student Showcase Exhibition
OTC Fine Art Gallery
, 325 Park Central East, Third Floor,
Enjoy visual art, live theater and music at OTC's showcase
presents its
Fine Art Student Showcase Exhibition Spring 2010
. Enjoy work from visual art students in Drawing I and II, Two-Dimensional Design, Three-Dimensional Design, Printmaking, and Painting I, as well as performances by Music Department classes including Small Ensemble, Songwriting and Classical Guitar students. Dramatic staged readings taken from our Script Writing class will be performed by Theater 101 students. Special refreshments will be served and all are invited! (417) 447-8873 Open 9 a.m.-6 p.m. M-Th; 9 a.m.-3 p.m. F; 9 a.m.-10 p.m. on First Fridays
Park Central Library features
Artist Joey Borovicka
Art Transforms

,

Art Work by Parker Asay

&

Cherish Kids

on exhibit at Randy Bacon

Randy Bacon Photography and Figment Art Gallery in the

Bluegrass Banjo by Parker Asay
Monarch Art Factory
, 600 W. College St., present a trio of exciting art events during the May Art Walk. With
Art Transforms Downtown
, SpringfieldHigh School students will unveil a community project of outdoor murals, beginning with 10 8-by-8-foot murals on the side of C&C Flooring across Main Street from the Bacon Gallery.
Art Work by Parker Asay
puts the focus on MU fine arts graduate, entrepreneur and educator Parker Asay, an artist who specializes in illustration. Parker owns Freelance Graphics and teaches life drawing at the Springfield Art Museum. Plans are underway to have Parker do some painted illustrations on the wall across from the Monarch Art Factory after the student installation in May. Finally, Randy Bacon continues his show of photos from
James River Assembly's Cherish Kids Program
, a foster care and adoption program. (417) 868-8179 www.randybacon.com www.gallerysounds.net Open 11 a.m.-6 p.m. T-F; 11 a.m.-4 p.m. Sat
Enjoy

Beads and Blossoms

at Springfield Hot Glass

Springfield Hot Glass Studio
, 314 S. Campbell Ave., presents
Beads and Blossoms
, demonstrating a variety of blown and torch-worked pieces during May's Art Walk.
Beads and Blossoms at Springfield Hot Glass
Dani Underwood will be making "critter" beads, Kathy McCormick will demonstrate her floral bead technique and Terry will be blowing floral motif vases. A working hot glass studio/gallery with facilities for furnace, torch and kiln work, Springfield Hot Glass offers live demonstrations on Tuesdays, Thursdays, Saturdays and First Fridays.(417) 868-8181 www.springfieldhotglass.com Open 10 a.m.-6 p.m. T-Sat
Enjoy an array of fine craft at Springfield Pottery
Springfield Pottery, 416 S. Campbell Ave., a fine craft gallery and community clay center, features some of the best examples of fine craft in clay, wood, metal, glass, fibers, photography, printmaking, and jewelry by over 45 local, regional and national artists. (417) 864-4677 www.springfieldpottery.com info@springfieldpottery.com Open 11 a.m.-6 p.m. T-Sat
I look forward to seeing you at the May 7 Art Walk! For more details on our participating venues, please visit
www.ffaw.org
.
Sincerely,

Clarissa French
First Friday Art Walk