Drury Self Employment in the Arts Conference
Visit Drury SEA Conference
Greetings!
Join Art Walk members and artists for Center City Saturday, a family-friendly daytime event, 1-5 p.m. Saturday, Jan. 16.
If you missed the Jan. 1 Art Walk, you can still view our galleries' January shows, plus enjoy live art demonstrations, artist talks, hands-on activities, discounts and more.
Become part of Photographer James Radke's latest project, Up Close and Personal; learn about wood-block printing and try it yourself with Artist Chad Woody; and discover the fine art and craft of glassblowing with Artist Terry Bloodworth. Details appear below.
Art by Charli Stout, $1-for$5 discount at Fitzwilly's
Fitzwilly's Gifts & Antiques

,
308 South Ave., presents the outstanding works of award-winning
Artist Charli Stout
, plus receive
$1 off for every $5 spent
at Fitzwilly's on Center City Saturday. (417) 866-3696 Open 10 a.m.-5 p.m. M-F, 11 a.m.-4 p.m. Sat; First Friday hours 11 a.m.-10 p.m
Fresh Gallery features community of artists
Fresh Gallery
, located at the southwest corner of
Campbell and Walnut,
has expanded its offerings of 3-dimensional art with Artists Hue Parnell and Fonda Golding, and don't miss the display by Painter Holly Elkins. Enjoy beautiful and functional stoneware by Hue, colorful fused glass by Fonda, moving and empathetic images by Holly and amazing art by 20 other area artists. A collective gallery staffed entirely by its member artists, there's always something exciting to do, see or experience at Fresh.
(417) 862-9300 Open 11 a.m.-6 p.m. T-Th; 11 a.m.-8 p.m. F-Sat
Explore wood-block printing at Good Girl Art Gallery
Good Girl Art Gallery, 325 E. Walnut St., Ste. 101, presents Artist Chad Woody. Chad will demonstrate and discuss wood engraving and wood-block printing, which he uses to create his poetic and whimsical prints, between 1 and 4 p.m. Jan. 16. Get hands-on with art and try it yourself under Chad's guidance. Also, view In My Room, a show by Photographer Andrea Land. Andrea's environmental portraits seek to explore the inner psyche of complex individuals. Relating to the temporary situation of childhood, the large-scale photographs exist as both fictional and autobiographical creations. (417) 865-7055 www.goodgirlartgallery.com Open 10 a.m.-8 p.m. T-F; 11 a.m.-8 p.m. Sat
Get Up Close and Personal at Global Fayre
Global Fayre
, 324 S Campbell, presents the work of Photographer James Radke. James will be at Global Fayre between 3 and 5 p.m. to talk about his work and to shoot portraits of visitors for his 2010 project Up Close and Personal. James is in the process of taking 480 individual portraits, all shot from the same vantage point, which will ultimately appear in book form. Learn more about Up Close and Personal on James' blog at http://jamesradke.wordpress.com, and stop by Global Fayre for your chance to become part of this creative work.

(417) 873-9792 www.globalfayre.com Open 10 a.m.-6 p.m. M-W, 10 a.m.-7 p.m. Th-Sat, 1-5 p.m. Sun or by appointment
Learn about glassblowing at Springfield Hot Glass
Don't miss the Staxx Winter Blow Out Sale
Staxx, 331 South Avenue, offers its Winter Blow Out Sale during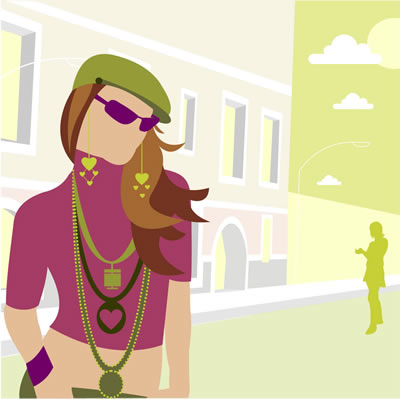 Center City Saturday. Buy one, get one half off on regularly priced items, plus take advantage of $20 pants, $50 denim, $15 racks of women's tops, $25 men's tees and up to 75% off storewide! Visit Staxx online or call 417-866-2900 for more information.
Saturday Night heats up downtown
Stick around the Downtown Arts District after dark for a variety of entertainment options with our Downtown Springfield Association partners:

Boy Scouts can complete merit badges at the Discovery Center, 438 E. St. Louis, during Boy Scout Night at the Museum. Cost is $10 for nonmember Scouts, $5 for member Scouts; $5 for nonmember adults, free for member adults.

Hear Live Music at Lili's Diner, 431 S. Jefferson, with Guitarist Dean Morisson. Bring the family! There's no cover, and the music starts at 7:30 p.m.

Hear the Chapman Bluegrass Band at 8 p.m. at Patton Alley Pub, 313 Patton, followed by the Hundred Hand String Band. Tickets are $5 at the door.
Enjoy great films at
The Moxie
, now showing
"Young Victoria," "A Single Man"
and Lars Von Trier's
"Antichrist."
Get showtimes and details at
www.moxiecinema.com
Enjoy improvisation at its best with
Improv Sports
at
The Skinny Improv
. Two teams compete against each other with high paced improv games to win your love and affection! For details and tickets, visit
www.theskinnyimprov.com
I hope you can join us for Center City Saturday this weekend, and be sure to join us Feb. 20 for more art, culture, fashion, food and fun! For more details on art exhibits at our participating venues, please visit
www.ffaw.org
.
Sincerely,

Clarissa French
First Friday Art Walk