Drury Self Employment in the Arts Conference
Visit Drury SEA Conference
Mille's Cafe
Visit Mille's
Sinatra's Coffee Gallery
Visit Sinatra's
Greetings!
Join Art Walk members and downtown merchants 1-5 p.m. Saturday, Dec. 19, in our family-friendly, daytime event. Participating Art Walk members will offer live art demonstrations, art talks, refreshments, hands-on activities, holiday open houses and special sales and discounts
If you still haven't found the perfect gift for that certain someone, give the gift that's as unique as they are: original art! From paintings and pottery to jewelry, sculpture and blown glass, the Downtown Arts District has it all
Find the perfect gift at Springfield Pottery's holiday sale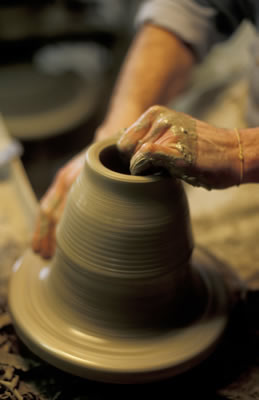 Springfield Pottery
, 416 S. Campbell Ave., presents a special
Holiday Pottery Sale
featuring discounts on work by its artists in residence and Springfield Pottery interns. Don't miss this opportunity to own beautiful, functional and whimsical works by skilled ceramic artists.
www.springfieldpottery.cominfo@springfieldpottery.com Open 11 a.m.-6 p.m. T-Sat
Fresh Gallery celebrates Holiday Open House
Fresh Gallery
, located at the southwest corner of
Campbell and Walnut,
offers a Holiday Open House featuring live art demonstrations and hands-on activities for all ages, plus ginger cookies and warm cider. Enjoy "Hay Day," a new
children's book by December Featured Artist and author Karen W. Schneider. See the newest additions to the gallery, including pottery, fused glass and stained glass, as well as hand-crafted Christmas ornaments and holiday cards by various local artists, including December Featured Artist Karla Breeding Trammell.
(417) 862-9300 Open 11 a.m.-6 p.m. T-Th; 11 a.m.-8 p.m. F-Sat
Don't miss Fitzwilly's holiday sale Dec. 19

Fitzwilly's Gifts & Antiques

,
308 South Ave., is conducting a Holiday Sale during Center City Saturday, offering discounts on all Christmas items. Check out Fitzwilly's unique gifts and charming selection of antiques and collectibles. Also, enjoy
Reflections of Tuscany
, plus collages and scenes of the Ozarks by local artist Charli Stout.(417) 866-3696 Open 10 a.m.-5 p.m. M-F, 11 a.m.-4 p.m. Sat; First Friday hours 11 a.m.-10 p.m.
Springfield Hot Glass crafts unique creations
Springfield Hot Glass Studio
, 314 S. Campbell Ave., presents
Live Glassblowing Demonstrations
by glass master
Terry Bloodworth and crew. See Terry's unique hand-blown Christmas ornaments, as well as a selection of art objects, fused glass, and torchwork bead jewelry. 417) 868-8181 www.springfieldhotglass.com Open 10 a.m.-6 p.m. T-Sat
Visit Randy Bacon Studio for
Art Transforms, Reel Lives
Randy Bacon Photography and Figment Art Gallery in the Monarch Art Factory
,
600 W. College St.
, presents
Art Transforms,
featuring 35 original banners designed by MSU students and
REEL LIVES
, featuring Randy Bacon's breathtaking portraits from his journeys with Convoy of Hope. Stop by for great art and free refreshments. (417) 868-8179 www.randybacon.com www.gallerysounds.net Open 11 a.m.-6 p.m. T-F; 11 a.m.-4 p.m. Sat
Enjoy artists' talks, demonstrations at Global Fayre
Global Fayre
, 324 S Campbell, presents an artist's talk by Photographer James Radke
3-4 p.m.
, focusing on photography and especially his amazing
Springfield
images. Then join Scott Thomas
4-5 p.m.
to learn about didgeridoos and play one yourself! Global Fayre features handcrafted, fairly traded art objects, clothing, jewelry, toys and more from all over the world, including beautiful holiday decorations and gifts. There will be coffee and cookies for all!
(417) 873-9792 www.globalfayre.com Open 10 a.m.-6 p.m. M-W, 10 a.m.-7 p.m. Th-Sat, 1-5 p.m. Sun or by appointment
Holiday Movie Marathon at Park Central Library
Park Central Branch Library, 128 Park Central Square, host a free Holiday Movie Marathon on the big screen, plus enjoy its exhibit of Photography by Corey Brown. (417) 831-1342 http://parkcentrallibrary.blogspot.com Open 8:30 a.m.-9 p.m. M-Th; 8:30 a.m.-10 p.m. F-Sat
Enjoy holiday cheer, original art at Good Girl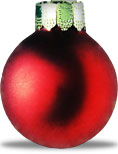 Good Girl Art Gallery, 325 E. Walnut St., Ste. 101, invites visitors to enjoy free, personalized handmade ornaments by Artist Jesse Cox plus holiday refreshments and art by December Featured Artist Christopher Mostyn. (417) 865-7055 www.goodgirlartgallery.com Open 10 a.m.-8 p.m. T-F; 11 a.m.-8 p.m. Sat
Save up to 70% at Chic Chick Holiday Open House
Chic Chick
, 400 E. Walnut,
Suite
100
, presents its Holiday Open House. We will be featuring 25 percent off everything in the store and 70 percent off clearance items. There will also be refreshments and free gift wrapping!
I hope you can join us for Center City Saturday this weekend, and be sure to join us 1-5 p.m. Jan. 16 for more art, culture, food and fun! For more details on art exhibits at our participating venues, please visit
www.ffaw.org
.
Sincerely,

Clarissa French
First Friday Art Walk