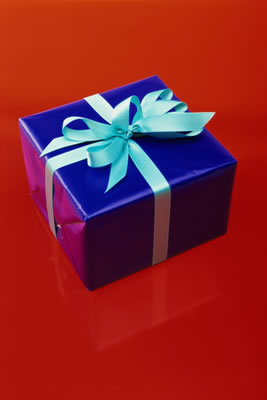 A "Stuff-Free" Holiday
December, 2011
As you shop for your holiday gifts, remember that most of us don't need more stuff to clutter our homes and lives. What people value most is that you took the time to think about them and what makes them special. How about giving the gift of an experience, or your time, or education and enlightenment? Think consumable goods - things that can be used up and enjoyed and not leave the "footprint" of clutter in someone's home. As a former teacher, I can tell you that as much as I appreciated the thoughtfulness of my students and their parents, my home could only hold so many mugs, candles and scented soaps! The most meaningful gifts were things that my students made, especially a handwritten card of appreciation. (I know, all teachers say that, but it's really true! I've saved some for years.) One of the most touching gifts I received over twenty years of teaching was a donation in my name to Heifer International - an organization that uses donations to buy live animals and other items for families which can provide years of food and a sustainable living, like eggs from a gift of live chickens. There are so many worthy organizations that need help, and so many landfills that are overflowing with stuff that gets thrown away each year (and so many homes that are overwhelmed with clutter. Remember, the less stuff you have, the less time it takes to manage, the less stressful your life is.)
Some great ideas from my Facebook followers for "stuff-free" gift ideas:
Vouchers for home cooked meals. (Shannan D.)
Gift basket or bin filled with person's favorite food or toiletry items. Basket or bin is reusable or for another gift. (Joann Krall, The Sensible Organizer)
Food, wine, gift certificates for restaurants, grocery store, charitable organization donations of interest to recipient. (Keri Dickerson, KMD Organizing)
Food - gourmet sauces, jellies, wine & cheese, fruit. (Sharon A.)
And even more, from both my personal repertoire and an informal poll of friends & colleagues:
A personal correspondence basket, with stamps, note cards and nice pen.
A basket of ingredients for a special meal or treat: clam bake, Italian, romantic picnic (loaf of bread, bottle of wine), barbecue, ice cream sundaes.
A membership to your local YMCA, health club, museum or zoo (great for someone with young children).
Gift certificate to a favorite restaurant.
A movie ticket package - tickets & refreshments (try AAA for discount packages).
Voucher for babysitting.
"Date Night Special": movie ticket package and babysitting voucher - great for a couple who have just had a baby!
Coupons for car washes or car detailing (or a voucher from you for personalized service!)
Gift certificates for spa services: manicure, pedicure, massage, facial.
Gift certificates for personal services such as a professional organizer, computer training, personal trainer, house cleaner, life coach (think New Year's resolutions!)
Tickets for a sporting event or performance - a play, show, concert.
Lessons for a skill your gift recipient would love to learn or improve upon: musical instrument, cooking, a sport like golf or tennis, computer skills.
This year, think outside the box - literally - and make it a "stuff"-free holiday!

For weekly motivation, inspiration, events and product recommendations, check out my Facebook page for The Organized Way. Become a fan by clicking the "like" button, and be eligible for special offers. Share your own organizing successes and challenges. I love hearing from you!

Lisa S. Griffith







UPCOMING EVENTS

Rediscover Your Image:

An Educational and Networking Event for Women

Hear great speakers on physical and financial health for women, network, enjoy dinner, and visit Lisa's booth along with those of other women entrepreneurs at this informative and fun event. For more information and to register, contact Michelle Hughes, CPA, at michelle@farmerfirstcpas.com.

A W.E.B.O.N.D. event (Women's Empowerment and Business Owners Networking Development) - Bringing life balance, education and resources to women career professionals and business owners.

Tuesday, January 24, 2012

5:00 - 8:30 pm

DiParma Italian Table

940 Fall River Ave.

Seekonk, MA

A New Year, A New You!

Presentation

Lisa presents organizing tips and techniques for the new year for the Sowams School PTO.

Tuesday, January 31st

7:00 - 8:30 pm

Sowams School Cafeteria

Barrington, RI

Be thankful for what you have; you'll end up having more. If you concentrate on what you don't have; you will never, ever have enough.

(Oprah Winfrey)

This holiday season,

may you have more.

More joy,
more time,
more love,
more peace.

In order, in joy,




Lisa S. Griffith

The Organized Way

401.529.1674