BANDWAGON BULLETIN BOARD

NEXT SHIPMENT
Coming up in October!


Make sure we have all your account info updated!!
TASTING ROOM HOURS
Mon-Fri 10am-5pm
Weekends 11am-5pm
A quick reminder

: we know many of you bring your families out to enjoy the winery, but please remember, children should be supervised at all times. Thank you!
Greetings!
HARVEST...our favorite time of year! For just a few weeks, all the hard work and effort in the vineyards comes to bear. Each and every growing season is different, but we can't wait to taste the 2012 vintages. We hope you enjoy the fruits of our labors as much as we do!
Cheers,
The Bogle Family & Staff
First crush of 2012...Bogle Chardonnay!
2012 HARVEST REPORT
from Warren Bogle, President & Vineyard Manager
Merlot clusters finish veraison
The 2012 growing season was fast and furious! Average bud break occurred around March 15th, with the tepid weather that followed slowing growth for about a month.
Then the fast and furious started. In mid-April, the vines took off and we had about a month's worth of growth in two weeks. This fast growth brought on the start of bloom around the 10th of May. In June, the vines had perfect weather to develop canopies and fruit. The vineyard canopies looked better than normal and, with an average crop load, we were thinking veraison would be around the 10th of July. But after the 4th, it seemed the vines took a week or two off and we did not see veraison until the 20th of July. Since turning, they have not looked back.
The quality of this harvest looks to be amazing. We picked our first Chardonnay on the 27th of August. Chardonnay developed very nice juicy fruit with lots of tropical notes, but maintained the acid needed for that crisp white we all love. The color in the reds is already dark and they are still a month away from being picked.
So, look forward to this 2012 vintage...we hope it gets to you as fast and furious as the pace in the vineyard this year.
BOGLE'S FRIDAY Al FRESCO
Thanks for joining us!
We had a great time at this summer's Friday Al Fresco evenings! Thanks to all of you who joined the fun. Special thanks go to our musicians and vendors who dolled up our lawn with good food and good tunes! We are already at work on next year's line up...we hope we see you then!
SPREADING THE BOGLE WORD(s)...
It seems even in Italy, Bogle wines are a hit! Or at least our t-shirts are! Tasting room staffer Dave sent along these pics of his cousins Raffaella and Luca who live in Lidodi Camaiore on the Italian Riviera. Apparently, they didn't mind the English translations...instead of the Italian versions of "Lisciane" and "Piccante"!
Good wine must have a universal language! Salut
é!
NEW RELEASES: It's Back!
We know many of you out there count the days until Phantom returns to your area...the wait is over for the 2009 vintage!!
2009 PHANTOM, California
Rich black raspberries and briary boysenberries vividly surround the nose and palate, while the decadence of cocoa-dusted pomegranate is enticingly complex. Touches of juniper, cedar and black pepper edge toward the full bodied fruit, charming you to take another sip. Over two years in 1, 2 and 3 year old American oak capture and concentrate the character of the Zinfandel, Petite Sirah and Mourvedre, creating yet another luscious and intense red wine, impossible to ignore.
Zinfandel 52% - Petite Sirah 46% - Mourvedre 2%
Available: Available at retailers, restaurants and wine shops nationwide...until it disappears again!
FOR YOUR CALENDAR... busy!!!!
Thursday, Sept 6 6pm-9pm
Spotlight Elk Grove -- EG Regional Scholarship Fund
SES Hall, Elk Grove, CA
Friday, Sept 7 7pm-10pm
25th Christian Brothers Wine, Beer & Food Extravaganza
Christian Brothers HS, Sacramento, CA
Friday, Sept 7 6pm-10pm
Junior League Wine & Dine
Raley Field, Sacramento, CA
Saturday, Sept 8 11am-3pm
Grand Wine & Food Classique - Restore The Delta
Grand Island Mansion
Sunday, Sept 9 3pm-6pm
A Day in the Country - Yolo Land Trust
Terrain Ruisseau, Winters,
CA
Friday, Sept 14 5:30-8:30pm
Fairytale Town After Hours - Sac Area Emergency Housing
Fairytale Town, Sacramento, CA
Sunday, Sept 16 2pm-5pm
The Wines of Clarksburg - Friends of the Library
Heringer Ranch, Clarksburg, CA

Sunday, Sept 16 2pm-5pm
Wine & Wedges - Shriner's Children's Hospital
CA Aerospace Museum, North Highlands, CA
Thurs, Sept 20 6:30-9:00pm
Cork & Fork - Folsom/Cordova Community Partnership
Marriott, Rancho Cordova, CA
Friday, Sept 21 5:30-9:00pm
A Taste of Sacramento - Easter Seals
Sacramento Convention Center, Sacramento, CA
Saturday, Sept 22 4:30-8:30pm
Soil Born Farms Autumn Equinox Celebration
Soil Born Farms, Sacramento, CA
Saturday, Sept 22 6:30-9:30pm
Feast at the Fort - Friends of Sutter's Fort
Sutter's Fort, Sacramento, CA
Saturday, Sept 29 5pm-9pm
Kibble & Bids - Homeward Bound Golden Retriever Rescue
California Auto Museum, Sacramento, CA
Seafood & Sauvignon Blanc Stew
This recipe is perfect for crossing the fine line between the summer we are clinging on to, and the fall that inevitably awaits! Courtesy of Dan and www.talkofthevines.com, this delicious dish combines all our favorite things to make a wonderful meal to share! Serves 4!
Ingredients:
8 Pepperidge Farm puff pastry shells
1/2 cup Bogle Sauvignon Blanc
7 oz. salmon fillet, cut into 1" cubes
8 oz. baby scallops
8 oz. raw shrimp (roughly 12-15 qty)
1/4 cup chopped leeks
1/2 cup yellow bell pepper, diced
1/2 cup asparagus, cut into small sections
1/3 cup chopped fresh basil
1 1/2 T. chopped fresh thyme
2 lemons, (for zest and juice)
1 pint heavy cream
3 T. butter
1 T. gumbo file powder, or old bay seasoning (optl)
Salt & pepper, to taste
Cooking instructions:
Preheat oven and bake pastries according to the instructions on the box.
While the pastries are baking, use a large non-stick skillet to saute the leeks, asparagus, bell pepper and thyme in butter for about 3-4 minutes.
Add the Sauvignon Blanc, lemon juice and zest. Reduce mixture by 50% over medium heat.
Add the heavy cream, basil, salmon, scallops, shrimp and seasonings. Bring to a boil.
Reduce heat and bring stew to a simmer for about 5 minutes. Remove from heat and allow to thicken.
To Serve:
Take the puff pastries and remove the tops. Add a ladle full of stew into the pastry and place the top back on. (Remove some of the pastry inside if necessary.)
Serve with mashed potatoes, rice or vegetables.
Finally , be sure to pour a few glasses of Bogle Sauvignon Blanc to accompany the dish. Enjoy!
Thank you Dan for sharing this recipe with your readers and with us! We appreciate it!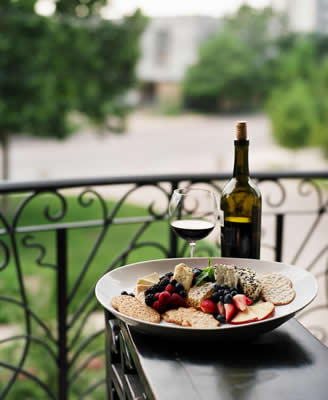 To check out our new "Bogle Family Kitchen" section of our web site