BRIDGES!!
NOTE: The bridge at
Hwy 160 and Isleton
is now CLOSED for maintenance.
Scheduled open date: August 24th!
BANDWAGON BULLETIN BOARD
JUNE SHIPMENT
Deadline for pickup is next week! AUGUST 8th for those of you who still have your wines here!
TASTING ROOM
CLOSURES
None scheduled!
A reminder

:
we know many of you bring your families out to enjoy the winery, but please remember, children should be supervised at all times. The vineyard, levees and road are not an advisable play area.
Thank you!
Greetings!
The countdown is on...not only to the end of summer, but to that glorious time in the vineyard: HARVEST! This is the time of year when we see how much we can pack in those last few days of the season! As you can see, our calendar is full the next few weeks. We hope you are able to enjoy some of these great upcoming events...
Cheers,
The Bogle Family & Staff
PAELLA PARTY
Saturday, August 18th 6-10pm
Come celebrate summer Spanish-style at Bogle! With amazing food prepared by Zocalo, live music by Sabor and delicious sangrias and vinos...this is an event not to be missed!
DATE: Sat, August 18th 6-10pm
WHERE: Tasting Room Lawn, Clarksburg
WHO: Adults only, please
TICKETS: $50 per person
Friday Al Fresco is a hit!! This week, enjoy the sounds of The Schwamigos and pizza from The Brick Oven! It's a great combo!
Note--due to popularity, consider carpooling! Also, our tables fill up fast, so feel free to bring your blanket or chairs!

DETAILS: Admission is free - no reservations required - alcoholic beverages prohibited, except Bogle wine! - no pets, please. Thank you!!
EXPERIENCE THE DELTA...
Passport Weekend August 11-12th
There is a lot to see at the Sacramento River Delta Grown Agri-Tourism Association PASSPORT WEEKEND. Travel our historic river to visit the farms on the Delta Grown Farm Trail. See farm exhibits of crops, animals, and equipment, participate in special tours, kids activities, local wine tasting, then head home with lots of fresh, local produce!

For more info check out http://www.sacriverdeltagrown.org/.

BOGLE TAKES GOLD!!!
(and silver and bronze, too!)
Bogle's wines had a great showing this year at the California State Fair!
GOLD
Chardonnay
SILVER
Sauvignon Blanc
Petite Sirah Port
BRONZE
Merlot
Petite Sirah
Cabernet Sauvignon
Check out our award winners at the Grape & Gourmet, a wine tasting on August 18th from 3-6pm showcasing the winners of this year's competition. For more info, www.bigfun.org!

BOGLE in GERMANY!
Another country, another bottle of Bogle spotted! This region of Germany was host to one of the first international wine shows we ever attended way back in 2002! It's good to see the wines still represented there!
May 2012 Wanted to share the Love.


My wife Rosalie and I were staying at a nice four star hotel and restaurant that is a castle on the Rhine River above the town of Oberwesel in Germany's Rheingau premier wine district in Germany. Guess what we were drinking at dinner in the Castle Restaurant? See photo - Bogle !
The Hotel and Restaurant: http://www.hotel-schoenburg.com/
You are everywhere and we love it.
Rosalie and John Kane
Thanks so much, Rosalie and John! We appreciate the kind words and are glad you had a great time! Cheers!!
"SHEEP THRILLS and MUDDY WHEELS"
at the Yolo County Fair August 15-19th
If you like a good ol' fashioned county fair, check out ours! The Yolo County fair is a fun-filled family adventure! Some of the "can't miss" highlights include:
an Opening Night Gala on August 15th
(Bogle wines will be poured!!)
livestock exhibits
flower house and gardens
local entertainment on two stages
carnival and midway
and...the Demolition Derby!
Also, be sure to check out the awards given for best produce in the county. Of particular note is the Patty Bogle-Roncoroni Best of the Best Award in the olive oil competition. Patty was instrumental in getting the competition started several years ago.
To check out all the fun, click here!!
This year's winners of the Patty Bogle-Roncoroni Best of the Best Award: The Stefanini family, producers of Apollo Olive Oil.
FOR YOUR

CALENDAR...


August gets busy!
Friday, August 10th 6pm-10pm
Sip & Support -- The Salvation Army
Mack Powell Auditorium, Sacramento, CA
Wed, August 15th 4:30-8:00pm
Yolo County Fair Opening Night Gala Celebration
Yolo County Fairgrounds, Woodland, CA
Sat, August 18th 6pm-9pm
11th Annual Moonlight Sip & Stroll -- Hospice of San Joaquin
Brookside Estates, Stockton, CA
Sat, August 18th 3pm-6pm
Grape & Gourmet -- CA State Fair Wine Competition
Cal Expo, Sacramento, CA
Art, Wine & Food Tasting Classic -- Neighborworks
Sutter Lawn Tennis Club, Sacramento, CA
Sat, August 25th 5pm-9pm
Pour for Prevention -- The Child Abuse Prevention Center
Aniquite Masion Privee, Sacramento, CA
FROZEN LEMON TORTE
The perfect dessert to chill with...
We realize we have largely ignored the dessert demographic here in our recipe column. Shame on us!! Here's a fantastic no-bake dessert for these dog days of summer. Easy, breezy, delicious!
Ingredients:
Graham cracker crust
1 1/2 cups graham crackers crumbs
1/2 cup sugar
6 tbsp melted butter
4 eggs, separated
1 cup sugar
1 1/2 T. grated lemon peel
1/2 cup fresh lemon juice
1 1/2 cups whipping cream
Cooking instructions:
Combine cracker crumbs, 1/2 cup sugar and butter until moist, then press into the bottom of a springform pan. (Or buy a graham cracker crust at the store--we won't tell!)
Beat the egg whites until stiff. Gradually beat in 3/4 cup sugar until stiff and glossy.
In a separate bowl, blend the yolks, remaining 1/4 cup sugar, lemon peel and juice.
Whip the cream.
Carefully fold the egg whites, yolk mixture and cream together. Pour into the prepared crust.
Freeze for at least 8 hours.
OUR WINE SUGGESTIONS:
OK, so this one doesn't automatically lend itself to a wine pairing...it's pretty tart. But our 2011 Moscato would nicely balance the crispness of the dessert...and make for a lovely summer evening! Let us know what you think...
Thanks to neighbor Amy Kauffman for the recipe!!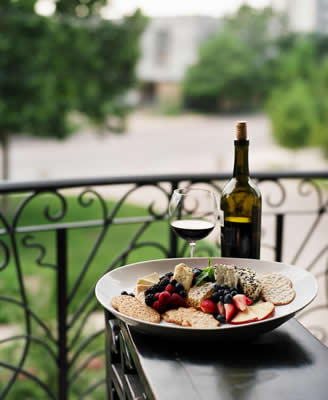 **Have a great recipe or wine pairing you'd love for us to know about? Please send it along to us at
info@boglewinery.com
!**