BRIDGE IS OPEN!!
Thanks to all who braved the Paintersville Bridge detour the last few months!!
Sorry for any inconvenience!!
BANDWAGON BULLETIN BOARD
NEXT SHIPMENT:
Week of June 4th...
stay tuned!

TASTING ROOM
CLOSURES
Wed. July 4th
Independence Day
A reminder

:
we know many of you bring your families out to enjoy the winery, but please remember, children should be supervised at all times. The vineyard, levees and road are not an advisable play area.
Thank you!
Greetings!
We're rollin' into summer now! School is out, the barbecue is hot and the grapes are growing! Rumor has it harvest is only 90 days away! It just doesn't seem possible...
We hope you are able to enjoy some good wine this summer, regardless of your plans!
Cheers,
The Bogle Family & Staff
Some things are ESSENTIAL in life...
good wine should be one of them!
With the first new release from our family in nearly ten years, the Bogle's are proud to present Essential Red. Made in our familiar mouthfilling and fruit-forward style, this blend of Old Vine Zinfandel, Syrah, Cabernet Sauvignon and Petite Sirah is rich, ripe, luscious and juicy.


Keep an eye out for our newest "family" member at a retailer near you this summer...
June 15th through August 31st
Looking for a fun way to relax on a summer Friday night? Come join us at Bogle for Friday Al Fresco! With the tasting room and lawn open extended hours 'till 8pm, Bogle is the perfect spot to listen to live local musicians, picnic with friends and unwind the week away. Some of our favorite food vendors will be on hand to sell their goodies, although you are always welcome to bring your own! We'll have a wide selection of our summertime wines to choose from! What's not to love?

DETAILS: Admission is free - no reservations required - alcoholic beverages prohibited, except Bogle wine! - no pets, please. Thank you!!
BOGLE IN DENMARK!
We all have fond high school memories of the infamous Shakespeare quote "Something's rotten in the state of Denmark." But it sounds like some of our best customers disagree with ol' Hamlet!
Dear Bogle Friends:
Attached are some pictures from our vacation in Denmark! We (Beverly Sandeen and Marty Swingle, proud Bandwagon members) traveled with our friends/neighbors, Mary, Jorgen, and Sami Bateman to Denmark and Spain together. Jorgen is Danish, and when his family travels to visit us in California, we always take them to our favorite place -- Bogle Vineyards! Jorgen's family loves Bogle, and so they took us to their favorite wine shop in Denmark. While there, we spoke with the owners about the Bogle wines they carried, and OF COURSE bought Bogle for our family dinners together during our vacation! Yum!
We always look to see if Bogle is carried at stores and wine shops when we travel. We've seen Bogle in Ireland, Scotland, England, Denmark, Italy, Germany, Australia, and all over the United States. As we continue our travels, we'll continue to seek out Bogle wines! Thank you for making sure we have good wines to enjoy at home and when we travel the world!

Cheers,
Beverly and Marty
West Sacramento, CA
Thanks to Beverly, Marty and friends...
Nothing says "Summer is here!" like the simply succulent Moscato!
Accents of juicy pears and crunchy, crisp apples layer with the flavor and richness of floral honeysuckle. Local lavender honey lingers on the finish, with some well-balanced freshness rounding out the wine.

2011 Petite Sirah Rosé, Clarksburg
Deeply pink in color, this fuchsia-hued vintage brings back memories of fruit punch popcicles and summer strawberries dripping with juice. Fresh, thirst quenching watermelon adds dimension, while spicy pink peppercorns keep the finish brisk and refreshing.
Both wines are best served chilled, and are perfect for every summer celebration!
AVAILABLE: At our tasting room in Clarksburg.
FOR YOUR

CALENDAR...


It's the season for wine tastings!
Friday, June 1st 5:00pm-8:30pm
27th Annual Sunrise Rotary Tasting -- Stockton Rotary
Micke Grove Park, Lodi, CA

Saturday, June 2nd 4pm-7pm
Raley's Grape Escape -- SCVB
Caesar Chavez Park, Sacramento, CA
Sunday, June 3rd 3pm-6pm
A Celebration of Wine -- CSUF Dept. of Viticulture Alumni
Rancho Vista Del Rio, Madera, CA
Saturday, June 9th 6pm-11pm
A Tropical Affair -- Firefighters Burn Institute
Shriner's Children's Hospital, Sacramento, CA
http://ffburn.org/events-activities/2012-gala
Sunday, June 10th 4pm-7pm
A Taste of Land Park -- Land Park Community Assn.
William Land Park at 3rd Avenue, Sacramento, CA
http://www.landpark.org/events/annual-events/
Sunday, June 10th 4:30-7:30pm
A Black & White Affair -- Camellia Symphony Orchestra
Scribner Bend Winery, Clarksburg, CA
http://www.camelliasymphony.org/
Saturday, June 23rd 4pm-9pm
10th Annual Sacramento Chef Challenge -- InAlliance
InAlliance Campus, Sacramento, CA
Saturday, June 23rd 6pm-9pm
King of Feasts -- Sacramento Zoo
Sacramento Zoo, Sacramento, CA
http://www.saczoo.org/page.aspx?pid=356
Monday, June 25th 11am-4pm
2nd Annual KVIE Golf Classic -- KVIE
Serrano Country Club, El Dorado Hills, CA
ESSENTIAL barbecue...
What better way to kick off summer?
The secret is in the sauce, right? This slow-cooked recipe is divine on just about anything: glazed on grilled chicken, slathered on smoked ribs, mixed in a pulled pork sammie, spread on flatbread for a quick homemade pizza. The enjoyment is endless AND essential!
Ingredients:
2 yellow onions, diced ¼"
1 red pepper, diced ¼"
1 bottle Bogle ESSENTIAL RED
1 cup orange juice (full pulp)
1 cup beer
2 tsp. Worcestershire sauce
2 tsp. hot sauce
½ cup cider vinegar
½ cup apple juice
¼ cup honey
2 cloves garlic, grated
2 T. honey mustard
1 ½ cup brown sugar
1 cup ketchup
1 T. butter
Salt & pepper, to taste
Cooking instructions:
OUR WINE SUGGESTIONS:
There are no rules on this one...enjoy with any of our white or red wines, depending on what you pair the sauce with!
Enjoy!!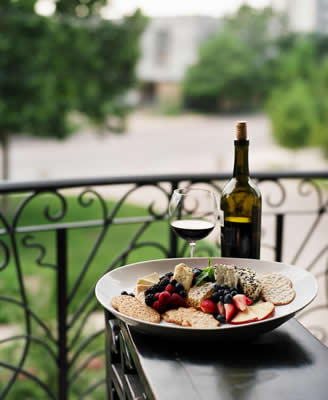 **Have a great recipe or wine pairing you'd love for us to know about? Please send it along to us at
info@boglewinery.com
!**