BRIDGE CLOSURE!!
So...it is looking like the Paintersville Bridge in Courtland is never going to reopen! As soon as we hear anything, you'll be the first to know!
Sorry for any inconvenience!!
BANDWAGON BULLETIN BOARD
NEXT SHIPMENT:
To get you a remarkable new wine before anyone else tries it, we will be pushing the next shipment a couple weeks. Please make a note of

June 4th

as your next wine club week!
CHEESE & WINE EVENT
Sat. May 12th
**SOLD OUT**
BBW BASH
Sat. May 12th
See article at right >>>>>
TASTING ROOM
CLOSURES
NONE!! We're open!!
A reminder

:
we know many of you bring your families out to enjoy the winery, but please remember, children should be supervised at all times. The vineyard, levees and road are not an advisable play area.
Thank you!
Greetings!
What a difference a month can make! From those tiny little buds to the fresh green shoots straining toward the sunshine, our grapevines are growing like gangbusters. Come for a visit and see for yourselves...
Cheers,
The Bogle Family & Staff
CINCO DE MAYO

SUE

SAYS...

Come visit us this weekend!!!
DISCOVER THE DELTA
~
June 1, 2012
Wine Tasting & Tower Raising 2pm-6pm
The Discover the Delta Foundation will be celebrating the raising of the historic Dutra tower on June 1st with a wine (and beer) tasting, food and live music.
Located along the Sacramento River in Rio Vista, the DTDF is a science-based educational nonprofit organization that is dedicated to teaching people about the wonders of the California Delta and its amazing resources. With a Farmer's Market that includes a wine tasting room and educational center, the facility will be raising the 132', 55,000 gallon water tower on their site, as a beacon to those visiting. What an experience to learn about the Delta we love!
In addition, Bogle Winery will be the DTDF's featured winery for Memorial Day weekend, May 26-28th. Come join the fun as Jody Bogle and other members of the Bogle team share our story over a taste of some summer sippers!
BANDWAGON BASH
~
June 9, 2012 6-9pm
Come for a boot-stompin' good time!
It's back! The Bandwagon BASH will take place Saturday, June 9th. Come on down and enjoy smoked ribs, barbecue chicken, smashed sweet taters and that delicious cornbread!! Don't forget the wines and the band...and get ready to boot-scoot at Bogle!
Ticket price: $50 per person
On sale: Wine Club -- Wednesday, May 9th
Public -- Wednesday, May 16th
NORTHERN NEIGHBORS & BOGLE !!
Jim and Connie Marshall are some of our top Bogle "spotters" out there...they see it nearly everywhere they travel. Their trip north to Oregon was no exception!
Hi Bogle's,
Found another Bogle wine in an obscure general store: Mariner Market in Cannon Beach, OR. It was not a huge wine selection, but Bogle was represented with two wines we saw.
Keep up the good work!!
Cheers,
Jim Marshall
NEW RELEASES
2011 Chardonnay, California
Bogle winemakers have again used new American oak, malolactic fermentation and sur-lie aging to create a multi-faceted wine that is a true crowd-pleaser! Crisp and fresh apple and pear flavors and a soft creaminess are surrounded by toasty oak. This wine really does have something for everybody!
2010 Cabernet Sauvignon, California
This classic interpretation has the best of what the cabernet grape can offer: bright and brilliant cassis and cherry mingle with traditional black pepper and olive notes. The spicy oak on the finish is the perfect end to this traditional wine.
Available: At retailers, wine shops and restaurants nationwide!
FOR YOUR
CALENDAR...
Warming up out there!
Thursday, May 10th 5:30pm-9:30pm
Taste of the Little City -- Safetyville, CA
Safetyville, Sacramento, CA

Thursday, May 10th 6pm-8:30pm
ABAS 10th Annual Wine & Food Tasting -- Scholarships
Pavilions, Sacramento, CA
Thursday, May 24th
6pm-9pm
Epicurean Esprit -- Meals on Wheels
Tandem Properties, Davis, CA
BOGLE'S FRIDAY AL FRESCO!


EXTENDED HOURS...open till 8pm
Each Friday, we'll be presenting live music and a local food vendor, with dinner available for purchase. Wine+food+music = awesome!
We've got a great line up for you!
SCHEDULE TO BE RELEASED NEXT MONTH...
SPRING SALAD...
Butter Lettuce with Shrimp & Dill
This easy salad serves as a great first course, or a meal all by itself. Easily prepared ahead of time, it also makes a beautiful presentation for a patio dinner party! (Serves 6)
Ingredients:
1 head butter lettuce
2 lbs fresh shrimp, 16-20 count size
2 tbsp fresh dill, chopped
Lemon, 2 tbsp juice and 2 tsp zest
1 carrot, shredded
2 tbsp capers, drained
1/3 cup mayonnaise
1/3 cup plain yogurt
Salt & pepper
Cooking instructions:
Separate and wash the lettuce leaves, keeping them whole. Dry and set aside.
Peel and clean the shrimp, making sure to devein them.
Drop the shrimp carefully into a pot of boiling water, stirring slowly until they turn pink and firm up, about 4-5 minutes. Remove from water with a slotted spoon and allow to cool. Pat dry to remove any excess water.
In a mixing bowl, combine the mayo and yogurt, dill, lemon juice and zest and salt and pepper, to taste.
Combine the shrimp, carrot, capers and yogurt sauce, careful not to rough up the shrimp meat. Cover and refrigerate for 30 minutes up to 24 hours.
When serving, place 5-6 lettuce leaves on a plate, overlapping to create a "nest". Nestle about cup of the shrimp mixture on the lettuce. NOTE: For a first course, use 2-3 lettuce leaves and 1/2 cup of the shrimp. You can also serve this as an app by placing one shrimp on one lettuce leaf!
OUR WINE SUGGESTIONS:
With light fare like this, white wine is the way to go! Try our new

2011 Sauvignon Blanc

or

2011 Chardonnay

with this great dish Enjoy!!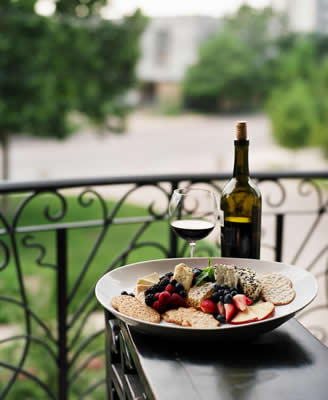 **Have a great recipe or wine pairing you'd love for us to know about? Please send it along to us at
info@boglewinery.com
!**