BRIDGE CLOSURE!!
So sorry folks...it's still closed! Hopefully by next month the Paintersville Bridge in Courtland will be open!
Sorry for any inconvenience!!
BANDWAGON BULLETIN BOARD
FEB SHIPMENT:
Deadline for pickup is April 22nd! Don't forget!
Set for April 28th, this great event currently has spots available. Come join us as we enjoy delectable dishes from The Supper Club. More info: click here!
TASTING ROOM
CLOSURES
SUNDAY, APRIL 8th
HAPPY EASTER!!
A reminder

:
we know many of you bring your families out to enjoy the winery, but please remember, children should be supervised at all times. Thank you!
Greetings!
BUD BREAK! Let the growing season begin! We were so excited to see those little green guys popping out on the vines. After an odd winter and a (so far) rainy spring, we are looking forward to seeing the vineyards return to the green we love. Come check out the progress for yourself!
Cheers,
The Bogle Family & Staff
CELEBRATE EARTH DAY
~
April 22nd
Tour and Tasting in the Vineyard 10:00am
Help Bogle celebrate the 42nd anniversary of Earth Day by spending some time in the dirt! Join Vineyard Manager Warren Bogle as he takes you on a tour of our Home Ranch Chardonnay vineyard, while discussing Bogle's commitment to sustainable winegrowing and winemaking practices. Festivities will start at 10am with the tour, followed by a very special reception in the vineyard.
We hope you can join us for this free event!!
BOGLE in the SOUTH PACIFIC!!
Another locale in paradise, another bottle of Bogle...
We are always so happy to see our wines enjoyed around the world, but boy, we are getting jealous! Thanks this month to Steve Dansby who enjoyed our wines on a cruise through the South Pacific! We hope he shared with the big guy with the stick!

Greetings,
I recently returned from a month of cruising around the South Pacific. We visited several islands including Raiatea, Bora Bora and Moorea. I took along my favorite wine, Bogle Merlot.
Enjoy your products very much.
Steve E. Dansby
NEW RELEASES
2011 Sauvignon Blanc, California
The 11's are here!!
Vibrant and fresh...the 2011 Sauvignon Blanc is easy to enjoy. Lively citrus zest and lemongrass notes color the nose, while the clean and refreshing flavors of key lime and freshly cut grass are intensely aromatic. The mouthfeel, bracing with acidity, remains laced with touches of softer, enticing fruit. Finishing crisp and satisfying, this wine makes your mouth water for more!!

Available: At retailers, wine shops and restaurants nationwide!
FOR YOUR CALENDAR...
Spring is springing!
Saturday, April 21st 6pm-9pm
Taste of Elk Grove -- Rotary Club of Laguna Sunrise
Asian Sports Foundation Facility, Elk Grove, CA

Saturday, April 21st 7pm-11pm
Night at the Museum -- Various local charitable orgs.
Aerospace Museum, McClellan, CA
Sunday, April 22nd
4pm-8pm
Raising Spirits -- Placer Care Coalition
Morgan Creek Country Club, Roseville, CA
Wed, April 25th 5:30-8:30pm
Feast For the Streets -- Francis House Center
Scottish Rite Masonic Center, Sacramento, CA
Solano County Wine & Food Jubilee -- NorthBay Hospice
Nut Tree Complex, Vacaville, CA
AND COMING SOON...
FRIDAY FUN at BOGLE!!
Keep your eyes peeled for information to
come about our summer plans.
We're gonna have a blast!!
BRUNCH, BOGLE-style...
Brie, Pancetta and Kale Quiche
Real men don't eat quiche, right? You can call this a frittata, omelette or breakfast pie, but it is still a delicious dish to serve for Sunday brunch or as a quick weeknight supper. Hearty and rich, the substitutions are endless, so enjoy! (Serves 6)
Ingredients:
1 frozen pie crust (or fresh, if you bake)
1 shallot, minced
2 oz. pancetta, diced
1 cup dinosaur kale, sliced in thin ribbons
1/3 cup dry white wine, such as 2011 Bogle Sauv Blanc
4 oz. brie cheese
3 eggs, lightly beaten
1 1/2 cups milk
1/8 tsp red pepper
1/4 tsp paprika
Salt & pepper
Cooking instructions:
Preheat oven to 450 degrees. Bake pie crust shell for 10 minutes or until golden brown. Remove and cool. Reduce oven temp to 375 degrees.
Over medium-high heat, add a bit of olive oil to a sauté pan. When hot, add shallot and allow to soften, about 4 minutes.
Add pancetta and cook another 4 minutes.
Last, add kale and sauté another minute. Pour in wine, reduce heat to medium and cover pan. Allow kale mixture to cook until wine is evaporated and kale is tender. Add more wine and continue to cook, if necessary. Remove from heat and cool.
In a mixing bowl, combine eggs, milk, and spices. Mix well.
Place the kale mixture in the bottom of the cooled pie crust. Drop teaspoons of the brie cheese throughout the bottom of the crust, evenly spaced. Pour the milk mixture over the top.
Place on a baking sheet and bake at 375 for 40 minutes or until a knife inserted into the pie comes out clean. Remove from oven and allow to set about 10 minutes.
Serve with a green salad and bread to complete your supper, or add fruit and toast for a filling breakfast! (And, PS, my husband loved it.)
OUR WINE SUGGESTIONS:
For breakfast, we suggest using our

2009 Blanc De Blancs

to make a refreshing mimosa, or if serving for dinner, enjoy a glass of

2011 Sauvignon Blanc

to compliment the flavors you added with the cooking wine. Enjoy!!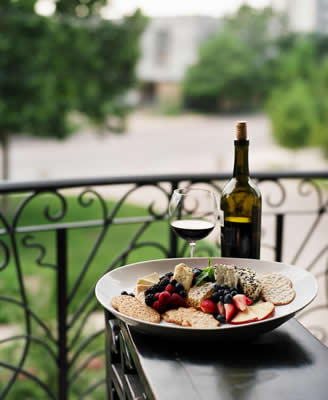 **Have a great recipe or wine pairing you'd love for us to know about? Please send it along to us at
info@boglewinery.com
!**