BRIDGE CLOSURE!!
For those coming to Bogle through the Delta, please be aware that the Paintersville Bridge in Courtland, CA is CLOSED for painting through April 6, 2012.
Sorry for any inconvenience!!
BANDWAGON BULLETIN BOARD
FEB SHIPMENT:
Ship-to members, hope you are enjoying your wines!
Will call members, don't forget to come on out to pick up your selection! Deadline: xx/xx
TASTING ROOM
CLOSURES
NONE THIS MONTH
...OPEN DAILY!!
A reminder

:
we know many of you bring your families out to enjoy the winery, but please remember, children should be supervised at all times. Thank you!
Greetings!
March may have come in like a lamb around here, but the lion has reared its wet head in Clarksburg. Thankfully, we are getting some much needed rain! Regardless of weather, our tasting room is open, warm and wine-ready, for anyone who comes by! Hope we see you soon!
Cheers,
The Bogle Family & Staff
ART RECEPTION
~
March 17th 1-4pm
Diane Poinski & Donald Satterlee, Photography
Photographers Poinski and Satterlee bring their work together for this exhibit at our tasting room, combining the translucent effects of light as well as a similar vision. While the subject matter of their work may differ, it is the quality of subtle tonality, luminosity in nature, texture and simple but striking compositions that pull the elements together to create an emotional viewing experience.
Poinski, "Morning Glories"
Satterlee, "Peaceful Calm"
WINEMAKER DINNER
~
March 22nd 6:00pm
Join Bogle winemaker Chris Smith at local eatery Ravenous for a delectable meal paired with our wines. Four courses will lead you down the path to perfect food and wine pairing. The menu includes pan roasted scallops, braised rabbit risotto and a grilled rib eye, among the courses partnered with some of Bogle's selected vintages.
For reservations, please contact Ravenous directly at 916/399-9309.
CRUISING...AGAIN!
Bogle wines have sure been spending a lot of time on the open waters! Tom and Karyn Weber sent us this picture from their recent trip at sea!
We thought you might enjoy this picture from our recent cruise on the NCL Spirit
Tom & Karyn Weber
p.s. We brought the wine onboard ourselves but shared a taste with the sommelier. He like it.......a lot.
Thanks, guys! We appreciate it!
NEW RELEASES
2010 Reserve Chardonnay, Clarksburg
Our family's River Ranch produces beautiful Chardonnay fruit year after year. 100% barrel fermentation in brand new American oak barrels, coupled with fourteen months of sur-lie aging, created a wine succulent and smooth in texture and overflowing with complexity. Caramel apples, tropical guava, spicy nutmeg and cinnamon inspire each sip, while the buttery, toasty finish echoes long and lingering.
2009 Reserve Syrah, El Dorado Hills

Deep and dark in color, the rich fruit of black currants and hints of toasted clove come bounding from the glass. Classic to Syrah, leather and earth tones surround some juniper and cedar; all while being wrapped in sweet black plums. Amazing legs, good sturdy tannins and a firm structure complete the wine. Truly a food wine...this Syrah perfectly pairs with game and other hearty dishes now, yet will cellar through 2020.

Available: At our tasting room in Clarksburg. Both wines are in limited release.
FOR YOUR CALENDAR...
Saturday, March 31st 6:30-10pm
Festa Di Vino -- Sierra Forever Families
Scottish Rite Center, Sacramento, CA
Saturday, March 31st 11am-5pm
Sunday, April 1st
Spring Fling -- Clarksburg Wine Grape Growers Assn.
Old Sugar Mill, Clarksburg, CA
Oven-Baked Salmon...
A QUICK WEEKNIGHT DINNER
The benefits of a diet high in omega-3's have been proven, but getting them on the table is another matter entirely. Try this easy and fresh recipe that serves them up quickly and easily, especially on those frenzied weeknights! (Serves 4)
Ingredients:
4 salmon fillets, approx 5 oz. each
1/4 cup dry white wine (ie: Bogle Sauv Blanc)
Salt & pepper
1 lemon
Cooking instructions:
Preheat oven to 375 degrees.
Rinse and pat the fillets dry with a paper towel.
Take a large sheet of aluminum foil and create a pouch in which to place the fish. Leave enough foil that you can enclose the fillets entirely, creating a poaching "purse."
Place fillets in the center of the foil. Season with salt and pepper liberally.
Slice the lemon thinly, and place one slice on each fillet.
Pour the wine in the pouch, so it surrounds the fish.
Fold up your foil to seal the pouch, making sure to avoid leaks. Place the pouch on a baking sheet and bake for 15 minutes. Peek in to check for doneness...making sure not to overcook.
Serve alone, with more lemon, or add an accompaniment. Store-bought salsa, fruit chutney or freshly chopped herbs will all be a great pairing. Serve with rice pilaf and a fresh salad. Enjoy!!
OUR WINE SUGGESTIONS:
You can serve both red and white wine with the meaty salmon. Try our

2010 Reserve Chardonnay

or our

2010 Pinot Noir.

Both will be a great compliment!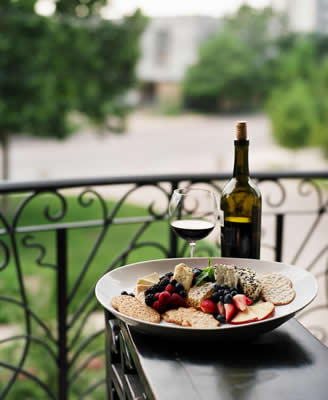 **Have a great recipe or wine pairing you'd love for us to know about? Please send it along to us at
info@boglewinery.com
!**