BRIDGE CLOSURE!!
For those coming to Bogle through the Delta, please be aware that the Paintersville Bridge in Courtland, CA is CLOSED for painting through April 6, 2012.
Sorry for any inconvenience!!
BANDWAGON BULLETIN BOARD
NEXT SHIPMENT:
February 21st
Please make sure your account is up-to-date to avoid any delays! Thanks!
TASTING ROOM
CLOSURES
NONE THIS MONTH
...OPEN DAILY!!
A reminder

:
we know many of you bring your families out to enjoy the winery, but please remember, children should be supervised at all times. Thank you!
Greetings!
February is here, which means LOVE is in the air, officially. If the last time you lit a candle was during that last power outage, we have some great ideas to help you get in the Valentine's spirit. From our upcoming events, to dinner for two with bubbles, Bogle's all about the love. Our Love Birds send their best!
Cheers,
The Bogle Family & Staff
PORT WEEKEND
~
February 11th & 12th
It is hard to believe this is our
14th annual PORT WEEKEND
!
We hope you can join the fun. As always, there will be lots of great cheese, chocolate, strawberries and wine tasting to enjoy! This year will also include not one, but TWO barrel samples of Port to try: Petite Sirah from our Quick Ranch and an Orange Muscat, from the storied Clockspring Vineyard in Amador County. Definitely not to be missed...
Saturday & Sunday, 11:00am-5:00pm
$5 per person (includes souvenir port glass)
$2.50 per person for BBW Club Members
Live Music from 1-4pm Douglas Newton & Friends
Space is limited: 21 and over, please. No pets.
NORTH OF THE BORDER!
Bogle wines are well represented in Canada, especially the province of Ontario. After doing business up there for many years, it is great to see that the wines are being enjoyed by visitors.


Doug Otto and his wife Kris celebrated their 20th wedding anniversary at 360 The Restaurant at the CN Tower with a gorgeous view and a bottle of Bogle Chardonnay. (Doug has worked for our distributor in Florida for many years.)


Happy Anniversary, Doug and Kris! Thanks for celebrating with Bogle!
NEW RELEASES
The long, cool growing season of 2010 produced Merlot grapes unparalleled in quality. Full-bodied and big, the resulting wine resonates with bright cherry and dried herbs on the nose. Rich flavors of black currants and a touch of summer fig combine with savory black pepper to create a wine mouthfilling and intense, yet silky smooth and approachable. After twelve months in American oak, the wine has a complex, developed palate that finishes with perfect acidity and a long, lingering finish.

2008 Petite Sirah Port, Clarksburg

"Taste me at Port Weekend!"

From our Quick Ranch, this vintage of Port seduces with its silky and succulent texture and intoxicating flavors. Soft, rich and ripe, this Port overflows with decadent dark cherry, cocoa and pipe tobacco on the nose. Expressive and enticing, the dark fruit of black raspberries and elderberries seduces your palate and leads to touches of chocolate and caramel on the finish. Port ages wisely, and this bottle will be enjoyable for the next 20 years.

Available: Both wines can be found at retailers, wine shops and restaurants nationwide.
FOR YOUR CALENDAR...
**If you love Petite Sirah, come see us at this event!**
Friday, February 17th 6:00pm - 9:00pm
Dark & Delicious -- PS I LOVE YOU
Rockwall Wine Company, Alameda, CA
Saturday, February 18th 6:30pm - 9:00pm
OSSO BUCCO...
A ROMANTIC DINNER FOR TWO
This rich and decadent meal is perfect for a special evening. Cooked all day, the smells alone will have your mouth watering well before it is time to eat. (Serves 2)
(Note: Cook time is approximately 3 hours...not counting prep. Plan ahead!)
1 bottle sparkling wine, such as Bogle's Blanc De Blancs
1 spring fresh thyme
1 spring fresh rosemary
1 dry bay leaf
Kitchen twine
2 veal shanks, about 1 1/2 lb total
Flour, for dredging
2 tbsp. vegetable oil
3 oz. pancetta, chopped
1 small onion, chopped
1 small carrot, chopped
1 stalk of celery, chopped
3 cloves garlic, minced
1 cup dry red wine, such as merlot or zinfandel
1 tbsp tomato paste
2 cups beef stock
3 tbsp fresh parsley, chopped
1 tbsp lemon zest
Salt & pepper
Cooking instructions:
Open the bottle of Sparkling wine. Pour into a glass...sip, enjoy, repeat. Begin cooking...

Rinse the fresh herbs and tie them together using a small piece of the kitchen twine. Set aside.
Remove any excess moisture from the veal shanks with a paper towel. Season liberally with salt and pepper. Dredge in the flour, shaking off the excess.
Heat the veg oil in a Dutch oven over medium high heat. When hot, add the pancetta and render until brown and just crisp. Remove with a slotted spoon and set aside.
Add the veal shanks to the pot and brown them on all sides. Remove and set aside.
In the same pot, add the onion, carrot, garlic and celery. Saute until soft, about 6 minutes.
Add the red wine and deglaze the pan, then add the tomato paste and mix well. Add the herb bundle and the bay leaf.
Return the browned shanks to the pan and add 2 cups of beef stock. Bring to a boil, then reduce heat to low. Cover and simmer for 3 hours, or until meat is falling off the bone.
Check every 20-30 minutes. Add more wine or stock as necessary, ensuring that the cooking liquid is always about 3/4 the way up the shank.
Serve with gorgonzola polenta or mashed Yukon Gold potatoes. To start, perhaps serve a small salad or some vegetable crudite, but nothing too heavy. This dish is hearty! Don't forget to finish the bottle of Blanc De Blancs and for goodness sake, light some candles!
OUR WINE SUGGESTIONS:
Red wine will pair with all the braised flavors of the meat. Try our

2007 Reserve Cabernet Sauvignon

or our

2008 Phantom

. Don't forget to have some

Petite Sirah Port

with dessert...preferably chocolate, of course!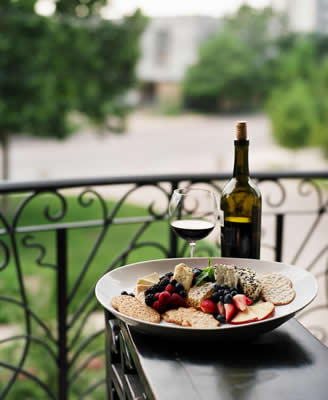 **Have a great recipe or wine pairing you'd love for us to know about? Please send it along to us at info@boglewinery.com!**