BANDWAGON BULLETIN BOARD
NEXT SHIPMENT:
February 21st
HOLIDAY CLOSURES
NONE THIS MONTH
...OPEN DAILY!!
A reminder

:
we know many of you bring your families out to enjoy the winery, but please remember, children should be supervised at all times. Thank you!
Greetings!
Did you survive the holidays? Good thing we have access to vino around here...it helped get us through! We hope you made amazing memories with family and friends this holiday season.
All the best in the New Year!!!
Cheers,
The Bogle Family & Staff
THE VINEYARD VIEW
Though mid-winter is pretty sleepy in the vineyards, there is always something going on at Bogle. The vines are being pruned and prepped for their spring awakening, although it doesn't much feel like winter has even settled in yet. After the third driest December on record, we need some rain!
Freshly pruned Chardonnay vines on our Home
Ranch in Clarksburg.
WHERE IS BOGLE?
Jason & Jody (Bogle) VanDePol
Members of the Bogle family found some familiar wines while on a holiday getaway: aboard Disney Cruise Lines! Both the Pinot Noir and Merlot were prominently featured at restaurants and bars on the Disney Wonder, an 11-deck, 960 foot long ocean liner. Though we didn't see Mickey enjoying any Bogle, the family sure did! It was a nice touch of home, while celebrating the holidays so far from Clarksburg!
2012 DATES TO SAVE
What a year we have planned here at Bogle!! Art Receptions, Port and Chocolate, Harvest events and more...there is something for everyone planned here in Clarksburg in 2012!
Port Weekend Sat-Sun, Feb. 11-12
Art Reception (artist tbd) Saturday, March 17
Art Reception (artist tbd) Saturday, July 21
Paella Party Saturday, August 18
Harvest Moon Dinner Friday, September 28
Art Reception (artist tbd) Saturday, October 6
Holiday Mixer Friday, November 2
For those in the Bandwagon, club events are still being determined, but will be published as soon as we have them set.
Also, please stay tuned as we announce plans for Summer Fun Fridays! Our extended hours on select Fridays last summer were so popular, we will be doing even more this year.
*These dates are not tentative, but sometimes things come up. If a date changes, we'll let you know! Thanks for understanding!*
NEW RELEASES
2010 Pinot Noir, California
For our first red release of the 2010 vintage, Bogle winemakers have again sourced fruit from the best growing regions in California for the varietal. The terriors of the cool Russian River Valley, coastal Monterey hills and the unique Clarksburg Delta all grow fruit of character and distinction. Combined, the resulting wine is nuanced, elegant and classically Pinot Noir.
Deeply garnet in color, radiant floral notes perfume the nose, leaving quite a first impression. Silky and smooth on the palate, the wine resonates with wild raspberries and rustic mint. Bright berry and cola tones trip alongside subtle lavender and vanilla, left behind by the impression of our French and American oak barrels. The delicate tannins create an indulgent and lingering finish.
Available: At retailers, wine shops and restaurants nationwide.
FOR YOUR CALENDAR...
Saturday, January 28th 5pm-10pm
24th Annual Winter Wine & Food Fest -- Make A Wish
Sacramento Convention Center, Sacramento, CA
**Harvest Moon Dinner available in Live Auction**
CIOPPINO...
A NEW YEAR'S TRADITION
We know New Year's has come and gone, but there is no reason you can't give this festive seafood stew a try anytime. With friends toasting good ol' times or just for a family dinner, this is a wonderful dish perfect for January's chilly weather. (Serves 6)
1 large onion, chopped
2 large shallots, chopped
4 garlic cloves, minced
1 tsp red pepper flakes
1 can tomato paste
1 14oz. can diced tomatoes
1 14oz. can crushed tomatoes
2 cups dry white wine
4 cups seafood stock
1 bay leaf
1 lb clams
1 lb mussels
1 lb large shrimp
1 lb bay scallops
1 lb salmon fillets, cut into 2" pieces
1 bunch fresh parsley, chopped
Cooking instructions:
In a large soup pot, heat a couple tablespoons of olive oil over medium heat. Add the onion and shallot and saut

é

until translucent, about 8-10 minutes.
Add the garlic and red pepper flakes and saut

é

another 3 minutes, until garlic is fragrant.
Stir in the tomato paste, combining well and cooking about 2 minutes. Add the white wine and reduce 5 minutes.
Pour in the tomatoes and seafood stock. Add the bay leaf. Cover and bring to a simmer.
Reduce heat to a low simmer, and cook for at least 30 minutes, allowing flavors to blend.
Meanwhile, rinse and clean all your seafood. Peel the shrimp and de-beard the mussels, scrubbing both them and the clams.
Add the clams and mussels to the broth first, then cover. When they just begin to open, add the remaining seafood. Cook another 5 minutes, stirring gently, until the all the fish is cooked through.
Season the soup to taste with salt and pepper and top with the chopped parsley.
Serve with a crisp salad with blue cheese dressing and enough warm sourdough bread to soak up every last drop of soup! Enjoy!
OUR WINE SUGGESTIONS:
Red wine is a classic compliment to this soup. We suggest our 2010 Pinot Noir or our 2009 Merlot...both will pair well with the tomato based dish!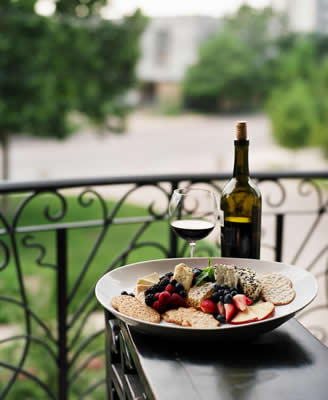 **Have a great recipe or wine pairing you'd love for us to know about? Please send it along to us at info@boglewinery.com!**