BANDWAGON BULLETIN BOARD

CURRENT SHIPMENT:
Will Call wines will be available here for pick up until Jan. 2nd!
TASTING ROOM HOURS
Mon-Fri 10am-5pm
Weekends 11am-5pm
HOLIDAY CLOSURES
Thurs, Nov. 24
Fri, Dec. 16 @ 1pm
Sat, Dec. 24
Sun, Dec. 25
Sun, Jan. 1
A quick reminder

: we know many of you bring your families out to enjoy the winery, but please remember, children should be supervised at all times. Thank you!

GOT CORKS?
We'll take your used corks and recycle them in the ReCork America program. Bring 'em in or go to
Greetings!
Once the calendar turns to November, it seems that there is just never enough time to get everything done. Busy lives, crazy work schedules and the impending holidays create a whirlwind of activity that is frequently hard to keep up with.

Here at Bogle, we are all equally as busy (as illustrated by the fact that this newsletter is nearly a week late-sorry!) but we hope to encourage everyone to find those things to be thankful for this season. Sometimes it is life's big events, but more often it is the little moments that happen each day, while you aren't paying attention. We hope that each and every one of you is able to enjoy this time of year, if even for the tiniest of reasons.
With thanks for your support and patronage!
The Bogle Family & Staff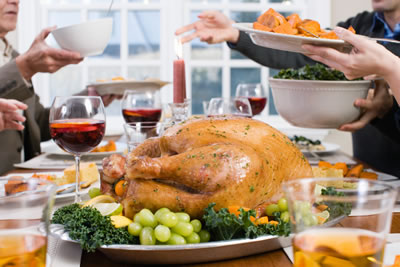 HARVEST REPORT 2011
After the wettest spring and coolest summer on record for Northern California, we were hoping for a nice long and warm Indian summer. Unfortunately, that did not happen. Rains hit wine country in mid-October, dousing vines laden with fruit and waiting to ripen. Statewide, it was a tough year to be a grape grower.
Tank samples of the '11 vintage in various stages of fermentation.
Bogle's winemakers patiently waited to see what would happen to the fruit and and worked with growers to get the grapes harvested in due course. The result, says Director of Winemaking Chris Smith, could have been a lot worse. "All the fruit Bogle brought in looked good," says Smith. Though a touch low in sugar levels than a normal season, color and concentration were surprisingly intense. "We were pleased to see such maturity in the fruit that came in this year. The cool spring and summer really added some complexity and unique flavor. I think the 2011 vintages will be outstanding when they are released."
One thing to keep in mind as you await the new releases of 2011...less wine available. "Across the board, the fruit set was lighter this year," says Warren Bogle. "But the flip side of that is higher concentrations, so it's a good year to be a wine drinker." This year's smaller crush probably won't be perceptible to the consumer, since there are so many wines out there to choose from. Just an increase in quality, vintage to vintage. And that makes the challenging growing season all worth it!
SIGHTING IN MAINE
Joe and Kathy Marcotte spotted the wines on a trip they took this summer to Maine. Though we've never been there, it looks an amazing place to visit...especially with some good wine choices! Thanks for sharing guys, as well as the kind words!
"My wife Kathy and I recently toured Acadia National Park, Bar Harbor, Maine. One afternoon we stopped for lunch at The Colonel's Restaurant in the village of Northeast Harbor, population 2,109. We were pleasantly surprised to find two Bogle wines on the featured wine list in that tiny village, 3,000 miles from home.
Your reputation for quality extends well beyond the state of California."
Kathy Marcotte near a lighthouse in Northeast Harbor, ME

.
ART RECEPTION: Nov. 19th 1-4pm
NANCY RYAN & DENISE OYAMA-MILLER
Wine Country Quilts by Nancy Ryan
Please join Bogle Winery as we showcase the amazing work of these two talented artists. Working in the medium of quilting, the detail and color of their works will comfort you with their creativity.
Mountain Meadow by Denise Oyama-Miller
THANK YOU FOR CONTRIBUTING!
Last month, proceeds from sales of our Petite Sirah Ros
é
and all pink clothing and merchandise were pledged in honor of Breast Cancer Awareness month. Thank you for helping us donate nearly
$3000
to the National Breast Cancer Foundation. To learn more, check out
http://nationalbreastcancer.org
.
NEW RELEASES
2008 RESERVE ZINFANDEL, Amador County
Heartwarming notes of cedar and spice greet the nose in this lively and elegant Zinfandel, making way for the bright flavors of cranberries and red plums. Juniper berries and hints of baking spices taste like the holidays, while teasing tones of red licorice make you feel like a kid in a candy store again. Though not usually known for its aging capabilities, this wine has a slightly elevated acidity, which will allow it to cellar for 6 to 8 years, if you can wait that long!
2008 RESERVE PETITE SIRAH, ORV Clarksburg
As our family's heritage varietal, this wine entices with hints of mocha and coffee on the entry, while signature essences of blackberry, black currant and raspberry round out the palate. Subtle nuances of sarsaparilla and molasses lead into sensuous notes of pipe tobacco and worn leather. Inky and supple, the wine is big on flavor and complexity, and will cellar for 8 to 10 years, at least.
Available: In our tasting room in Clarksburg.
FOR YOUR CALENDAR...only one!
What should we do with those pumpkins? PUMPKIN TURKEY CHILI
Rather than let those pumpkins on your doorstep get mushy and wet, bring them in, roast them up and make this delicious and healthy chili recipe. You can also use canned pumpkin if you are short on time. After Thanksgiving, throw in your leftover turkey (after you're sick of sandwiches!) instead of using the ground option.
This will serve 4-6, but you'll want to double it and freeze some for a busy weeknight defrost party! Enjoy!
1 tbsp olive oil
1 large onion, chopped
2 carrots, chopped
2 stalks celery, chopped
1 bell pepper, chopped (your choice of color!)
2-3 garlic cloves, minced (or more...to taste!)
1 lb ground turkey
1- 14.5oz can diced tomatoes
1 large can tomato sauce
2 cups pumpkin puree
2- 14.5 oz can of your favorite beans (kidney, black, garbanzo!)
1 1/2 tbsp chili powder
1 tsp cumin
1 tsp paprika
Salt and ground pepper, taste
For garnish: shredded cheddar cheese & sour cream
Instructions:
In a large pot, heat the olive oil and

sauté

the onions, carrots, celery, peppers and garlic until tender.
Add the ground turkey and cook until evenly browned. Pour into a slow cooker or keep in the large Dutch oven or pot.
Mix in tomatoes, sauce, pumpkin and spices. (If you have other chili spices that you like to use, feel free to add them!)
Cook over very low heat or in slow cooker for 4-5 hours. Add water if the mixture gets too thick. Stir every hour or so.
Serve with a spoonful of sour cream and shredded cheddar cheese on top.
This chili is perfect for the crisp days of fall. Take it tailgating, or to a holiday potluck. Enjoy it with a glass of our 2009 Merlot or the 2009 Petite Sirah. Cheers!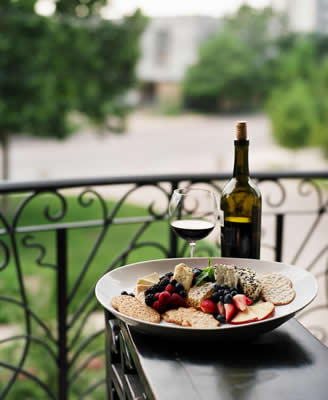 Looking for a "printer friendly" version of our recipes? We're working on it! Until then, email us and we'll send them off to you ASAP!