BANDWAGON BULLETIN BOARD

NEXT SHIPMENT:
October 17th
Make sure to update your account with any changes...
MEMBER MIXER:
Tickets are now on sale for our Nov. 4th event. $15/pp
5:30-7:30pm
Join the fun!!!
BIG NEWS:
We can now ship to Maryland! If you're in Terrapin land and want to hop on our wagon, click below!!
TASTING ROOM HOURS
Mon-Fri 10am-5pm
Weekends 11am-5pm
First Fridays 10am-8pm!!
A quick reminder

: we know many of you bring your families out to enjoy the winery, but please remember, children should be supervised at all times. Thank you!

GOT CORKS?
We'll take your used corks and recycle them in the ReCork America program. Bring 'em in or go to
Greetings!
The month of October has brought cooler temperatures to Clarksburg, and just the last few days, some significant rain. Though we'd like to hunker down with a glass of red wine and a cozy blanket just as much as the next guy, we want to get those grapes off the vine even more! Wish us luck as we continue the epic battle: Farmer vs. Mother Nature!
October also brings lots of
pink
with it as National Breast Cancer Awareness Month. To contribute, Bogle will be donating this month's proceeds from the sale of our
Petite Sirah Rosé
,
as well as all
pink vests and jackets
to the cause. Stop by and buy pink!
The Bogle Family & Staff
THE BOGLE STONE
Many years ago, a young couple from Scotland came into our tasting room in Clarksburg. As we talked about the history of the family and the winery, our common heritage was a fun topic, since the Bogle branch of the family tree has roots in the Gaelic nation. "Bogle" is the Scottish word for "ghost", which has influenced some of the wines we have produced, namely the Phantom, as well as the Ghosts Du Roam and Ghost Du Blanc. Our guests told us of something called the Bogle Stone, located near Glasgow.
Someday we'll get there, we said.
So when I recently had the opportunity to be in Glasgow for 36 hours while working with our importer in the UK, my mission was pretty clear: find the Bogle Stone. On a gloriously dry Sunday, I set off from my hotel with an address, an adventurous cabbie and a bottle of Phantom, which thankfully had not broken in my suitcase on the way over the Atlantic. Google told me that the stone, composed of a rare black granite, was centuries old, having been deposited at the top of Clune Brea by glaciers in the ice age. Long associated with stories of haunting and ghosts, the stone
was famed for
the Bogle,
an impish sprite who used to haunt it in days of old. Legend spoke of men returning to the dry town of Port Glasgow from pubs in nearby Kilmacolm, slightly worse for the wear, only to be tricked and impeded in their journey home.
Some, legend has it, never returned.
The 20 mile drive to Port Glasgow gave me an amazing view along the River Clyde and of the gorgeous landscape of Scotland. Following the directions we had, my cabbie Stephen found the area where the stone was said to be. Inquiries of a few locals (walking their Scottish terrier - seriously!) didn't get us more information, until we found an older gentleman. Though I couldn't understand a word of his thick Scottish accent, he pointed us in the right direction.
Larger than I expected it to be, the stone sat unremarkably on the side of the road, overlooking the hill and the River Clyde. Unmarked and unadorned, the stone had several crevices and clearly had weathered the elements in this exact spot for more generations than were possible to count. As we snapped picture after picture, the Phantom felt right at home.
I wondered what connection, if any, our ancestors had to this big rock. Had they lived near here? Had they farmed these hills centuries ago? Sunshine and clouds mixed as I sat and took in the history. My trip this time didn't allow for research or records, but finding the stone was quite an accomplishment.
When it was time to leave, I couldn't help looking over my shoulder for the Bogle.
Jody Bogle at the Bogle Stone ~ Sept. 18, 2011
Clue Brea, Port Glasgow, Scotland
FIRST FRIDAY: Last of the season!
Live Music by
Douglas Newton and Special Guests
Come join us tonight for live music from 5-7pm by this singer/songwriter and his special guests. Bring a blanket, your picnic dinner (maybe a sweatshirt!) and we'll do the rest.
OPEN EXTENDED HOURS 10am- 8pm

NEW RELEASES
2010 RIESLING, California
Riesling is synonymous with fall: crisp as an apple picked freshly off the tree, sweet and juicy as a Bartlett pear ripened in the sunshine, and as spicy as the cinnamon and nutmeg used in our kitchens this time of year. Balanced between the succulent softness and a bright acidity that keeps the wine light, this white wine is the perfect compliment to f
all's warm dishes.
Available: At retailers and wine shops nationwide.
FOR YOUR CALENDAR...Octoberfests!
Saturday, Oct 8th 4pm-5:15pm
First Fruits of the Harvest -- Clarksburg Community Church
https://sites.google.com/site/clarksburgchurchca/
Saturday, Oct 8th 3pm-7pm
Kibble & Bids -- Homeward Bound Rescue & Sanctuary
Saturday, Oct 8th 4pm-7pm
Vessels & Vines -- Sacramento Delta Youth Maritime Assn
www.cityofsacramento.org/ccl/sacmarina/
Friday, Oct 14th 5:30-9pm
A Taste of Sacramento -- Easter Seals
Saturday, Oct 22nd 7pm-11pm
Oktoberfest 2011 -- Our Lady of Grace School
SPECIAL WINEMAKER DINNER: ZOCALO
Monday, November 7th 6pm $25/per person
WARMING UP TO FALL...
SWEET POTATO SOUP
Long time employee Kristen Bruce brought us a big pot of this delicious soup, and we told her she HAD to share the recipe! The perfect combination of savory, sweet, spicy and creamy flavors will be a new fall fav for your family, too!
4 tbsp unsalted butter
1 large onion, chopped
1 carrot, chopped
2 pounds red-fleshed sweet potatoes, peeled & coarsely chopped
(we used garnet yams)
5 cups stock, vegetable or chicken
1 tbsp freshly grated ginger
1 tbsp curry powder (Madras is preferred)
1/2 cup sherry
Sea salt and ground pepper, taste
For garnish: 4 tbsp crystallized ginger
Instructions:
In a large stock pot, melt the butter and

sauté

the onions and carrots until slightly tender, about 5 minutes.
Add sweet potatoes and one cup of the stock and reduce heat to low. Cover and allow to sweat for 15 minutes.
Add the rest of the stock, bring to a boil, cover and reduce heat and simmer for 20 minutes.
Add ginger, curry, cr

è

me fra

î

che and sherry. Remove from heat.
Season to taste with salt & pepper, then puree with an immersion blender, food mill or food processor.
Garnish each serving with the crystallized ginger and serve as a first course, or with a loaf of French bread and salad as dinner! Enjoy!
This soup is rich enough to enjoy with red wines, yet would also be great with a full-bodied white wine. Try our 2009 Merlot or
2009 Cabernet Sauvignon, or the 2010 Chardonnay or 2010 Viognier. Velvety and smooth...both wine and meal!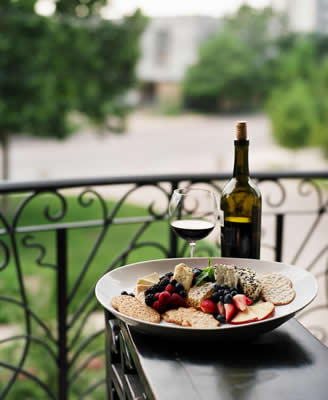 Looking for a "printer friendly" version of our recipes? We're working on it! Until then, email us and we'll send them off to you ASAP!