BANDWAGON BULLETIN BOARD

NEXT SHIPMENT:
October 17th
Make sure to update your account with any changes...
TASTING ROOM HOURS
Mon-Fri 10am-5pm
Weekends 11am-5pm
First Fridays 10am-8pm!!
A quick reminder

: we know many of you bring your families out to enjoy the winery, but please remember, children should be supervised at all times. Thank you!
Greetings!
There is a feeling that comes with the start of a new school year, the beginning of a football season and the first nights of a harvest. It's an excitement for the new beginnings that come with fall. So even though we are all getting back to the grind from summer, enjoy this season and all the promise it brings.
Cheers,
The Bogle Family & Staff
Trailers ready to be loaded with grapes at North Ranch...
A MONUMENTAL OCCASION
Tuesday, August 30th was a very special day for the Bogle family and employees. Not only was it the first day of the 2011 harvest, but the first delivery of grapes was made to the winery's new production facility. The entire staff was on hand to celebrate, and Father Dan Madigan blessed the hand-picked Chardonnay grapes, as well as the equipment for future years to come.
For those of you who have been down to Clarksburg and have visited our winery on Merritt Island, you know that the staff has been working in close quarters for quite some time. In fact, much of Bogle's storage of barrels and wine, as well as some of the bottling, has actually been at other facilities for several years now. The Bogle family made the decision about a year and a half ago to bring everything home to one location. "The building of this new winery facility will help us sustain our company for future generations to come," says Ryan Bogle. "In terms of our winemaking, quality and efficiency will only improve. There will be less trucking of grapes and wine, and continued dedication by our winemakers to produce a great quality product."
Located just five miles from the current Bogle site, the new facility is situated southwest of Clarksburg off Jefferson Boulevard. With construction nearly completed, the winemaking team and cellar crew are excited about beginning a new harvest in their new location, where everything will be housed under one roof.
As the first truck rolled in, driven by long-time family friend John Perez, the Bogle family and staff looked on. Dumping the first load of grapes into the hopper was truly monumental for the Bogle's, seeing the culmination of years of hard work and planning. Warren Bogle's words resonated with all. "Just want to say Thank You. Everyone's been a big part of this. So, here's to the past generations, and here's to the future!"
What will remain unchanged is the location of Bogle's tasting room. Though the winemaking will now be a few miles away, the new facility will not be open to the public. Our family of tasting room staffers will continue to host guests and pour wines at our Home Ranch location on Merritt Island, with our current business hours: Monday-Friday 10am-5pm and weekends 11am-5pm.
The Bogle Family & Father Dan Madigan
A video clip and slide show of the day will be posted soon on our Facebook page. LIKE us!!
BOGLE'S BEEN SHANGHAI'D!

Alexis Starzyk, daughter of long time Bogle sales representative Stan Starzyk, sent us this fun email from her current home, Shanghai, China!
"I was so excited to see my favorite wine, Bogle Phantom, displayed on the shelf at Dakota, a bar/restaurant in Shanghai!. It is a great little place!"
That's good news to hear, Alexis, especially since Jody Bogle poured the wines for Dakota's owners last year on her sales trip to Asia. We're glad to hear that trip was worth it!! (And it is a fabulous place to eat, if you happen to be in Shanghai!)
FIRST FRIDAY: Sept. 2nd (tonight!)
Live Music by Clemón
Come join us tonight for live music from 5-7pm by this Barbados-born singer/songwriter who mixes alternative rock, folk and jazz sounds. Bring a blanket, your picnic dinner and we'll do the rest.
OPEN EXTENDED HOURS 10am- 8pm
NEW RELEASES: It's Baaaaacccckkkk!
2008 PHANTOM, California
51% Old Vine Zinfandel, 47% Petite Sirah and
2% Mourvedre
Bogle's apparition of fierce berry and sensual spice returns to tease and tantalize. Notes of juicy boysenberry and black fruit are deepened with aromas of pipe tobacco and black pepper, while subtle hints of clove and vanilla softly envelope the palate. Intense and luscious, the rich character opens to reveal red fruit of spirited cranberries and raspberries. Over two years in 1, 2 and 3 year old American oak capture and concentrate the essence of the three unique varietals, creating yet another vivid and full-bodied red wine, impossible to ignore.
Remarkable now, time in the bottle will only integrate the distinct varietals more. Drink now through 2020.
Available: Phantom is currently available at retailers, restaurants and wine shops nationwide, but don't wait...it disappears quickly!
FOR YOUR CALENDAR... September's a busy one!
Thursday, Sept 8 5pm-8:30pm
Spotlight Elk Grove -- Elk Grove Community Foundation
SES Hall, Elk Grove, CA
Friday, Sept 9 7pm-10pm
Christian Brothers Wine, Beer & Food Extravaganza
Christian Brothers High School, Sacramento, CA
Saturday, Sept 10 6pm-8pm
Rio Vista CARE Gala -- Rio Vista CARE
Vista Clubhouse @ Trilogy, Rio Vista, CA
Sunday, Sept 11 3pm-6pm
A Day in the Country -- Yolo Land Trust
Park Winters, Winters, CA
Friday, Sept 16 5:30-8:30pm
Fairytale Town Afterhours -- Sacramento Emergency Housing Ctr
Fairytale Town, Sacramento, CA
Saturday, Sept 17 4:30pm-8:30pm
Autumn Equinox Celebration -- Soil Born Farms
Soil Born Farms, Sacramento, CA
Sunday, Sept 18 2pm-5pm
The Wines of Clarksburg -- Friends of the Clarksburg Library
Holland Land Headquarters, Clarksburg, CA
Sunday, Sept 18 5pm
Golf & Grape Gathering -- Shriner's Hospitals/Make A Wish
La Borgata Plaza, El Dorado Hills, CA
Saturday, Sept 24 ????
Reigning Cats and Dogs -- Sacramento SPCA
Arden Hills Resort & Spa, Sacramento, CA
Our first ever Paella Party last weekend was a HUGE success!! Guest Chef Ryan Rose of Zocalo paired his amazing paella with our own homemade sangria...we added a little Flamenco guitar and had the perfect summer evening at the winery!
Chef Ryan is going to get us the paella recipe soon, and we will post that on the Facebook page and on our web site. In the meantime, try these sangrias...the perfect cocktails for this last weekend of summer...
RED SANGRIA
1 bottle Bogle Zinfandel
2 cups pomegranate juice
2 cups blackberry juice
1/4 cup triple sec
2 cups ginger ale
1 large nectarine, cut into wedges
1/2 bag frozen blackberries
Instructions:
(preferably a few hours before serving, or up to a day ahead)
Combine all the juices with the wine. Mix well.
If serving later in the day, add the ginger ale, nectarines and blackberries to the sangria. Allow to "marinate" in the fridge. If serving the next day, add the fruit and soda a few hours before serving.
Serve over ice, very chilled.
WHITE SANGRIA
1 bottle Bogle Moscato
2 cups pineapple juice
2 cups orange juice
1 cup club soda
2 lemons, cut into wedges
1 large orange, cut into wedges
Instructions:
(preferably a few hours before serving, or up to a day ahead)
Combine all the juices with the wine. Mix well.
Add all the fruit and allow to "marinate" in the fridge. Add the club soda just before serving to ensure it is nice and spritzy.
Serve over ice, very chilled.
Since these ARE the beverages, enjoy they with just about everything. We paired the paella, along with other appetizers such as chorizo, Spanish torillas, Pecorino cheese and cured olives. There is really no limit...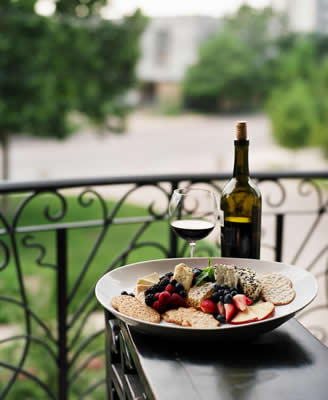 Enjoy!
Looking for a "printer friendly" version of our recipes? We're working on it! Until then, email us and we'll send them off to you ASAP!