BANDWAGON BULLETIN BOARD

PAELLA PARTY
August 27th
Now open to all customers!
TASTING ROOM HOURS
Mon-Fri 10am-5pm
Weekends 11am-5pm
First Fridays 10am-8pm!!
A quick reminder

: we know many of you bring your families out to enjoy the winery, but please remember, children should be supervised at all times. Thank you!
Greetings!
We here at Bogle hope you have found some time to relax and enjoy the summer with friends and family. It has been a great season to be in Northern California. Each and every one of you has an open invitation to visit us here in Clarksburg, any time of year.
Cheers,
The Bogle Family & Staff
SLOW and STEADY...
A Merlot cluster on Aug. 4th
This summer has been terribly hot for much of the country out there...but not so for our region here in California. Our vines have been able to relax and bask in mild, sunny days, just soaking up the sunshine. With lower than normal temperatures this growing season, the grapes are about a month behind schedule. Veraison, the softening and coloring of the grape clusters, usually occurs around the 4th of July. A full month later, we are just seeing clusters begin to turn.
What does that mean for grape quality? With each additional day of "hang time" on the vine, winegrapes will become more concentrated and complex in flavor. More flavor on the vine translates to more flavor in the bottle, so Bogle winemakers are very excited to see what will become of the 2011 vintage. The next step: keeping fingers crossed for a nice long Indian summer with plenty of time to harvest before fall weather arrives...
BOGLE'S PAELLA PARTY!!
Saturday, August 27th 6-10pm
Looking for a fantastic way to celebrate
the end of summer? Come join us!
The Bogle family and staff will be serving up tapas and sangria on the deck during cocktail hour, but we are bringing out the big guns for dinner. Chef Ryan Rose of Zocalo Restaurant will be cooking up his famous paella table-side! Dishes will be paired with special Bogle wines, as well as a barrel tasting with winemakers. Flamenco guitar will accompany the evening, with entertainment following dinner...what an evening this will be!
Date: Sat. August 27th
Time: 6-10pm
Tickets: $65/per person
Contact jody@boglewinery.com for
more information and to secure your tickets. **Space is limited!**
FIRST FRIDAY: August 5th
Come join us this Friday for live music from 5-7pm by John Pless! Bring a blanket, your picnic dinner and we'll do the rest.
OPEN EXTENDED HOURS 10am- 8pm
BOGLE ON THE HIGH SEAS!

Long-time Bogle customer Jim Streng and family found our wines half-way around the world! What a fun surprise!
"We just returned from a 20-day Mid-Eastern cruise on the Regent Seven Seas Voyager ship. We were delighted that they served superb Bogle wines almost daily in all their restaurants. We found Bogle wines always superior to the Italian, Chilean and French wines that they also served. It was great to have your wine on the other side of the world."
Thanks, Jim! We are so glad the wines were showing well. What great company to be in! Cheers!
NEW RELEASES: Oldies and goodies!
2010 CHARDONNAY, California
Green apples and juicy pears give way to elegant hints of Meyer lemons, but circle back to finish ripe and refreshing on the palate. Created by aging on the lees, the rich and velvety mouthfeel takes the fruit to another level, allowing the flavors to sink softly into spicy vanilla notes of American oak. The finish, graceful as a lemon meringue, perfectly balances the wine's creaminess and acidity.
2009 PETITE SIRAH, California
Lusciously jammy and inky in appearance, the voluptuous black currants and plums wrap around tones of pipe tobacco, leather and cocoa, to mesmerize the palate. Juniper and spice seduce the supple tannins, as this wine finishes long and lingering, but not before a final touch of acidity charms the balanced mouthfeel yet again.
Available: Both wines are available at retailers, restaurants and wine shops nationwide.
FOR YOUR CALENDAR...
Saturday, August 6 6pm-9pm
Haggin A La Carte -- Haggin Museum
Haggin Museum, Stockton, CA
Wed, August 17 4:30-8pm
Yolo County Fair Opening Night Gala
Yolo County Fairgrounds, Woodland, CA
Saturday, August 20 5pm-9pm
East Sac Art, Wine & Food Classic -- Neighborworks Center
Sutter Lawn Tennis Club, Sacramento, CA
Saturday, August 20 6pm-9pm
10th Annual Sip and Stroll -- Hospice of San Joaquin Auxillary
Brookside Estates, Stockton, CA
NOTHING BETTER THAN GARDEN FRESH...
ROASTED BEET & CITRUS SALAD
By this time of year, our family garden is ripe for the picking...with both weeds AND veggies, if yours looks anything like ours! But wading through those weeds pays off, especially for this fresh and filling summer salad. Serves 4.
3-4 medium sized beets, your preferred variety
1 lb fresh green beans, blanched to just done
2 oranges (1/2 for juice and zest, 1 1/2 segmented)
1/2 cup feta cheese, crumbled
1 large head red or green leaf lettuce, washed & chopped
1 small red onion, thinly sliced
Croutons:
1/2 loaf day-old Pugliese bread, cubed
1 cup blue cheese crumbles
Dressing/beet marinade:
3 clove garlic, peeled & grated
1/2 cup fresh orange juice
1 1/2 cup quality olive oil
Cooking instructions: (preferably a day before serving)
Preheat oven to 375 degrees. Wash beets and cut off root and green tops. (These should be washed, chopped and sauteed with garlic and white wine, but I digress...) Wrap in heavy-duty foil and roast in oven until a knife slides through unimpeded, about 45 min to 1 hr. Allow to cool.
While roasting, prepare your croutons for the oven. Melt the blue cheese crumbles in the micro until very thin and soupy. Pour over your bread cubes and toss until well coated. Spread evenly on a baking sheet, but don't crowd. When the beets come out of the oven, bake the croutons about 20 minutes, tossing at least once. Watch them carefully...you don't want them to scorch. Trust me! When crisp and brown, remove and allow to cool on the baking sheet for a couple hours. Try not to eat them.
Make the marinade: combine all dressing ingredients, adding oil last in a fine drizzle as you whisk. Season and add more ingredients to taste.
When cool, unwrap beets. Run under cool water and peel off the skin with your fingers. It will come off easily if the beets are done. Slice horizontally across the grain, about 1/4 inch in thickness. Pour dressing over the beets and refrigerate, overnight is best. Toss a few times if you think to.
The day you plan to serve:
In a large bowl, toss your lettuces with the feta cheese and red onion. Carefully drain out some of the dressing from the beets and toss to coat the lettuces.
On four plates, place equal amounts of the lettuce. Artfully top with beets, green beans, croutons, and orange wedges. Drizzle a bit more dressing on top, and serve with the remainder of the Pugliese bread, though not necessary. Enjoy!
The richness of the cheese will be a great compliment to a crisp and refreshing white: try our 2010 Sauvignon Blanc, or our 2010 Chenin Blanc. Die-hard red fans will find our 2009 Merlot or 2009 Pinot Noir work nicely as well!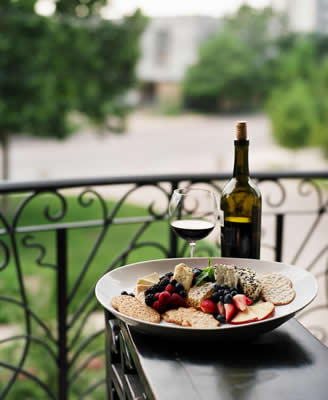 Enjoy!
Looking for a "printer friendly" version of our recipes? We're working on it! Until then, email us and we'll send them off to you ASAP!