BANDWAGON BULLETIN BOARD
MAY SHIPMENT
Any wine still here on
Monday, July 25th will be shipped out to you at your expense, so don't delay if your May selection is still here!
BLEND EXPERIENCE
Coming up...July 30th
(currently full!)
PAELLA PARTY
Next month...August 27th
(tickets on sale July 27th!)
TASTING ROOM HOURS
Mon-Fri 10am-5pm
Weekends 11am-5pm
First Fridays 10am-8pm!!
A quick reminder

: we know many of you bring your families out to enjoy the winery, but please remember, children should be supervised at all times. Thank you!
Greetings!
Why is it that on these longest days of the year it still seems like there just isn't enough time to get everything done? Summer is supposed to be relaxing! Here's hoping you are able to enjoy a beach, a bike ride, or even just a board game...special time with family. At the very least, indulge in a glass of wine and unwind this weekend! Enjoy summer!
Cheers,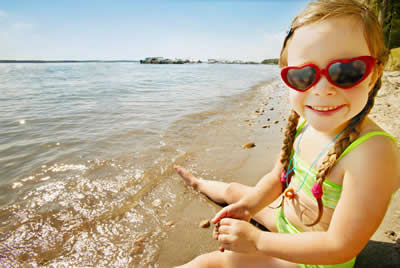 GROWING, GROWING...
With a burst of summer weather the last few weeks, the grapevines are growing like...well, vines! After a somewhat tumultuous spring and early summer that saw rain, hail and thunderstorms, the vineyards are now enjoying these steady days of warm temperatures. Cooled by the Delta breezes in the evenings, tiny grape clusters are gaining size and getting ready for veraison in just a few weeks.
Though about three weeks behind schedule, veraison is when the grape clusters begin to soften and the red wine grapes start to gain their color. From there, it is all downhill to harvest time! Vineyard manager Warren Bogle says the grapes look a little light in quantity this year, which always increases quality. This means we can look forward to fantastic vintages when the 2011 wines are released!
Featuring: ELAINE BOWERS
Watercolors July 16 - August 16
This summer's featured artist is Elaine Bowers of Sacramento. Including aerial paintings of local farmlands and waterways, Elaine's unique perpective will be on display for viewing in our tasting room through August 16th.
Meet Elaine at an Artist Reception to be held July 16th from 1-4pm. Hope we see you there!
FIRST FRIDAYS + nice weather = A GREAT TIME
July 1st boasted sunshine, live music and a great time had by all at our FIRST FRIDAY event! Come join us on August 5th for live music by John Pless!
OPEN EXTENDED HOURS 10am- 8pm
PHANTOM APPEARS IN FL!

If you love the Phantom, you know it can be hard to find. Tom and Karyn Weber, wine club members from Pleasant Hill, CA, found the elusive vino on a recent trip to the Sunshine State!
"We thought you would enjoy a couple of pictures from our recent trip to Destin, Florida. We saw your wines on the menu at O'Quigley's Sports Bar. One shot is of the bartender with a bottle of Pinot Noir. The other shot is off a full page of their bar menu showing Phantom."
Thanks so much for sharing guys! Safe travels!
NEW RELEASES: Summer sippers are here!
2010 MOSCATO, Clarksburg
At long last, the widely popular Bogle Moscato has returned! This saucy and succulent white wine boasts hugely floral notes, very typical of freshly pressed muscat canelli grapes. Honeysuckle blossoms lead way to juicy green pears and crispy red apples, and a soft, silky texture that fills the mouth. Warm and inviting, this sweet white wine finishes with local clover honey on the finish, both in essence and in texture.
2010 PETITE SIRAH ROS…, Clarksburg
Electric in the bottle, this fuchsia-hued libation bursts with summer melon and strawberries dripping with juice. Tart notes of summer herbs and floral tones compliment the fruit mid-palate, while some spicy pink peppercorns keep the finish brisk. Clean and light, this Petite Sirah Rosť is the perfect accompaniment to summer celebrating!
Available: Both wines are available in our tasting room this summer for a limited time. To order, email us at info@boglewinery.com to see if we can ship to your location.
FOR YOUR CALENDAR...
Saturday, July 16th 1pm-4pm
Taste of the Delta -- California Delta Chamber
Windmill Cove Resort & Marina, Stockton, CA
Sunday, July 24th 12noon - ???
California State Fair "Winery of the Day"
Cal Expo, Sacramento, CA
Saturday, July 30th & Sunday, July 31st 11am-5pm
The Wine, Cheese & Bread Faire
The Old Sugar Mill, Clarksburg, CA
A BOGLE FAMILY FAVORITE...

Our dad, Chris Bogle, loved to cook...and some of his recipes remain our favorites here at the winery. This easy salmon dish will become a summer staple for you too! Serves 4.
4 1" thick salmon steaks
4 tbsp mayonnaise
2 tbsp Dijon mustard
1 red onion, sliced horizontally 1/4" thick
1 large heirloom tomato, sliced 1/4" thick
4-8 jarred peperoncinis, with 1 tbsp juice reserved
Cooking instructions:
Prepare your charcoal or gas grill to medium heat.
In a small mixing bowl, combine the mayo, mustard, garlic and juice from the peperoncinis.
Generously salt and pepper the steaks. Place a dollop of the mayo mixture on top of each steak and spread over surface. On top of the mayonnaise, place one slice of tomato, topped with one or two of the peperoncinis. On top place a slice of onion to complete the stack.
Place on the oiled grill and ten with foil. DO NOT turn the fish over, but cook on one side until desired degree of doneness.
Remove from heat and serve immediately with your favorite grilled summer veggies and fresh bread.
Salmon is a wine lover's perfect partner! Try the 2009 Chardonany which has enough body to stand up to the rich flavors of the dish. Other great pairs would be our 2009 Merlot or 2009 Old Vine Zinfandel!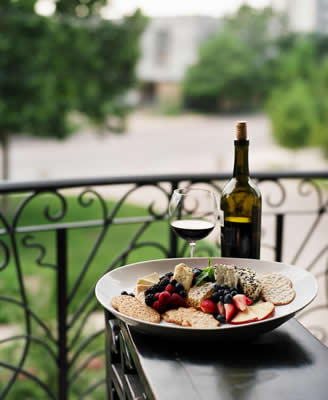 Enjoy!
Looking for a "printer friendly" version of our recipes? We're working on it! Until then, email us and we'll send them off to you ASAP!