BANDWAGON BULLETIN BOARD
MAY SHIPMENT
Come and get it...
If you are a Will Call member, don't forget to come pick up your wine club selection soon!


TASTING ROOM HOURS
Mon-Fri 10am-5pm
Weekends 11am-5pm
First Fridays 10am-8pm!!
A quick reminder

: we know many of you bring your families out to enjoy the winery, but please remember, children should be supervised at all times. Thank you!
Greetings!
Usually, this time of year, we are excited to exclaim "Summer is here!" Unfortunately, here in California, and in many areas around the country, consistently warmer weather has yet to surface. We are confident that summer is on its way, but if you happen to be under clear skies, enjoy them for us, will you?
Cheers,
IT'S A...BABY GRAPE!
First day in the Delta...
Bogle Winery is pleased to announce the arrival of...our newest vineyard! Planted on a former field that cultivated tomatoes, safflower and wheat, to name a few, these baby grapes are the latest addition to Bogle's acreage in the Sacramento River Delta, now totaling over 1,650 acres.
Vineyard Manager Warren Bogle planted this new field with Pinot Noir. The grapes will slowly grow and be trained up the stake and then later, across the vine trellis, carefully showing the plant where to grow. Vine growth can be pretty rapid, yet it will still take three years until a yield is harvested off these newbies. 2014 will be their rookie harvest "season." The grapes will become part of the Pinot Noir program, allowing us to get more bottles out there for you to enjoy.
FIRST FRIDAYS...start TONIGHT!
OPEN EXTENDED HOURS 10am- 8pm
Need a last minute idea for tonight's date night? Come check out FIRST FRIDAYS here at Bogle. Our tasting room, picnic grounds and gift shop will be open late so you can enjoy the lovely evening hours in the Delta. Bring a basket of goodies, a blanket and enjoy the quiet of Clarksburg. It's all good...
CROSS COUNTRY BOGLE

Talk about a distribution center! Ralph and Michele Joiner are doing a great job of spreading the Bogle love!
"Hi Bogle! We are on a three month motor home trip and took what we thought was a lot of Bogle wine with us. But, alas, we started running low! We shared our Bogle wines with many friendly RVers along the way. We are now in Biloxi, MS and were excited to find our favorite Bogle wines at the Winn Dixie liquor store. We feel so much better knowing we are again stocked up...and can share with our fellow RVers along the way. Thanks for continuing to produce such great wines. Can't wait to get back home (to Nevada City, CA) and visit the 'Burg."
Last we heard, they were stocking up again in Santa Fe, NM and on their way home! Safe travels, guys!
NEW RELEASES
2010 DRY CHENIN BLANC, Clarksburg
Softness on the nose, including honeydew melons and greengage wild plums, offsets the acidity of the first sip. Lean and minerally, the wine stays austere and thirst-quenching throughout. The invigorating finish is reminiscent of unique kiwi fruit: clean and cool and tantalizing.
Serve this wine chilled as an aperitif or with fresh fruits and soft, ripened cheeses.
2007 Reserve CABERNET SAUVIGNON, ORV
Bright cherry and black pepper stand out immediately on the nose. Full-bodied and concentrated, the cherry notes continue to deepen throughout, flirting with a tiny hint of black olive. Multifaceted nuances from the two oaks: toasty vanilla from French oak and spicy depth from American oak, merge and mingle to enhance the richness of the fruit. Well-balanced acidity and chalky tannins frame the finish and make for a lingering last sip. This wine can cellar for at least another ten years, but is

comple
tely enjoyable now.
Available:
Both wines are current wine club selections for our Bandwagon Wine Club, but will be available for sale in our tasting room
June 15th
.
Interested in our other current releases, click here!
AMGEN TOUR of CALIFORNIA
Earlier this rainy month, Sacramento hosted the finish line of Stage 2 of the Amgen Tour of California. This world-class road bike race is not quite as renowned as that other one over in France, but this one has Bogle! Thousands of folks stopped by our Bogle booth to pick up some free swag and visit with us locals. Our raffle of a private tour and tasting went over well, too! Now we've just got to get those riders wearing Bogle gear, and we'll be all set for next year's race!
FOR YOUR CALENDAR...Rain or Shine!
Friday, June 3rd 5pm-8:30pm
Stockton Sunrise Rotary Wine Tasting -- Sunrise Rotary
Micke Grove Park, Lodi, CA
Saturday, June 4th 4pm-7pm
Raley's Grape Escape
Caesar Chavez Park, Sacramento, CA
Sunday, June 5th 3pm-6pm
A Celebration of Wine -- CSU Fresno Viticulture Dept
Fresno, CA
Sunday, June 12th 4pm-7pm
A Taste of Land Park -- Land Park Community Assn
William Land Park, Sacramento, CA
Saturday, June 18th 6:30pm - ??
Kylee Lillich Charitable Giving Tree's Wine Tasting & Auction
Wells Fargo Pavillion, Sacramento, CA
Friday, June 24th 6pm-9pm
Elk Grove Lions Wine, Beer & Food Tasting
EG Regional Park Pavillion, Elk Grove, CA
Saturday, June 25th 6pm-9pm
King of Feasts -- Sacramento Zoo
Sacramento Zoo, Sacramento, CA
Saturday, June 25th 6pm-10pm
Fling & Sing Wine & Food Tasting

--

Cathedral of the Blessed Sacrament
Cathedral of the Blessed Sacrament, Sacramento, CA
GOOD EATIN' in the SOUTH...
One of the perks of selling Bogle wines in all 50 states is the ability to travel to great regions of the country and experience amazing things! A recent trip to Louisiana allowed for alligator sightings, shrimp boating, lots of eating and of course, good wine-ing! This dish was a highlight!

Embrace the spice and break out the beads! Serves 6 BIG Southern appetites.

Sauce:


4 tbsp olive oil

2 - 15 oz. cans crushed tomatoes

1/2 cup seafood stock, or water

1/2 cup dry white wine, such as Bogle Sauv Blanc

Thyme & parsley, to taste

Grits:

4 ears of corn

6 cups water

2 cups heavy cream

2 tbsp salt

1/4 cup butter

2 cups grits

1/2 cup Parmesan cheese

Shrimp:

36 Louisiana shrimp (16-20 count)

4 tbsp butter

Parmesan cheese, for garnish

Green onions, for garnish

Cooking instructions:
SAUCE: Warm olive oil in a medium size pot, add vegetables and saute until translucent.
Add garlic and cook two minutes. Stir in tomato paste and add tomato sauce and crushed tomatoes.
Stir in vinegar, stock and wine, then simmer over low heat for 30-40 minutes. Add seasonings to taste.
GRITS: Meanwhile, shuck and roast corn until dark and soft. (Oven will work, or grill, too.) When cool, cut kernels from cob and reserve.
In a heavy-bottomed pot, bring water, salt, butter and cream to a boil Add roasted corn and puree with an immersion blender, or in a sturdy blender in batches. Careful...don't burn yourself!
When mixture is a smooth consistency, stir in the grits. Cook for 5-7 minutes until creamy and thick. Stir in the cheese.
SHRIMP: In a large skillet, add butter and saute the shrimp until cooked halfway. Add your tomato sauce and simmer an additional 5-8 minutes.
To serve, spoon grits onto a shallow bowl, top with shrimp and sauce. Garnish with Parmesan cheese and green onions. Don't forget the hot sauce on the side!
Thanks go to Dwayne & Charlene Shockley of Slidell, LA for this great recipe, and the Southern hospitality!
There are some serious flavors in this dish and many options for wine pairings. Try the 2010 Sauvignon Blanc or 2009 Riesling, which will lighten the meal. Tomato sauces and zinfandels are classic partners, so you could also give our 2009 Old Vine Zinfandel a try!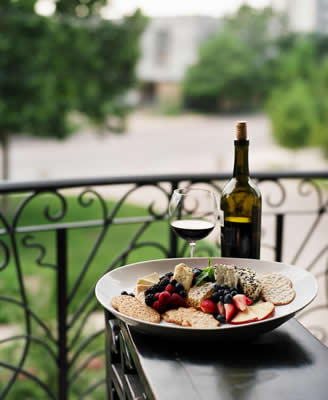 Looking for a "printer friendly" version of our recipes? We're working on it! Until then, email us and we'll send them off to you ASAP!